What's cooking this week?
TIME TO GET CRAFTY AT ATKINS PARK SMYRNA AMERICAN CRAFT BEER DINNER ON OCTOBER 18


Martha Stewart, eat your heart out. We're going for crafts to drink and eat, not dust, at the American Craft Beer Dinner tonight, October 18 at Atkins Park Tavern in Smyrna. Starting at 7 p.m., guests will dabble in conversation and a five-course menu paired with five of the nation's leading craft-style brews: Vidalia onion tarts with chèvre cheese and peach jalapeño jam paired with Terrapin Golden Ale (Athens, Ga.); chipotle-lime shrimp with field greens, red peppers, roasted corn, tomato, red onion and lime vinaigrette served with Sierra Nevada Pale Ale (Chico, Calif.); Ahi tuna poke marinated in ponzu sauce with avocado relish and crystallized candied ginger paired with Anchor Steam Beer (San Francisco, Calif.); seared duck with glazed cherry reduction and sweet potato and pumpkin risotto served with Ommegang Hennepin Farmhouse Saison (Cooperstown, N.Y.); and caramel and espresso torte with sea salt paired with Abita Turbodog (Abita Springs, La.). $45 per person; call 770-435-1887 to save a spot.
Atkins Park Tavern - Smyrna:
Market Village,2840 Atlanta Road; 770-435-1887.
THE FABULOUS BEEKMAN BOYS WILL BE AT THE COOK'S WAREHOUSE IN DECATUR ON OCTOBER 21


They've developed a cult following with their Planet Green TV show, "The Fabulous Beekman Boys," about city boys gone country on a goat farm in upstate New York. Dr. Brent Ridge farms all week, and partner/bestselling author Josh Kilmer-Purcell splits his time between Manhattan and Beekman farm.
Their brand-new The Beekman 1802 Heirloom Cookbook starts with what's in the fields when and takes it from there with a few twists along the way. The guys will sign their book on Friday, October 21 from 8 - 10 p.m. at The Cook's Warehouse in Decatur. Avoid a stampede by registering in advance.
The Cook's Warehouse Decatur
:

180 West Ponce de Leon Avenue; 404-377-4005.
RAY'S AT KILLER CREEK SERVES TAPAS AND SIX WINES ON OCTOBER 21


Shy away from commitment to one entrée and a whole bottle of wine by feasting on Spanish tapas and six different wines at Ray's at Killer Creek on Friday, October 21 at 7 p.m.

Chef Tracey Bloom and Sommelier Phillip Cooper unite forces to serve casual tapas such as pork belly with quail egg, pernil (roasted Spanish pork), chorizo and manchego quesadillas, stuffed piquillo peppers and much more -- plus wine -- for $35 per person (excluding tax and gratuity). Seating is limited; call 770-649-0064 to purchase tickets.
Ray's at Killer Creek:
1700 Mansell Road, Alpharetta; 770-649-0064.
10th TASTE OF ATLANTA TAKES OVER MIDTOWN THIS WEEKEND BEGINNING WITH THE BIG GRILL ON OCTOBER 21
Those friends who always "just want a taste" of whatever you ordered will love
Taste of Atlanta
and so will you. Our town's biggest sampling bacchanalia kicks off its 10th anniversary celebration with
The Big Grill - A Midtown Block Party
in Tech Square on Friday, October 21 from 7:30-10:30 p.m. (VIP entry 6:30 p.m.).
Birthday cake, beer and some of the best bites in the ATL rock this party benefiting Georgia Organics. We say "best bites" because we know the chefs at the grill gig. Among them are Andrew Smith of Atkins Park and Ormsby's, Todd Annis of Bold American Events & Catering, Janine Falvo of Briza, Joshua Warner of Ray's on the River, Ford Fry of JCT. Kitchen & Bar and Drew Belline of No. 246.
Tickets are $50 each for general admission and $65 each for VIP early entry.


The all-out Taste of Atlanta eat-fest opens at 11 a.m. on Saturday and Sunday, October 22-23, and keeps on dishing it out until 6 p.m. both evenings. More than 80 restaurants will be represented including Atkins Park, Briza, Double Zero Napoletana, JCT. Kitchen & Bar, Iberian Pig, No. 246, Ormsby's and Ray's on the River.
On the Home Plate Main Stage on Saturday, Chef Janine Falvo from Briza will prepare chicken pot pie and red kuri squash soup at 12 p.m. Chefs Drew Belline (No. 246) and Ford Fry (JCT. Kitchen & Bar) will be busy leading a "Simply Southern Thanksgiving" class with Angie Mosier of the Southern Foodways Alliance inside the Food Studio at 4 p.m. Saturday. On Sunday at 4:00 p.m., they'll take on Rosebud's Ron Eyester and Nick Melvin in the Team Chef Challenge, an "Iron Chef"-style competition, on the Home Plate Main Stage. Also on Sunday, Iberian Pig Chef Chad Crete will prepare farro risotto, roasted delicata squash, piquillo-hazelnut Romesco and fall vegetable sauté on the Global Flavors stage at 2:15 p.m. And Andrew Smith from Atkins Park and Ormsby's battles it out against Food 101's Justin Keith in the Dueling Chefs event at 1:15 p.m. Hey, mom and dad, even picky eaters will devour Taste of Atlanta -- the Family Food Zone loads up on food-focused crafts, educational demos and kid chef competitions!
Snap up your tickets early for this wristband-access, gated event. Buy a general admission ticket voucher with 10 taste coupons for $25 in advance online or at The Cook's Warehouse stores or Whole Foods. "Day of" gate price is $35 each.
WHOLEY HOG! LIBBIE SUMMERS BRINGS HER SKILLS AND THE WHOLE HOG COOKBOOK TO THE BIG GRILL AND TASTE OF ATLANTA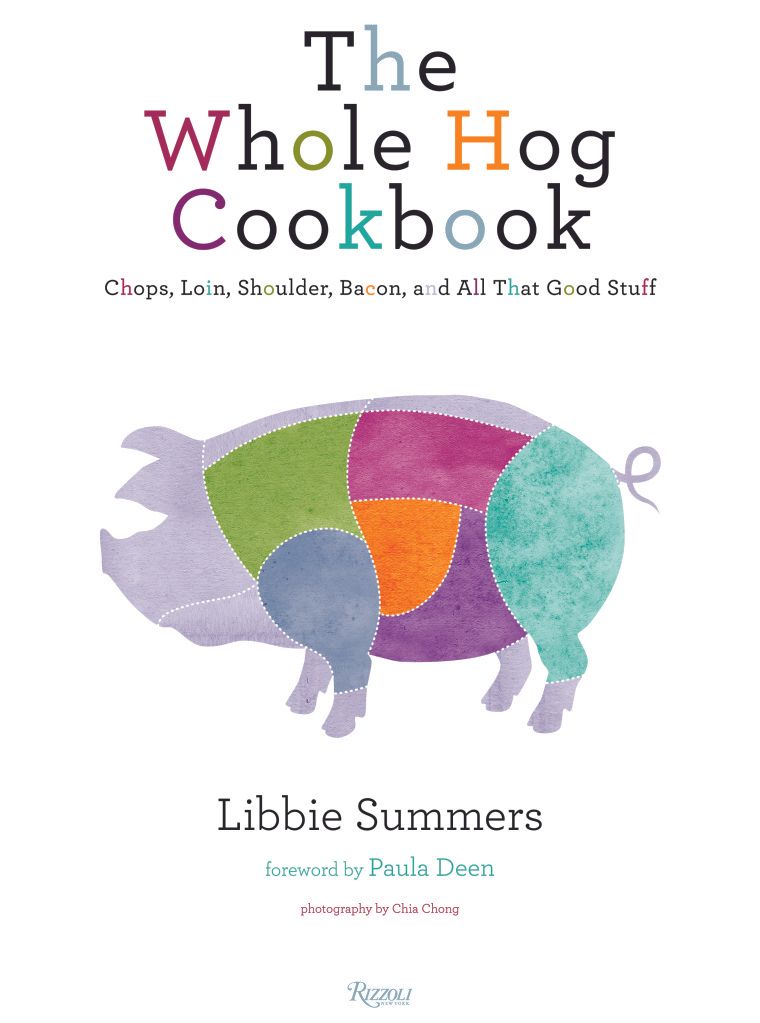 Guys, go ahead and call yourselves "chick magnets." Gals, Libbie Summers has bigger visions. She educates you in the wiles of being a BBFL (Bacon Buddy for Life) in her new release, The Whole Hog Cookbook - Chops, Loin, Shoulder, Bacon, and All That Good Stuff. By the way, "Good Stuff" encompasses dessert.
Summers will be cooking up some of her prized pork recipes at The Big Grill - A Midtown Block Party on Friday, October 21 from 6:30 - 9 p.m. On Saturday, October 22 at 2:30 p.m., she'll be at Taste of Atlanta's Grill Dome cooking area where she'll demo, do some Q & A and sign her book.
There are more than 125 succulent recipes in her book, spanning the globe like a flying pig from the South's hot peppered pickled pig's feet to Asian-inspired pulled pork spring rolls, Caribbean Cuban pork roast, West African pork stew and West Indian pork roti. She even tells all on how to make your own bacon. Go one step further and make her "Best Ever Family Reunion Sheet Cake" that's slathered in bacon-pecan icing. We'll oink to that!
NEW YORK BUTCHER SHOPPE SAYS IT'S ALL SWINE & DANDY AT OCTOBER 21-22 CHARITY COOKOFF

No butts about it, this weekend's smokin' contest is going to be one Swine & Dandy Charity Cookoff with New York Butcher Shoppe as a sponsor and participant! Pro and "backyard" teams will compete in chicken, ribs, pork butt and brisket categories with a $7,500 purse to be awarded to top entries in overall and individual categories. Attendees purchasing barbecue samples may vote for the "People's Choice" award.
The mouthwatering barbecue event takes place on Friday and Saturday, October 21-22 at Rogers Bridge Park in Duluth and is open to the public from 10 a.m. until 5 p.m. on Saturday. Event entry is free and includes cooking demonstrations and live country and blue grass music. Purchase food, barbecue samples, brews and beverages, and access to family-friendly activities including inflatables, small carnival rides, a cakewalk and a pumpkin patch. Click here for Atlanta New York Butcher Shoppe locations.
SPICE ROUTE SUPPER CLUB HOLDS FINAL DINNER ON OCTOBER 22 -- THEN SAY HELLO TO CARDAMOM HILL RESTAURANT
There are only 50 seats available for the final Spice Route Supper Club event filling Café Jonah on Saturday, October 22 at 7 p.m. No crying over onions or spice during the Kerala, India meal served family style.

It may be the last "Supper Club" event; however, the menu will be a slice of what to expect when Asha Gomez opens Cardamom Hill restaurant in Midtown later this year. Two things to do when reserving your seat at spiceroutesupperclub@gmail.com:

prepay $150/person and give a heads up if you're vegetarian.
SHOP THE YARD SALE, HAVE YOUR CAR WASHED DURING OCTOBER 22 FUNDRAISER FOR PRIMUS SANDERS AT RAY'S AT KILLER CREEK
Primus Sanders is a six-year employee of Ray's at Killer Creek who experienced a tragic fall in April that left him wheelchair bound. Since then, the Ray's at Killer Creek staff and community have rallied to raise funds to help cover his medical care and rehabilitation. There's another opportunity to help out on Saturday, October 22 from 11 a.m. to 3 p.m. when the Alpharetta restaurant holds a car wash and yard sale at Ray's at Killer Creek. All proceeds will assist Primus' recovery program through the Primus Sanders Foundation. And while you're there, come inside for lunch!
Ray's at Killer Creek: 1700 Mansell Road, Alpharetta; 770-649-0064.
ARIA'S KATHRYN KING AND SOUTHERN CULINARY ICONS COME TOGETHER FOR SOUTHERN COOKING AND CHARITY AT 2ND ANNUAL SUNDAY SUPPER SOUTH ON OCTOBER 23

Last year's Sunday Supper South event was such a hit that Southern culinary icons are coming back for seconds! Pastry Chef Kathryn King of Aria will be one of the visionary chefs and artisans participating in the family-style Friends of James Beard Benefit Dinner on Sunday, October 23. Sunday Supper South
is a regionally driven rendition of the successful "Sunday Supper" tradition at Chelsea Market in New York City.
More than 25 James Beard Foundation award-winning and prominent chefs from across the Southeast will gather to honor Southern cooking in the revitalized
Westside Provisions District
. The evening has a philanthropic goal: to raise money for the culinary scholarship program funded by the not-for-profit James Beard Foundation (a 501 (c)(3) organization.)
Following a 5 p.m. reception, 150 guests will gather around a very long communal table for an evening planned by hosts Anne Quatrano and Clifford Harrison of Bacchanalia, Quinones at Bacchanalia, Abattoir,
Floataway Café and Star Provisions. Chew more details on Facebook.
SAY "CHEESE" AT AREA FOODIE EVENTS AND POST YOUR PHOTOS ON FACEBOOK ON FOOD DAY, OCTOBER 24
Monday, October 24 is Food Day and thousands of events are planned across the U.S. that seek to bring together Americans from all walks of life to push for healthy, affordable food produced in a sustainable, humane way.

In observance of the day, we encourage Dish readers to have their photo taken and post it as your Facebook profile picture on Monday.



What better way to show your "friends" your support of healthy, sustainable food. So whether you're shopping the vendors at the Peachtree Road Farmers Market or chef demos and tastings at Taste of Atlanta or just hanging at home with a poster downloaded from Georgia Organics' website, smile and say "cheese" for Food Day!
DRIP TRIPS FILL YELPER'S CUP


There's a whole "latte" local stuff going on at drip, the coffee shop down the street from Yelper P L.'s work, err, daily grind since we're dishing on a java joint. Apparently, there's plenty to please caffeine fiends, vegan queens and even the King of Pops. P.L., looks like your cup runneth over after just a few drip trips.

Since I now work a lot in this area, I come to Drip pretty regularly. It's a nice place to stop in after eating lunch at Vickerys or Matador Cantina. I always get a latte, which, while not earth shattering, is always good and gives me the caffeine shot I need.

I also like their nice selection of snacks and local edibles. I really like this vegan peanut butter cookie they carry. It's totally vegan, quite good and oddly filling. I usually eat half of it and save the other half for the next day.

Although I've not had these things, my co-workers who have come along with me to Drip really enjoy the ice cream and the King of Pops offerings available.

drip: 928-B Garrett Street; 404-627-7375.
EAT IT AND TWEEP: SHUGART & SPICE IS LOVIN' LIFE AND TRYING TO TASTE IT ALL IN 140 CHARACTERS OR LESS


This sweet thing has a long short list of things she wants to do. Her mantra: life is full of sugar and spice and trying to find the time to taste it all is short and sweet. Read Betsy Clay's tweets (@shugartandspice), and you'll note that waiting for planes seems to eat up a bit of her clock.
When she has more time to write, she taps out "the busy girls guide to food in a flash" sweetly and succinctly on her Shugart & Spice blog.
Sample Tweet: how to you brew your sweet tea? making some now & would love to hear how other southerners do it! #recipes #sweettea
OUR APPETIZING APERTURE OF THE WEEK

Who says Halloween has to be all about candy? We have our eyes on these spooky doughnuts that we spotted at the Columbus Krispy Kreme on 6761 Veterans Parkway. The Krispy Skremes! Jack-o-lantern, chocolate iced with Halloween sprinkles, spider web and pumpkin spice cake doughnuts are available for a limited time only!
Looking for the latest restaurant opening, weekly wine tastings and drink specials, or other culinary happenings? Whatever makes your mouth water, Melissa Libby & Associates will point you in the right direction. Our monthly
calendar
,
blog
,
flickr
, Facebook
page and Twitter feed will keep you up-to-date on new and ongoing restaurant events around Atlanta.
Melissa Libby & Associates is an Atlanta-based public relations firm specializing in the restaurant, retail and hospitality industries.
Contact Information

~~~~~~~~~~~~~~~~~~~~~~~~~~~~~~~~~~~~~~~~~~~~~~~~

Email:melissa@melissalibbypr.com ~~~~~~~~~~~~~~~~~~~~~~~~~~~~~~~~~~~~~~~~~~~~~~~~