JAVA JUNKIES AND ICE CREAM SCREAMERS ARE BUZZING ABOUT SPICE MARKET'S VIETNAMESE COFFEE ICE CREAM


We can't keep a lid on this caffeinated news: National Coffee Ice Cream Day is Tuesday, September 6 (today), and Spice Market in the W Atlanta-Midtown has the frozen buzz for the day. The restaurant, known for its exciting global spins, churns up a Vietnamese coffee ice cream that's incredible!

A dish full satiates your yin for frosty-creamy and your yang for the powerful kick of Vietnamese coffee. You also can get it to go -- $4 buys you half a pint.

Spice Market: In the W Atlanta-Midtown, 188 14th Street, NE; 404-724-2550.
BEFORE YOU FEED YOUR FACE AT TASTE OF ATLANTA, VOTE ON FACEBOOK FOR YOUR FAVORITE ATLANTA CHEFS BEFORE SEPTEMBER 9
Hurry! Every vote counts as Taste of Atlanta selects its top 12 chefs according to Facebook polling. We're campaigning for some of our favorites: Andrew Smith of Atkins Park Tavern in Virginia Highland, Asha Gomez of Spice Route Supper Club and Cardamom Hill, Drew Belline of no. 246, Ford Fry of JCT. Kitchen & Bar and John Coley of Double Zero Napoletana. The only "voter registration" required is to "Like" the Taste of Atlanta Facebook page so you can participate in the vote count. Voting ends September 9. The 12 top vote recipients will be listed on festival banners. This year's fill-the-streets-with-eats festival takes place the weekend of October 23 - 24. Start training now by beefing up that exercise routine!
YELLOW JACKETS -- WEAR IT OR GEAR IT TO ROOFTOP 866 FOR GT GAME-DAY DISCOUNTS
Don't scrape the bumper sticker off your Ramblin' Wreck. Fans wearing or carrying ANY Georgia Tech gear -- including Georgia Tech shirts, Snuggies, hats, pom-poms, pens, IDs, you name it -- to Rooftop 866 on Tech game days will score 20 percent off food. This goes for home AND away game days! The skyline garden adjacent to the Renaissance Atlanta Midtown Hotel kicks off the deal on September 10 when the Yellow Jackets are on the road facing off against Middle Tennessee State University. Enjoy Rooftop 866 favorites such as house-made chips with a chili, peach and Vidalia onion dip, lump crab potato skins, short rib sliders, pork carnitas tacos, grilled ham and cheese with arugula and tomato jam or halibut ceviche -- all at 20 percent off. Rooftop 866 has plenty of signature cocktails, wine and beer to keep spirits high. Open daily, weather permitting, from 6 p.m. to 1 a.m.
Rooftop 866: 866 West Peachtree Street, NW; 678-412-2402.
THIS TIME, KEVIN GILLESPIE'S NOT COOKING SQUID. HE'S SPEAKING WITH IT -- LENDING HIS VOICE TO "SQUIDBILLIES" ON SEPTEMBER 11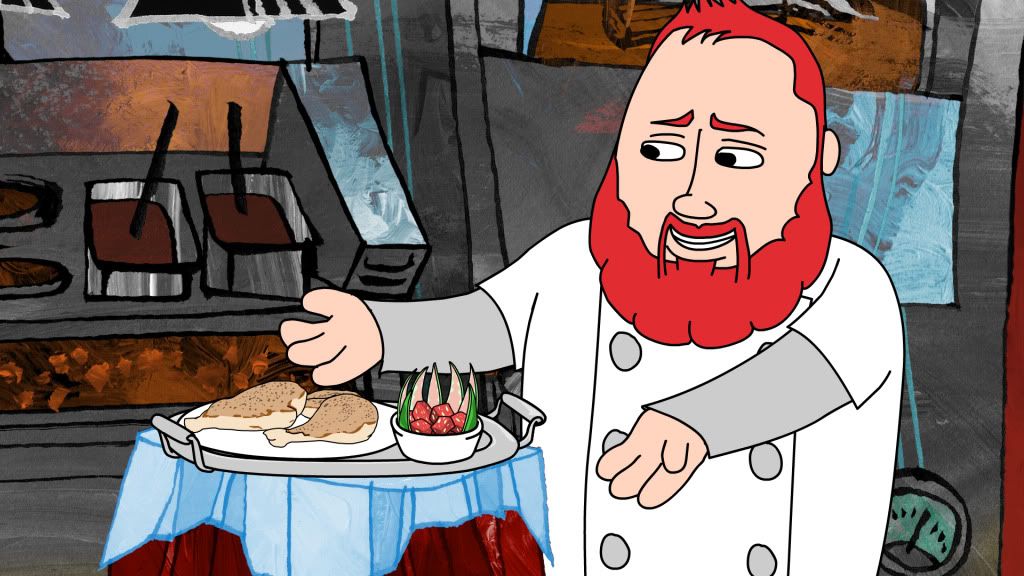 Image Courtesy of Adult Swim

I
nk this one on your late-night viewing schedule.

Check out the Sunday, September 11 episode of "Squidbillies," an [Adult Swim] show, airing at 11:45 p.m.


Executive Chef/Partner Kevin Gillespie from
Woodfire Grill
will be lending his voice to a character on the night's episode.
We gotta hand it to him; it's a novel way to take an apron break.
RAY'S AT KILLER CREEK WOOS FRIENDS AND FAMILIES WITH NEW FAMILY STYLE SUNDAY SUPPER AND LOUNGE SPECIALS
Buttermilk fried chicken, house-cut pork chops and turkey with dressing...these are just some of the Sunday classics that have brought friends and family together around the table! Now, Ray's at Killer Creek is cooking up these southern comfort foods with a gourmet twist for Sunday supper from 11 a.m. to 3:30 p.m. Executive Chef Tracey Bloom is sending out bottomless sides and oven-fresh biscuits or cornbread to accompany her new family style meal that replaces Sunday brunch. Quite a find at $16 per person! When an afternoon or evening calls for a cocktail, stop at Ray's at Killer Creek to enjoy their new line-up of lounge specials. Taste your way through the new flavors of Ray's signature martinis and other daily deals such as half-price appetizers, $5 cocktails, and beer and wine specials. Live jazz on Friday and Saturday nights.
Ray's at Killer Creek: 1700 Mansell Road, Alpharetta; 770-649-0064.
HOW ELSE WOULD RA SUSHI SAY "SO LONG SUMMER" THAN WITH A FAREWELL PARTY?
Gather 'round the Bonfire shrimp, Seaside roll and Summer School chicken nuggets to watch the Sunset roll at RA Sushi's "So Long Summer" party from 7 p.m. until close on Thursday, September 15. Summer has rounded the Labor Day corner, and it's time to say farewell to one hot season over RA Sushi's cool rolls, outrageous specials and music from DJ Krillz. Food specials including Seaside and Sunset rolls, kaisen ceviche and grilled beef skewers range from $6-$11. "So Long Summer" drink specials tap into $3 Bud Light and Miller Lite beers and $5 Long Island Iced Tea, Endless Summer Night, summer sake sangria, Kirin/Kirin Light or sake. Summer is on the way out, but lively food and drinks are always in at RA Sushi in Midtown. Get more details and RSVP on Facebook.
RA Sushi: 1080 Peachtree Street at 1010 Midtown; 404-267-0114.
NO. 246 USES NOODLE, MAKES GLUTEN-FREE PASTA ON NATIONAL CELIAC AWARENESS DAY AND BEYOND
National Celiac Disease Awareness Day is Tuesday, September 13 -- read more about Celiac Disease on Celiac Central. No. 246 in Decatur recognizes that those alleviating gluten from their diets have 364 other days a year to contend with menu navigation and ingredient awareness. The bistro is on top of it with gluten-free pasta by request. The kitchen can turn out gluten-free versions of any of the pasta dishes on its menu, and pasta dishes are available in two portion sizes. Since the Italian-inspired restaurant is locally driven, the type of gluten-free noodles at No. 246 varies depending on what ingredients are available. Gluten-free diners can slurp noodles at Monday night Spaghetti Suppers, held from 5 - 10 p.m. each Monday through September 26. Monday's Spaghetti Suppers are $24 per person for four courses, including a "Toast" appetizer, salad, spaghetti with one of three toppings and gelato for dessert. "Like" No. 246 on Facebook and follow them on Twitter (@no_246).
No. 246: 129 E. Ponce de Leon Avenue; 678-399-8246.
SAVE 25 PERCENT ON FLEMING'S 100 BOTTLES ON "WINESDAY" NIGHTS IN SEPTEMBER
Vintage trivia: "Winesday" falls between Tuesday and Thursday every week in September at Fleming's Prime Steakhouse & Wine Bar on the topside Perimeter. Every Wednesday this month, guests can pop 25 percent off the price of any bottle of wine on the Fleming's 100 list. Additionally, let's say you have a special bottle in your own "100" cellar that you'd like to uncork... on "Winesdays," corkage is complimentary! Two-bottle limit on both of these offers. One more thing about "Winesdays," if you jump on either of the above-mentioned specials, you'll receive a Fleming's card good for 25 percent off any Fleming's 100 bottle or complimentary corkage on a future visit when used by December 30, 2011.
Fleming's Prime Steakhouse & Wine Bar: 4501 Olde Perimeter Way in Perimeter Place Village; 770-698-8112.
MARLOW'S TAVERN HAS HEART OF GOLD FOR SPECIAL OLYMPICS
With eight locations around metro Atlanta, Marlow's Tavern is all about being a part of the community and satisfying their neighbors with the "Best of the Best" in American tavern fare. Fittingly, for the past 14 years, Marlow's has been dedicated to helping some of the "Best of the Best" in Georgia sports -- Special Olympics Georgia (SOGA). Each year, Marlow's Tavern hosts a golf tournament for SOGA, and each time Marlow's opens a new location, SOGA benefits from the opening night fundraiser. All together, these events have brought in close to $300,000 for Special Olympics Georgia. Marlow's was recognized as a SOGA sponsor in the organization's August e-newsletter. Read it and be inspired to help this very special program. Golfers -- be a part of the fun; the Marlow's Tavern Golf Classic is October 10 at Horseshoe Bend Country Club and is followed by a reception at Aqua blue in Roswell.
DOWNTOWN ACWORTH FOR DINNER? YELPER PROMISES DRIVE TO HENRY'S LOUISIANA GRILL IS WORTH IT
Yelper Andrew M. has a lot to say about Henry's Louisiana Grill up on Main Street in downtown Acworth. We figure the drive out there and back gave him plenty of time to compose his thoughts. Luckily, he's all over the crazy good Cajun food and happy staffers, and his commentary is so mouthwatering we may have to drive out there ourselves!

Wait, where are we? Acworth? How did I get here?

Trust me, Henry's is worth the drive. This is some of the best Cajun food I've ever had. Chef Henry has traveled the world to study, eat, and cook delicious fare and serves it up in home-style fashion on Main St. in downtown Acworth, GA. This place is always slammed, so make sure you get a reservation. We went on a Monday night and the line was out the door. Don't forget to wear your beads, either.

My friend and I started with some quick little Hush Puppies; hot, moist, and kicked up a notch with little pieces of Jalapeno peppers. They're served with a creamy, spicy remoulade that's a nice match to my flight of Abita beers. What's that? $9 for five 7 ounce pours of Louisiana's finest craft brews? Yes. What a bargain. You should order two flight samplers while you're at it.

Next course was a little salad that came as part of the entree package. I got the house salad; romaine with a few pieces of cucumber, onion and tomato. Literally, a few pieces. The veggies on there were really skimpy. I did like the new dressing, though, a citrus ginger vinaigrette.

My main course was the Chicken and Shrimp combo. Two big, fresh, perfectly cooked chicken breasts and about 6 large shrimp served over "Rustic" mashed potatoes and and Cajun Cream Sauce. Delicious. Everything was so nicely seasoned, and huge portions let me take some home for a midnight snack. I really do love that cream sauce, I could put it on anything. My friend got the Bayou Cake (1 cake) which is a mix of shrimp and crawfish sauteed and served over cheese grits and creole sauce with a little drizzle of remoulade. She loved it, and 1 cake was huge (although you could get another for an extra $5). It was heavily seasoned in the Creole fashion, but loaded with seafood and quality products, no taste of fillers or other garbage. The plate was huge, too, filled with grits to feed a family.

I've also dined here and had their famous Chicken Ooh-La-La. Highly recommended. The menu has lots to offer and there are always some good looking specials that range from blackened fish to alligator strew. Our server's name was John, you should ask for him. All of his fellow servers, runners and bussers were happy and accommodating, providing an awesome vibe for the restaurant.

Henry's Louisiana Grill: 4849 North Main Street, Acworth; 770-966-1515.
EAT IT AND TWEEP: JOURNEYPOD BRINGS LIFE'S BIG AND LITTLE LUXURIES TO YOUR EARPHONES, SMARTPHONE AND TABLET SCREEN. LIKE BEING THERE, BUT FREE


From copy and podcasts on music, restaurants, ritzy and boutique travel options, nightlife and clubs to top chef and celebrity sightings and interviews, Carly Redgers and journeyPod peek behind the scenes to keep you well fed on a luxurious diet. It's also a savvy spot for honeymoon ideas, spas and even interesting festivals -- all over the world. Download and listen in or read the online magazine. For smaller doses, join in on the Twitter (@journeypod) conversation.
Sample Tweet: Vagabondish: Six Best Cities to Get Lost In http://bit.ly/qfJAbR Full http://bit.ly/rcshcd
OUR APPETIZING APERTURE OF THE WEEK

Touchdown! Football season is back and so were these awesome football doughnuts from always crave-worthy Krispy Kreme on a recent visit to their Columbus store. This calls for excessive celebration!
Looking for the latest restaurant opening, weekly wine tastings and drink specials, or other culinary happenings? Whatever makes your mouth water, Melissa Libby & Associates will point you in the right direction. Our monthly calendar, blog, flickr, Facebook page and Twitter feed will keep you up-to-date on new and ongoing restaurant events around Atlanta.
Melissa Libby & Associates is an Atlanta-based public relations firm specializing in the restaurant, retail and hospitality industries.