Sustainability Profile: Stevenson RA Class & Sustainability in the Dorms
Each month, our newsletter features a person or group on campus that is working toward a more sustainable world. This month's profile features Sarah Cohen, a Stevenson residential adviser (RA), who shared with us how sustainability is being integrated into dorm living and RA training in Stevenson College. She has been teaching the RA class this quarter and reached out to our office for resources to share with next year's RA team regarding sustainable practices. Check out the full article here!
Current and future Stevenson RAs talk during the RA training class. The class discusses a variety of topics, including how to implement sustainability into dorm living and make students more aware of their environmental impacts.
If you know of a person or group on campus that you think we should profile, or if you would like to be profiled, please send us an email.
Exciting Jobs and Internships - Apply NOW for 2012-13 Academic Year Positions!
Are you interested in gaining professional experience in a fun and engaging environment where you can build connections with fellow students interested in sustainability? The Sustainability Office is currently hiring for the 2012-13 academic year, and we are looking for talented individuals with a passion for sustainability to join our team. You do not need to be an Environmental Studies or sciences major to work here! Check out our current list of opportunities, including both internships and paid positions! If you have any questions, please contact Lacey Raak.
UC Office of the President Now Hiring for Sustainability Specialist
The Sustainability Specialist provides support, facilitation, and coordination of research and analysis for UC's systemwide sustainability, climate protection, and green building goals by helping to identify and develop innovative solutions to achieve these goals in cooperation with other UC Office of the President staff and campus stakeholders. The Sustainability Specialist helps facilitate and coordinate systemwide working groups that focus on implementing green building and climate protection goals, helps to identify best practices, and works to aid adoption and implementation of those best practices University-wide. Click here to find out more and apply.
Family Student Housing Composting Project
After a recent survey with the Family Student Housing community, it is apparent that there is widespread interest and support for the implementation of a new composting system for the residents. Campus Sustainability Internship (CSI) student intern Lorlene Ragat and CSI staff mentor Alan VanderPaas are currently looking into Chadwick Garden and the College Eight Garden as possible places that will best fit the needs of FSH composting. They hope to launch the FSH composting program as early as this summer. For more information, please contact Alan. To learn more about the CSI Program, please visit the website.
Dining 100% Certified by Monterey Bay Green Business Program
Dining is pleased to announce that their final two operations have now been inspected and certified by the Monterey Bay Green Business Program. With these two final locations, the Dining Administrative Office and Oakes Cafe, the total certifications for the department are now 12, which gives Dining 100% certification at all 12 locations on campus! This rigorous protocol recognizes eco-friendly practices in water conservation, waste reduction, energy reduction, pollution prevention, and shrinking our carbon footprint. Congratulations team!
Procurement and Business Contracts Office Certified Green as a "Tree" by PROPS
PROPS (Program Recognizing Offices Practicing Sustainability) has just awarded the Green Office Certification level of "Tree" to the Procurement and Business Contracts office. This is the highest award level currently available and it is the first time it has been awarded. The first certification for the Procurement Office was "Sapling," awarded in August of 2011. Read more about PROPS and this office's certification here.
Shakespeare Santa Cruz Partnerning with Dining for Zero Waste
Beginning with the 2012 Summer season, Shakespeare Santa Cruz in partnership with Dining will begin promoting Zero Waste efforts and embarking on a full composting program to help the campus divert even more waste from our landfill! Collecting food scraps and using compostable service ware are the first steps that will be undertaken.
UC wins prestigious climate leadership award
The University of California system's achievements in cutting the carbon footprint of its campuses are being recognized with a Climate Leadership Award from Second Nature and the American College & University Presidents' Climate Commitment (ACUPCC). UC is among the 10 academic institutions chosen to receive prestigious Climate Leadership Awards. The 3rd annual awards are being presented to ACUPCC signatory schools that demonstrate unparalleled campus innovation and climate leadership that helps transition society to a clean, just and sustainable future.
Practically green: UCSC students are creating real change when it comes to sustainability and the environment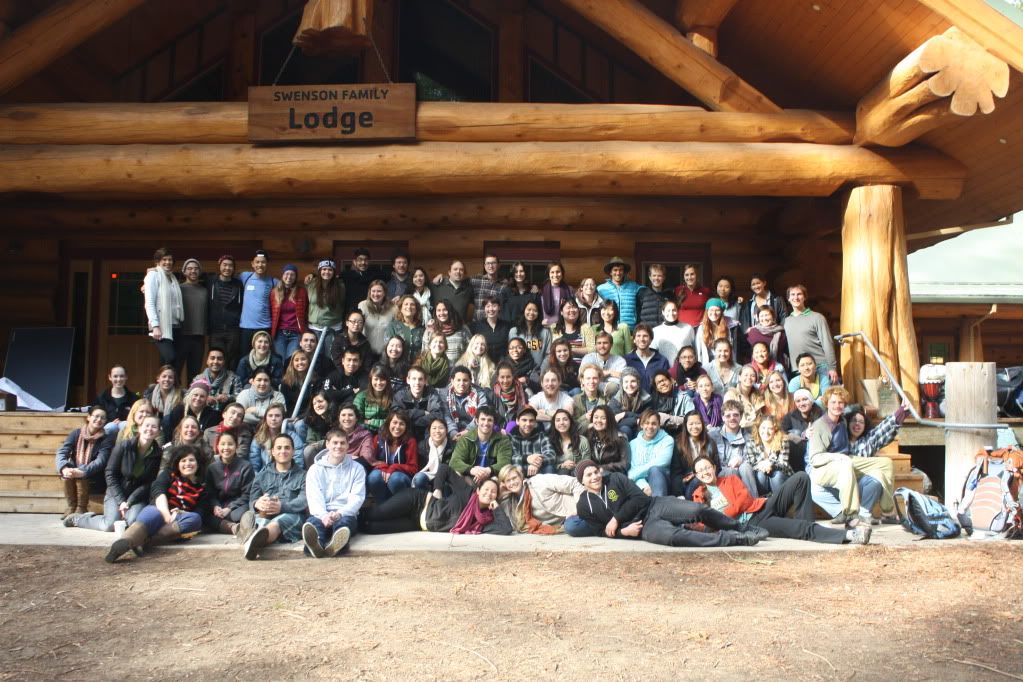 Students who attended the 2012 Sustainability Inter-Org Retreat, pictured above, are some of the students making real change for a more sustainable world, as this article highlights.
Check out this article about UCSC sustainability in the latest issue of the UCSC Review. It highlights many of the fantastic projects taking place on this campus. You can view the article online here.
Pick Up Your Copy of Gaia Magazine and Contribute for Next Year!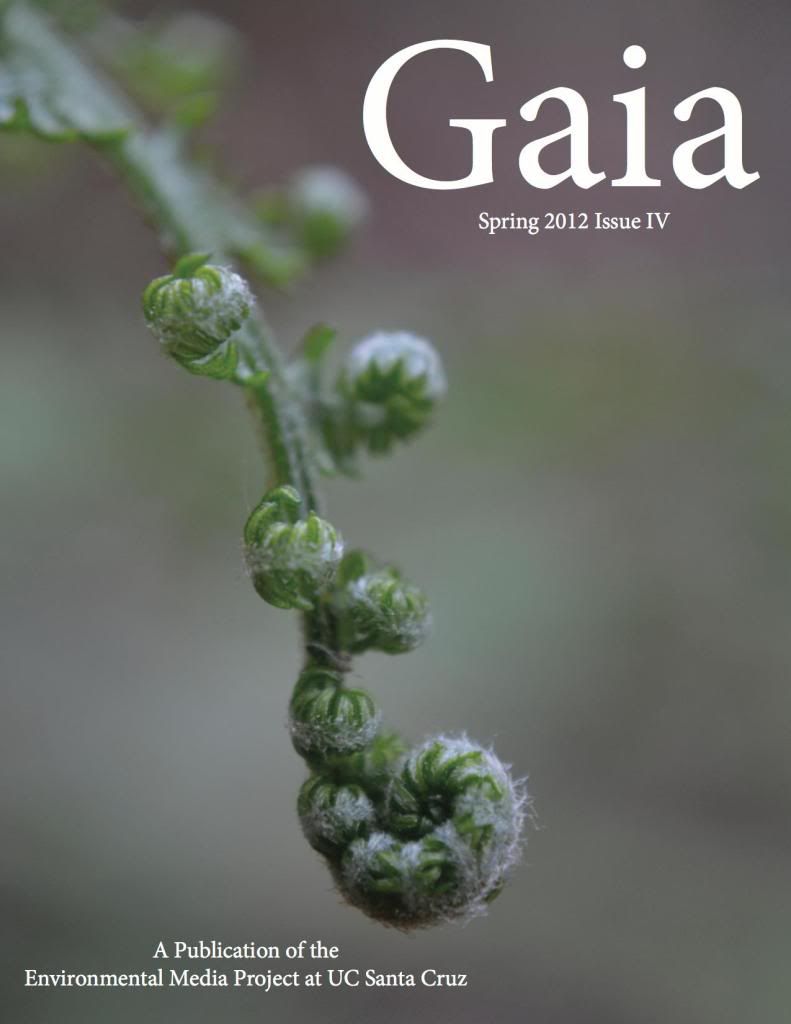 The Spring 2012 issue of Gaia Magazine, a publication of the Environmental Media Project, can be found in coffee shops and libraries all over campus! It is full of beautiful photos, articles about campus projects, recipes, poems, and more! Be sure to pick one up, and when you've finished reading, keep Gaia sustainable by passing your copy on to someone else. If you like what you see, and will be a student at UCSC next year, consider joining the Gaia Team, submitting to next year's issue, or just helping the team spread the word about Gaia to the campus community. Email the team for more information, and visit their Facebook page or website!
Early Educational Services: Teaching Eco-Responsibility to the Next Generation
"From 11-month-old infants to pre-teens, the children in the Early Educational Services program at UC Santa Cruz are instilled with environmentally-conscious behaviors from day one. 'We are caretakers, but we are also preparing them to be responsible adults, and that includes behaviors such as recycling and composting,' says Sohyla Fathi, Director of Early Educational Services." Read the full article by CSI Intern Grace Sorenson here.
Beyond the Gallery Environmental Art Project
UCSC Students and the Sesnon Gallery are partnering with the City of Santa Cruz for pop-up art projects, including projects with environmental and social justice messages. For instance, "Nature BeWILDered," by Sam Moll (the College 8 CUIP intern who helped facilitate UCSC Earth Day 2012) and Gabi Kirk (FoSO Events Coordinator for the Sustainability Office), encourages patrons to blur the lines between civilization and wilderness through a constructed redwood forest and interactive writing pieces, installed at the Museum of Art and History. Find out more here.
Greening a wharf as a step toward greening the world
"A recent presentation to the Santa Cruz City Council by UC Santa Cruz students Ian Hunter and Cara Samuelsen laid out how the Santa Cruz Municipal Wharf can become an environmental icon. They detailed how the university, the city and local groups are working to help the wharf's small community of stores, restaurants and attractions reduce their impacts on the environment and the climate. Listening to the presentation describing how the Green Wharf program has grown, it was obvious that their strategy could be one we all embrace." Read the full article here.
Sustainability Project Clearinghouse
Are you interested in getting involved in a campus sustainability project, but don't know how? Are you looking for partners for your current project? Have you completed a project that you would like others to learn from? Visit the Sustainability Project Clearinghouse today! The Sustainability Project Clearinghouse is a database of sustainability projects designed to help students, staff and faculty get involved in the campus sustainability movement. The database provides a centralized place to learn about campus needs; identify ways to get involved; and serves as a reference for understanding the successes and challenges previous projects have faced. Visit our website to view published projects or create a user account and upload your own projects and sustainability ideas.
Carbon Fund's Winter Projects
In its first full year of operation, the UCSC Carbon Fund granted $130,000 to eight staff and student run greenhouse gas-reduction projects. These projects have transformed the way we consume energy in the Santa Cruz area amounting to an estimated decrease of 1,000 metric tons of CO2 emissions.

Do you have a creative greenhouse gas-reduction idea? Let the Carbon Fund help them grow! The Carbon Fund will be accepting new applications next school year. For a complete list of projects and information on how to get involved, visit our website!
Test Your Storm Water Knowledge!
The Storm Water Management Program works to protect and improve storm water quality at UCSC by implementing The Storm Water Management Plan (SWMP). The SWMP identifies what UCSC is doing to ensure that the quality of campus storm water is maintained. For more information, visit their website and like their page on Facebook. Take the Storm Water Survey Quiz to test your knowledge and provide valuable information to the Storm Water Management Program. It takes less than 5 minutes--click here to start!