Click here to view the Sustainability Office calendar.
Labor Across the Food System Conference - February 3-4
This free public conference on the UCSC campus will bring together scholars, researchers, and activists to discuss the role of labor and social justice in reshaping the contemporary global food system. The conference is presented by the Center for Labor Studies at UCSC in collaboration with the UCSC Center for Agroecology and Sustainable Food Systems (CASFS) and the Food First Institute for Food and Development Policy in Oakland. For more information, including times and locations, please click here.
Connect with Nature Lecture Series - February 4-25
The Santa Cruz Museum of Natural History is hosting a lecture series this month. Topics include coastal lagoons, pumas, geology & ecotones of Santa Cruz, and bees & flowers. $8 for members/ $10 for general public. All classes begin at 10 AM. Find out more about dates and lecture topics and register here.
Garden Planning for Small Garden Spaces & Raised Beds - February 5
Learn from garden educator Trish Hildinger how to plan your garden for maximum production. Bring a sketch of your garden. 10 AM - 1 PM at the Louise Cain Gatehouse at the UCSC Farm. $5 UCSC students with valid ID, $30 general admission For more info, contact the Center for Agroecology & Sustainable Food Systems. For a calendar of CASFS events, click here.
UCOP Sustainability Manager Visiting February 6-7
Matt St. Clair, Sustainability Manager from the UC Office of the President has a long history with the UC system and is a founding member of the Board of Directors for the Association for the Advancement of Sustainability in Higher Education (AASHE). On February 6, St. Clair will join us for an evening of discussion and a potluck. For more information about timing and location, please contact Aurora Winslade.
Earth Summit Breakout -
Wednesday, February 15
Join the Student Environmental Center for vegetarian food and breakout discussions about Food Systems and Academics & Curriculum for the 2011-12 Blueprint for a Sustainable Campus from 5:30 to 8:30 PM in the College 8 Red Room. For more information email Eliza Milio (CUIP Earth Summit/Blueprint Coordinator).
CAN Intercambio 2012 - February 13-22
Meet and interact with representatives from Community Agroecology Network (CAN) partner communities in Latin America at a variety of events. Learn more about Field Study and Field Course possibilities in those communities and have the chance to get to know some of the people from those places. Updates and more information will be posted on the CAN website.
Growing Blueberries in the Home Garden
- February 19
Learn how to successfully grow blueberries! Taught by Liz Milazzo and Christof Bernau of the CASFS/ UCSC Farm & Garden staff. 10 AM - 1 PM at the Louise Cain Gatehouse at the UCSC Farm. $5 UCSC students with valid ID, $30 general admission. For more info, contact the Center for Agroecology & Sustainable Food Systems. For a calendar of CASFS events, click here.
This Way to Sustainability Conference VII - Registration Deadline February 17
This Way to Sustainability Conference VII is taking place in Chico March 1-3. This annual sustainability conference seeks to develop common ground to help build a sustainable society; one that balances economic, environmental and social needs. For more information or to register, visit the website.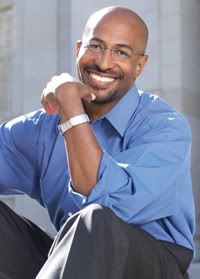 Van Jones Speaking at UCSC - February 21
Van Jones is a globally recognized, award-winning pioneer in human rights and the clean energy economy, and in 2009 was appointed by President Obama as the first Special Advisor for Green Jobs. As part of a collaboration between the African American Resource Center, Cultural Arts & Diversity, Brain, Mind and Consciousness Society, the Student Environmental Center, Education for Sustainable Living Program, American Indian Resource Center, and the Sustainability Office, Van Jones will be speaking in the Stevenson Event Center from 7-9 PM on February 21. Find out more about Van Jones here. For more information about the event, please contact Malia Bradley.
Sustainability Office Hosting Green Drinks - March 1
Green Drinks is an informal networking event where environmentally-minded people meet over drinks. The UCSC Sustainability Office has been invited to host Green Drinks on March 1 at Cafe Mare (740 Front St., Suite 100 in downtown Santa Cruz) from 5:30 to 7:30 PM. The office is looking for on-campus organizations that would like to participate in our "poster session/UCSC sustainability introduction" presentations for this event. For more information please contact Kirsten Williams, or join us on March 1!
11th Annual Campus Earth Summit -
Saturday, March 3
Mark your calendars for this year's Campus Earth Summit: March 3 from 11 AM to 5 PM! Find out more about blueprint breakout sessions (see above Earth Summit Breakout event) and find updates about Earth Summit details here. If you are interested in leading a workshop, tabling, or volunteering at the event, contact Eliza Milio.
Earth Week 2012 - April 16-22
If you are interested in getting involved in Earth Week 2012, please email Sam Moll, College 8's Special Environmental Programs Coordinator. Find out about last year's Earth Week and stay tuned for more information here.
Farm Fridays - Fridays this Quarter
Farm Fridays has begun! Each week, one dining hall will feature a dish incorporating ingredients from the UCSC Farm and other local organic farms in the region. The food is delicious, and it feels great to be eating the most local food possible! For more information, contact Candy Berlin or view the Farm Fridays schedule here.