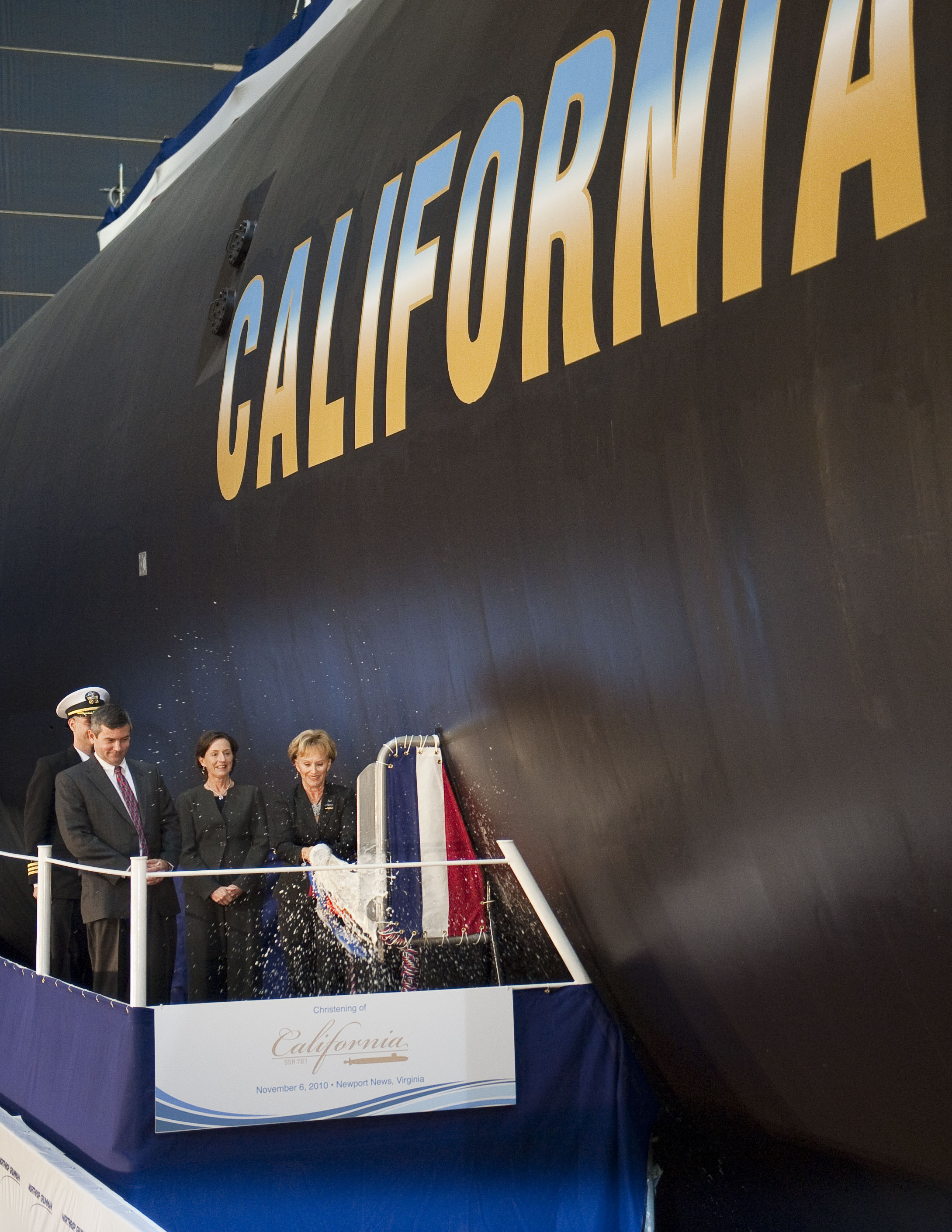 Newest Virginia-Class Submarine Christened as Navy Launches Education Event in California
NEWPORT NEWS, Va. - Northrop Grumman Corporation christened the eighth submarine of the Virginia class, California (SSN 781), at the company's Shipbuilding sector in Newport News, Va. on Nov. 6.
Mrs. Donna Willard, the ship's sponsor, performed the traditional honor of breaking a bottle of American sparkling wine across the submarine's hull. She is the wife of Adm. Robert F. Willard, the current Commander of the U.S. Pacific Command.
Jackalyne Pfannenstiel, assistant secretary of the Navy for Energy, Installations and Environment, served as the keynote speaker.
"To the men and women of Northrop Grumman Shipbuilding, General Dynamics Electric Boat and the Navy's Virginia class program, congratulations on another world-class submarine," said Pfannenstiel. "With her nuclear power, this sub demonstrates some of our [nation's] finest technical capabilities."
"We know that the work we do is important," said Mike Petters, corporate vice president and president of Northrop Grumman Shipbuilding. "We know we are a critical part of the Navy/industry team that produces the most sophisticated and complex ships to keep our nation safe. We know we have to earn our place on that team with each and every weld with each and every pipe and with each and every test. We do this by never losing focus on what our founder, Collis P. Huntington, committed to 125 years ago, when he promised 'Always Good Ships'."
Cmdr. Dana A. Nelson, a native of Clinton, Conn., will be the ship's commanding officer, leading a crew of approximately 134 officers and enlisted personnel. A 1992 graduate from the U.S. Naval Academy, Nelson earned a Bachelor of Science degree in Aerospace Engineering.
Other ceremony participants included U.S. Rep. Bobby Scott (D-Va.); U.S. Rep. Rob Wittman (R-Va.); Adm. Jonathan W. Greenert, vice chief of Naval Operations; Adm. Kirkland H. Donald, director of Naval Nuclear Propulsion; Rear Adm. David Johnson, program executive officer for Submarines; and John Casey, president, General Dynamics Electric Boat.
"The shipbuilding team at Newport News and Electric Boat have done a great job constructing this powerful ship," said Donald. "Thank you for what you do."
In conjunction with California's christening, Team Submarine launched an interactive learning event to promote science, technology, engineering and mathematics (STEM) at the Naval Surface Warfare Center in Corona, Calif. During the month-long event students, teachers and parents watched the christening. Also they will learn about submarines through exhibits and participate in an interactive submarine simulation called Mission Ocean. In addition to the STEM event at the Naval Surface Warfare Center, other events will be held at the Admiral Kidd Conference Center in San Diego on Nov. 15 and at the California Science Center in Los Angeles on Nov. 18.
California, the eighth ship of the Virginia class, is named after the "Golden State." The ship's motto is, "Silence is Golden." Upon delivery to the Navy in 2011, it will be the most modern and sophisticated attack submarine in the world, providing undersea supremacy well into the 21st century.
Construction on California began Feb. 15, 2006 with keel authentication occurring May 1, 2009. According to the shipbuilder, the submarine is approximately 90% complete. The majority of the construction work left is related to compartment completion, pier-side testing and exercising the ship's systems to prepare for sea trials, which are planned for Spring 2011.
California is built to excel in anti-submarine warfare; anti-ship warfare; strike warfare; special operations; intelligence, surveillance, and reconnaissance; irregular warfare; and mine warfare missions. Adept at operating in both the world's shallow littoral regions and deep waters, California will directly enable five of the six Navy maritime strategy core capabilities - sea control, power projection, forward presence, maritime security, and deterrence.
The 7,800-ton submarine California is being built under a teaming arrangement between General Dynamics Electric Boat and Northrop Grumman Shipbuilding-Newport News. At 377-feet long, California is slightly longer than a football field. She has a 34-foot beam, will be able to dive to depths greater than 800 feet and will operate at speeds in excess of 25 knots submerged. California is designed with a nuclear reactor plant that will not require refueling during the planned life of the ship, reducing lifecycle costs and increasing underway time.
Watch the ceremony online here. Find more information on California's webpage. View photos on Flickr.
- USN -