The Oliver Foundation is a non-profit organization dedicated to the prevention of childhood obesity.
Are you interested in becoming a Teen Board Member?
Click here for more information.
Recipe
Fruit Smoothies
Serving size: 1 cup
Yield: 2 servings
INGREDIENTS
1 frozen banana, peeled and sliced
2 cups frozen, unsweetened strawberries, raspberries or cherries
1 cup non-fat milk
1/2 cup plain or vanilla yogurt
1/2 cup freshly squeezed orange juice
ice (optional)
PREPARATION
Place all the ingredients in a blender and mix until smooth.
Serve immediately.
Visit the Oliver Foundation website for more recipes.
Do you know someone - a parent or teacher - who would like to receive the Oliver Kids TEAM Newsletter?
Forward this newsletter to them and help them

Funding Opportunities
Build-A-Bear Workshop Bear Hugs Foundation
The Build-A-Bear Workshop Bear Hugs Foundation provides direct support for children in the areas of health and wellness. The Foundation's goal is to provide grants to help many programs that are working hard to make the world a healthier and happier place for kids.
Grant requests will be accepted from March until August 31, 2012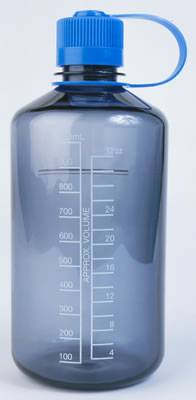 Water is essential to the human body and one of the most important nutrients in your diet.
Your body needs to be hydrated to function at its optimal level.
Most of us think of drinking water when you exercise but truth is we need to stay hydrated every day, no matter what the season or temperature outside.
Hydration affects essential body functions such as circulation and helping your organs get the nutrients they need. Dehydration can affect your mood. You may feel cranky, irritable or even have a headache due to dehydration. You may mistake dehydration for hunger, when what your body really needs is water.
Some functions of water include:
main property of blood, which carries nutrients to cells and carries wastes out of the body
helps convert food into energy
regulates body temperature
essential for our senses to work properly
one of six nutrients essential for life (water, fat, carbohydrates, protein, vitamins and minerals)
Remember, the human body can last up to six weeks without food, but only one week without water.
Beverage of Choice
It's not only what you eat, but what you drink that contributes to a healthy lifestyle. Many of us unconsciously consume more calories than we are aware when we choose sugar-laden, caffeinated beverages.
Yes, caffeinated drinks, such as sodas, tea and coffee, in part, count toward our daily fluid intake. But they should not be your primary source of liquids during your day.
Keep these tips in mind when choosing a drink:
CALORIES - Drinks with added sugar tend to be higher in calories and may cause weight gain.
CONTENT - Soda, sports drink and fruit drinks contain mostly sugar. Sugar fills you up and leaves little room for healthy foods.
CALCIUM - An increase in high sugar intake often leads to a decrease in milk intake. You need calcium to make your teeth and bones strong.
CAFFEINE - Coffee and many soft drinks contain caffeine. Caffeine intake can cause a person to be nervous, cranky and may experience problems sleeping.
Calcium - What your body needs
Everyone needs calcium throughout their lifetime. Calcium helps build strong teeth and bones, but there's more. Calcium also helps your blood clot and keeps your muscles and nerves working properly.
The Recommended Dietary Allowance for Calcium changes throughout each life-stage with 700mg/day for 1-3 year olds and tops out at 1,300 mg/day for pregnant or lactating women.
Its easy to add calcium to your busy day.
Choose three, 8 ounce, servings of low-fat dairy a day to meet your calcium needs.
Top your breakfast cereal with creamy non-fat yogurt.
Keep easy-to-eat, calcium rich snacks such as string-cheese, low-fat pudding and yogurt cups at work and at home.
Dilute cream-based soups with milk instead of water.
Make oatmeal or hot chocolate with skim or low-fat milk instead of water.
Blend non-fat shredded cheese into casseroles and meatloaf or use it to top chili or stews.
Lesson: Water, Water Everywhere
Science - L32
Grades: 2nd - 5th
Objective: Students will find out the importance of water in life by figuring out the water content in fruits and vegetables.
Materials:
Slices of various fruits and vegetables Food Scale
Paper plates Paper Towels
Description:
The teacher will talk about the importance of water in all kinds of life, reminding students that we are made up of mostly water which is why we need to stay hydrated. An easy way to see how much water is in nature is by observing fruits and vegetables. They are also filled with water.
Weigh slices of apples, bananas, potatoes, celery and various other types of fruits and vegetables.
Students record the weight on a chart
Leave the food slices out on paper plates, cover with a paper towel and re-weigh them daily for 3-5 days.
Once measurements are done, ask students which food lost the most and the least weight. They can also graph the results.
Looking for more nutrition integrated lessons? Go to the Oliver Kids Manual where you'll find 50+ lessons.
Have you created a Healthy School Environment in your district? Send us an e-mail and tell us all about it - info@oliverfoundation.org .


You may be spotlighted in the next Oliver Foundation newsletter - T.E.A.M. Talk.
Sincerely,
Oliver Foundation