FY 2012 GRHA Board of Directors
President
Sallie Barker
Immediate Past President
Nannette Turner
President Elect
Denise Kornegay
Vice President
Ann Addison
Treasurer
Sheila Freeman
Secretary
Deidre Howell
Board Members
Carla Belcher
Laura Bland Gillman
Sue Nieman
Charles Owens
Chris Parker
Carie Summers
Paula Guy
Monty M. Veazey
Shelley Spires
Joseph Barrow
Robert J. Briscione
Matt Caseman
GRHA Welcomes
New Member
ORGANIZATIONAL
Alliant/GMCF
Keystone Mercy Health Plan
Tift Regional Medical Center
FREE MEMBERSHIP FOR ONE YEAR!
Non-members

who register for the 2012 GRHA Annual Conference will receive a one year free membership with the Georgia Rural Health Association!
Some Membership Benefits Include:
Discounted membership rates at all GRHA events
Timely legislative tracking reports throughtout the General Assembly session, guided with the issues members say are important
Up to date state and national public policy and advocacy e-mail alerts guided by GRHA Legislative Affairs Committee and the NRHA
Grant information available only to members
This offer will end August 23, 2012
New Funding Opportunity
The U.S. Department of Health and Human Services (HHS) announced available funding of $70 million to improve the health of small communities across the nation. Grants will be awarded to governmental agencies and non-governmental organizations across a variety of sectors, including transportation, housing, education, and public health, in an effort to save lives and control the nation's growing health care costs associated with preventable chronic diseases.
The official funding opportunity announcement for the Community Transformation Grant program Small Communities component can be found by clicking here.
Application closing date: July 31, 2012
DCH-i June 2012, Vol. 1 Issue 8
DCH-i is the monthly newsletter from the Georgia Department of Community Health for all matters DCH. It provides timely and important information to you as physicians, dentists, hospitals, third-party payers, vendors, health care advocates, consumers and legislators. Our goal is to help create
A Healthy Georgia -- together. Write us at
Save the Date
1st Annual Medical Fair
October 12-13, 2012
Ritz-Carlton Lodge, Reynolds Plantation
More Information Coming Soon!
Community Facilities Funds Available from USDA
For those who want to stay up to date through social networks, please like the Georgia Rural Health Association Facebook page and follow us on Twitter!


By joining our social media sites, you have the ability to stay updated on the latest rural health information in Georgia. Please help us spread the word! Thank you for your support and feel free to contact us with any questions.
Notice
GRHA circulates state and
national news as an information service only. Inclusion of information is not intended as an endorsement.
2012 Georgia Rural Health Association
Annual Conference
September 17 -19, 2012
Callaway Gardens, Pine Mountain, GA
Deadline extended to September 7, 2012
Deadline is August 1, 2012
Reservations: 1-888-312-8002
Ask for GRHA Rate
NEW THIS YEAR!
Presenting
Diamond
Time to Nominate Your Colleagues for 2012 GRHA Awards of Excellence
The nominations are now open for the 2012 GRHA Awards of Excellence. Click here for more details and to make a nomination. Deadline is August 1!
You can nominate people or organizations for the following awards:
Legislator of the Year
Outstanding Rural Health Practice or Practitioner .
Outstanding Rural Health Program
Distinguished Educator/Researcher
James Alley Award for Outstanding Lifetime Achievement in Rural Health Care
Outstanding Volunteer
Future Professionals in Rural Health
Awards will be presented at the GRHA Annual Conference in Pine Mountain, Georgia on October 17.
Georgia faces tough call on Medicaid
The U.S. Supreme Court has upheld the health care overhaul, but Georgia's emergency rooms and free clinics may still be jammed with the uninsured years after that landmark ruling.
The court on Thursday gave states the authority to opt out of the massive expansion of the Medicaid program that is a key component of the law. In 2014, that expansion would extend Medicaid to about 650,000 poor and low-income Georgians who do not qualify for the program today.
Without the Medicaid expansion, however, Georgia will not come close to extending insurance to most of the 1.9 million residents who do not have it now.
"The truth is that millions will continue not to be covered," said Georgia Attorney General Sam Olens, who led the state's fight against the law. "You have a huge tax increase without necessarily helping many of the folks you intended to help."
By Carrie Teegardin and Misty Williams
The Atlanta Journal-Constitution
Sharp increase expected in number of nurse practitioners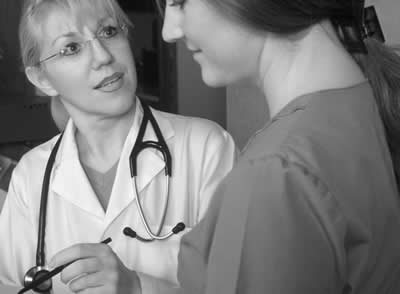 The growth in the profession will be especially noticeable in primary care, according to a new report.
The nurse practitioner population will nearly double by 2025, according to an analysis published in the July Medical Care, the official journal of the medical care section of the American Public Health Assn.
"Nurse practitioners really are becoming a growing presence, particularly in primary care," said David I. Auerbach, PhD, the author and a health economist at RAND Corp.
Auerbach used modeling to project that the count of those trained as nurse practitioners would increase 94% from 128,000 in 2008 to 244,000 in 2025. The subgroup of those providing patient care as nurse practitioners, rather than filling administrative or other roles, will rise 130% from 86,000 in 2008 to 198,000 in 2025.
NRHA responds to Supreme Court's health reform ruling, has record attendance at webinar following
On June 28, in a 5-4 decision, the U.S. Supreme Court upheld the Affordable Care Act (ACA) in its entirety (with the exception that the federal government's power to terminate states' Medicaid funds is narrowly read). The Court could have struck down all or part of the bill as unconstitutional, but instead, upheld each of four distinct legal challenges.
What does the court's decision mean to rural America?
Whether you support or oppose the health care bill, it is important to know that many provisions were included in the bill that benefit both the rural provider and patient. During the health reform debate, NRHA's message was clear: Improve rural America's access to health care providers by resolving the workforce shortage crisis in rural areas, and eliminate long-standing payment inequities for rural providers.
Consumer Reports Rates Hospital Safety
The spotlight on hospital-caused patient harm has become a bit brighter with the launch of Consumer Reports' hospital safety ratings, which uses several different measures than the Leapfrog Group's recent and controversial hospital letter grades, and reaches opposite conclusions about many facilities.

The CU rating system, featured in the magazine's August issue, rates hospitals in six categories:
1.Infections
2.30-day readmissions
3.Overuse of scanning
4.Communication about new medications and discharge process (as measured by HCAHPS - the Hospital Consumer Assessment of Healthcare Providers and Systems survey)
5.Patient complications
6.30-day post-discharge mortality
In addition to informing consumers, the CU rating system is aimed at hospital CEOs and boards, "in terms of their accountability," and getting them to understand they can do better, John Santa, MD, director of Consumer Reports Health Ratings Center, explained in an interview with HealthLeaders.
"We see hospitals are figuring this out, but most of them haven't. The hospitals that have are those with CEOs and boards that have decided, 'enough of this ambiguity about safety. We've had 12 years since the Institute of Medicine report To Err Is Human. This is embarrassing. And we're not going to be embarrassed by it any longer."
The Supreme Court Ruling on the Affordable Care Act: What will it mean for Georgians?
To learn more click here.
Mark Your Calendar
2012 Annual National Forum on Education Policy
July 9 - 11, 2012
Education Commission of the States
InterContinental Buckhead Atlanta Hotel
Atlanta, GA
For more information, contact:
303.299.3621

What's Up, Doc: What You Need to Know About Medical School 2012
Date: Thursday, July 19, 2012
Time: 2:00 PM - 4:00 PM (EST) Sponsor: SOWEGA AHEC
REGISTRATION

Georgia Oral Health Summit
Monday, August 13, 2012
Macon, GA
Registration and Agenda coming soon!

2012Georgia Rural Health Association Annual Conference
September 17-19, 2012

20th Annual NALBOH Conference
Aug 8 - 10, 2012
National Association of Local Boards of Health
Hyatt Regency Downtown
Atlanta, GA
For more information, contact:
Tracy Schupp
http://www.nalboh.org/NALBOH_Conference.htm

2012 National Medicare Region IV Train-the-Trainer Workshop
Aug 21 - 23, 2012
Centers for Medicare and Medicaid Services
Atlanta, GA
Information and Registration Link

2012 Annual NASCSP Conference
Sep 11 - 14, 2012
National Association for State Community Services Programs
Grand Hyatt Atlanta
Atlanta, GA
http://www.nascsp.org/Events.aspx?id=130

ICD-10-CM Workshop
Dec 14, 2012
American Medical Association
Hyatt Regency Atlanta
Atlanta, GA
For more information, contact: Desiree Evans