Join Our List
Funny Jason Videos
Brandon Walsh Scares Little Children.
Jason and Naomi fishing:
Baby Number 2 Born!
"Jason and Naomi Priestley welcomed a healthy baby boy to the world yesterday, Thursday, July 9th. The baby was born in Los Angeles, California," Jason's rep, Marla Farrell, told Access.

No further details about the baby, including his name and birth weight were immediately available. However, he was born almost two years after the birth of the couple's first child, Ava Veronica, who came into the world on July 2, 2007.


Greetings!
Here is our second instalment of the Jason Priestley newsletter. Here's the latest news on Jason from the past few months to recent. Deepest apologies for the huge delay in getting this newsletter out to you all.
Barenaked Children Award
PR) Multi-platinum recording artist Barenaked Ladies received great news today as they were sailing the high seas on their annual "Ships & Dip" cruise. The band, who released their debut original children's album Snacktime early last year, was nominated for a 2009 Juno Award in the category of "Children's Album of the Year."
The nomination is a fantastic way for BNL to kick off the new year, as they begin their celebration of 20 years together as a band.
Snacktime, which was produced and mixed by Michael Phillip Wojewoda (who also worked with the band on their debut Gordon), is composed of 24 tracks, including such titles as "Pollywog in Bog," "Popcorn" and "Here Come The Geese." With 11 children ranging from three months to 12 years old among them, the band was never at a lack of inspiration or imagination. Additionally, the title track includes guest appearances from celebrities/musicians like Geddy Lee, Lyle Lovett, Jason Priestley, Sarah McLachlan, Gordon Lightfoot and more.
BNL is currently in the midst of "Ships & Dip V" -- the third time BNL has cruised with their beloved fans. The Norwegian Jewel left on February 1 and is sailing to Cozumel, Mexico and Norwegian Cruise Line's private island Great Stirrup Cay, returning this Friday, February 6. Additional entertainment this year includes Kids In The Hall alumni Dave Foley and Kevin McDonald, Great Big Sea, The Weakerthans, Gaelic Storm, Butterfly Boucher, The New Odds, Brothers Creeggan, Luke Doucet, Mike Evin, Christine Fellows, Boothby Graffoe, Melissa McClelland, Sloan, The Mountain Goats and Vanity Project.
The Day of The Triffids
An Irish actress has landed a role in a prime-time BBC remake of The Day of The Triffids, starring alongside Vanessa Redgrave and Eddie Izzard.
Jenn Murray, a 23-year-old graduate of Trinity College Dublin who was nominated for an Irish Film and Television Award (Ifta) for her debut cinema role, will begin shooting the big-budget drama next month.
"I'm really excited," said Murray, from Belfast. "I thought the script was really cool and then when I heard the cast, I was like 'Oh gosh', because everyone is so amazing."
The science fiction film will be shown as two 90-minute episodes. It will feature Dougray Scott, Brian Cox, Joely Richardson and
Jason Priestley
, who played Brandon Walsh in Beverly Hills, 90210.
Click Here
to read more.
Here
is another article on this 2 part series.
Head Case S1 Review
Starz has long been the overlooked child among premium cable channels, getting nowhere near the press as HBO or Showtime. Indeed, I've known folks with cable systems who actually have Starz but never watch it. The network has been trying to raise their profile in the last couple of years by adding the element that's made those other cable channels successful: original series.

Among these has been the successful Head Case which utilizes the cable format well with open swearing, nudity and sexual situations. It's a unique show which mixes in some truly over the top events and dialogue with a twisted sense of humor that borders truly incorrect. Yet it fits well if you can accept it and is a nice showcase of how some celebrities are willing to poke more than a little fun of both themselves and the mentality of Hollywood.
Toy boats made go up for auction
...A collection of Sutcliffe toy boats will also go on show at Horsforth Museum. The personal collection of Yorkshire enthusiast Jason Priestley will be on display for a year from March 28.
Mr Priestley, who has written a book about the company, bought his first Sutcliffe boat in 1983 and has been hooked ever since. He will be a guest of honour when the display is opened by a member of the Sutcliffe family.
He said: "They manufactured the boats less than a quarter of a mile away from the museum, so I think it's great that we can show them off."

To read the rest of this article
Click Here
.
New fund to encourage film and TV productions to utilize the region
Celebrity guest Jason Priestly was on hand for the Arrowleaf launch Thursday in Kelowna, and is also on the board of directors for the fund. Priestly, a famous actor and director, also owns the Black Hills Winery in the South Okanagan and has filmed the television series Hollywood and Vines here. "I've been in love with this area since I was a kid," he said. "I think that once all the filmmakers and television producers, like who are here with us today, get to see what this region has - I think that they'll be coming here to make things happen."
B.C. Actor Lends Voice To Trail Documentary
UCLUELET - One of B.C.'s best-known actors is lending his voice to a film that will promote and perhaps protect one of the community's greatest assets - the Wild Pacific Trail.

Jason Priestley, who has acted in and directed TV shows and films in Canada and the U.S. and also owns Ucluelet's Terrace Beach Resort, was in town this past weekend to narrate Walking on the Edge.

Funded, filmed and produced by an entirely local crew, the 22-minute-long documentary tells the story of "Oyster Jim" Martin's struggle to build the Wild Pacific Trail.

Lights, camera...money
The Arrowleaf Fund will be administered by a three-member board consisting of Shaak, well-known Canadian actor and director Jason Priestley, and local businessman Brent Bolleman of Axel Partners.

The Last Rights of Ransom Pride
And up next, she will play an outlaw-literally-in the Western The Last Rights of Ransom Pride opposite country legends Dwight Yoakam and Kris Kristofferson. "It's a violent, rock 'n' roll Western, and you know it's rock 'n' roll because Jason Priestley's in it," she jokes. "But I always wanted to ride a horse and carry a gun, you know? And I always want to do things I haven't done before. If it fails, it fails. But at least I'm doing something new."
To read more
Click Here
.
Priestley hints at possible '90210' return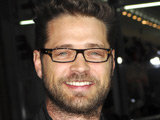 Jason Priestley has hinted that he might reprise the role of Brandon Walsh in The CW reboot 90210.
The actor, who starred in over 200 episodes of the original Beverly Hills, 90210 from 1990 until 2000, told WENN that he is open to the possibility of returning in the future.
"They approached me with a couple of opportunities and there was nothing that made sense for Brandon to be there. I thought it made more sense for me to come as a director...[But], I learned long ago never to say never."

Jason and Naomi Expecting #2
Jason Priestley (actor in, and, lately, director of some episodes of 90210) and wife Naomi Lowde are expecting their second child, said their rep yesterday to Usmagazine.com. Lowde displayed her baby bump this shopaholic NYC weekend. In July 2007, the couple had daughter Ava Veronica. Shortly afterward, a profoundly philosophical Priestley told ABC News Now's What's the Buzz: "I love being a father. It's totally ineffable." Like, totally. That year, not altogether irrelevantly, Us Weekly named dad one of the sexiest paters in filmdom. He tells Usmagazine he and Lowde don't want to hire a nanny. Outlandish idea (in Hollywouldn't): Parent it yourself!
Odyssey Ball
Click Here
to go to the website and click on the image to play the video, it shows Jason and Naomi for about 2 seconds.
Conquest Racing Makes Donation to Komen OC!
We are so pleased to announce that Conquest Racing has joined Komen OC in the battle to end breast cancer! The IndyCar Series team, in collaboration with with ODW Logistics and Jason Priestley of television fame, presented a $10,000 check to Komen, and will be raising awareness by placing a Susan G. Komen for the Cure decal on the front wing of their #34 Conquest car.

On Friday, a giant check was presented to Lisa Wolter, our Executive Director, by Conquest team owner Eric Bachelart, driver Alex Tagliani, ODW Logistics rep Sonja Ness Stockton, and Jason Priestly, co-owner of Rubicon Sports Agency.

"We are incredibly excited about this contribution and are thrilled to have Komen's presence on the #34 car, raising awareness that everyone can help end breast cancer," said Lisa Wolter. "When generous and unexpected donors like Conquest Racing step forward, they provide much needed funds to help local women who are battling breast cancer. Race car driving is typically a man's sport, and here they are showing how much they care!

Many thanks to Conquest Racing, ODW Logistics, and Rubicon Sports Agency for your generous support!

A Very Merry Daughter of the Bride
A twenty-something wedding planner disapproves of her forty-something widowed mother's whirlwind romance. Her mother has been a devoted single parent, but now she wants to create a fulfilling new life for herself. Unable to stop the wedding, the daughter decides to take control of it, and hopefully find a way to persuade her mother this is a bad idea. It takes comedic disasters and emotional confessions before the daughter discovers that letting go works both ways. An unexpected romantic development in her own life, makes her truly understand how her mom feels, and motivates her to whole-heartedly give her mom away.
This Movie aired in December on Lifetime, however it starred both Jason Pirestley and Luke Perry :)
About Us
Thank you all for your interest in the Jason Priestley newsletter.
Sincerely,
Lexi Campbell
Jason Priestley Photo Fansite