2012 Hillsborough River Interlocal Planning Board Meeting Dates

Monday, February 27

Tuesday, May 15

(Joint Meeting with TAC)

Monday, August 27

Monday, December 3

2012 Hillsborough River Technical Advisory

Council (TAC) Meeting Dates

Tuesday, January 17

Tuesday, February 21

Tuesday, March 20

Tuesday, April 17

Tuesday, May 15

Tuesday, June 19

Tuesday, July 17

Tuesday, August 21

Tuesday, September 18

Tuesday, October 16

Tuesday, November 20

Tuesday, December 18

For more information on the Hillsborough River Interlocal Planning Board & Technical Advisory Council, please contact staff at 813.272.5940 or visit:

Planning Commission Hosts
Tour of Port of Tampa

Eight billion dollars and 100,000 jobs...

That's what the Port of Tampa contributes to Tampa Bay's economy each year.



On November 4th, the

Planning Commission

invited the

Hillsborough River Interlocal Planning Board & Technical Advisory Committee

along with the

Metropolitan Planning Organization & MPO Technical and Citizen Advisory Committees

to join the

Planning Commission

ers for a boat tour of the Port of Tampa. Before boarding, we enjoyed an insightful presentation on the Port's vision and strategic plans for growth by Richard Wainio, Port Director & CEO of the

Tampa Port Authority.

At 5,000 acres, the Tampa's Port is the largest and most diverse seaport in Florida. Their range of facilities and the number of trading partners continues to expand. Almost every imaginable commodity from any corner of the world comes through Tampa. At nearly 40 Million tons of cargo each year, 44% of all waterborne trade in Florida comes through Tampa Bay. Also critical to the local economy is our position as the energy products gateway of West Central Florida and as a premier fertilizer port in the United States. With a large and diverse bulk business, shipyard and ship repair center, a top ten U.S. cruise homeport, and an expanding container/ distribution center gateway, there is much to be optimistic about.

The Port also has a role in environmental protection and regulation of State of Florida Sovereign Submerged Land. Pursuant to Chapter 95-488, Laws of Florida; any person desiring to perform specific types of marine construction projects and activities within the jurisdictional waters of Hillsborough County must obtain a Port Authority Permit. This includes the Hillsborough River. The authority to issue some minor marine construction permits has been delegated to the Environmental Protection Commission (EPC) of Hillsborough County under the Amended and Restated Interlocal Agreement dated June 23, 2009 between the Tampa Port Authority and EPC. The Port is a partner in protecting the Hillsborough River as Port Authority Permits on the River are forwarded to the River Board for their comments. "The Tampa Port Authority is an important strategic partner in maintaining economic growth, environmental protection and the quality of life for the citizens of Hillsborough County" said Robert Hunter, FAICP, Executive Director of the Planning Commission.

With this on-going long term cooperative relationship between the Port, the River Board, and the Environmental Protection Commission, the Hillsborough River continues to be monitored, protected and improved for future generations.




Al Higginbotham Reappointed

Congratulations to Commissioner Al Higginbotham who was reappointed by the Hillsborough County Board of County Commissioners to the River Board for 2012. We look forward to his continued efforts to protect and improve the Hillsborough River for all to enjoy.


Here's to a Happy New Year!
Florida is poised to adopt state numeric nutrient standards. Florida currently implements a narrative nutrient criterion that states: "In no case shall nutrient concentrations of a body of water be altered so as to cause an imbalance in natural population of flora or fauna."

The State has initiated rulemaking to adopt quantitative nutrient water quality standards to facilitate the assessment of designated use attainment for its waters and to provide a better means to protect state waters from the adverse effects of nutrient over enrichment. If the state fails to adopt such standards, the EPA will impose their own standards on the state. The EPA recently sent a letter to Hershel Vinyard, Secretary of the Florida Department of Environmental Protection (FDEP), outlining the Agency's preliminary evaluation that the State's proposed rule is consistent with the requirements of the Clean Water Act.

The letter also noted that EPA will be ready to withdraw its federal standards for those Florida waters covered by the FEDP's rule, provided that the current version of FDEP's rule is approved by the Florida Environmental Regulatory Commission (ERC) and ratified by the Florida State Legislature. The Agency cautioned that posture could change if the rule or related documents relied upon by the State change as the rule is considered and potentially amended by the ERC or state legislature.

"We commend Florida's focus on reducing nitrogen and phosphorus pollution in its inland and estuarine waters," said Gwendolyn Keyes Fleming, Regional Administrator. "The FDEP's proposed rule reflects significant progress in protecting the state's critical aquatic resources and we are hopeful that it will be fully enacted without modification. We look forward to seeing this rule through a process that in the end puts in place pollution-cutting standards that are based on the requirements of the Clean Water Act and the best science."

Nitrogen and phosphorus pollution is one of the largest causes of the water quality problems in Florida. Limiting nutrient pollution across the state will help protect the health of Floridians and also preserve Florida's greatest asset - clean water and the prosperity and jobs that go with it. Florida's tourism industry, the state's number one industry, employs nearly one million Floridians and pumps billions into the state's economy each year. Many of these tourists come to Florida to fish, boat and jet ski and, in an average year, tourists spend more than $60 billion in the state - generating thousands upon thousands of jobs as well over $3 billion in taxes. The Hillsborough River is a critical part of the area's natural resources, which can significantly benefit by reduction in nutrient pollution.
SWFWMD Extends Water Restrictions
The Southwest Florida Water Management District's Governing Board voted to extend Phase I water shortage restrictions for the District's entire 16-county area through February 29, 2012, because of a disappointing summer rainy season and an approaching winter that is expected to be drier than normal.
The Phase I order is intended as an alert to prepare for worsening conditions. Under Phase I, residents are asked to check their irrigation systems to ensure they are working properly. This means testing and repairing broken pipes and leaks, and damaged or tilted sprinkler heads. Residents should also check their irrigation timers to ensure the settings are correct and the required rain sensors or soil moisture sensors are working properly in accordance with state law.
There are no changes to watering days or times in a Phase I water shortage compared to the District's year-round water conservation measures. This means lawn and landscape watering remains limited to a two-day-per-week schedule, and residents may only water before 10 a.m. or after 4 p.m. Some local governments have stricter local ordinances limiting lawn watering to one day per week or using different watering hours, so residents should always check with their local government or utility before adjusting their irrigation timers.
"There were some areas of the District that received heavy rainfall at times, but overall our rainy season was not as productive as we had hoped," said Lois Sorensen, manager of the District's demand management program. "There were improvements in October, but we are expecting a drier-than-normal winter due to the La Niņa weather pattern. "The region's public water supplies are in relatively good shape, but Sorensen said that caution is in order. "We need to watch conditions closely as the dry season continues and consider stricter measures if water resources or water supply conditions warrant them." Under a Phase I water shortage, local governments and utilities are required to review and revise their watering restriction enforcement procedures and report enforcement activity to the District on a monthly basis. For additional information about water restrictions and water conservation, please contact your local utility or visit the District's website at:
WaterMatters.org/conservation/
To report a possible violation, call 1-800-848-0499 or email Water.Restrictions@WaterMatters.org.
Tampa City Council Retains Summer Sales Ban of Fertilizer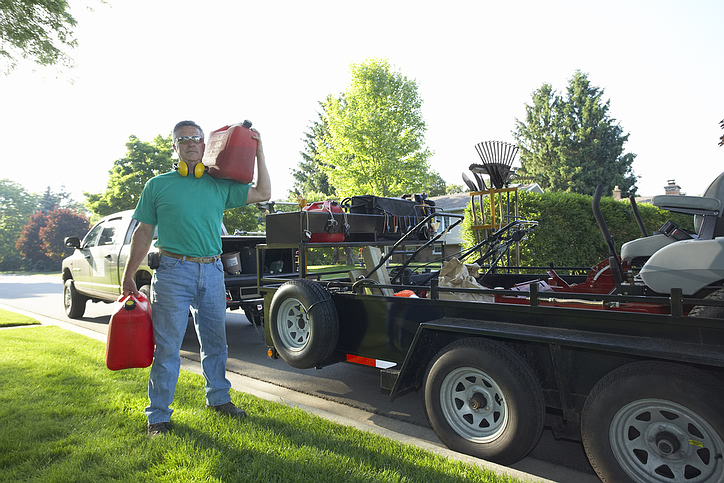 In November the Tampa City Council took another look at the economic impact of a ban on the sale of fertilizers containing nitrogen and phosphorus. Fertilizer companies have been asking the City of Tampa to consider making exceptions for their products. Jan McLean, with the City Attorney's Office, asked the City Council to consider an exception in the ordinance for fertilizers used only on edible plants. Scott's fertilizers asked for the exemption, but the Sierra Club's Phil Compton said that if they had their way, they would have asked for commercial exemptions too. McLean agreed, and said she did not recommend requests from fertilizer manufacturer TruGreen, which would have allowed for commercial use too. Compton said that many of the companies protesting the ordinance, which passed earlier this year, were claiming that their employees are trained to use the product in a way that doesn't contribute to run off during the rainy season. Compton said that on-going algae blooms prove that current methods are ineffective, and that the ordinance should be maintained as is through June of 2012, when it is set to go in effect. City Council member Harry Cohen said that after the summertime ban goes into effect next year, that the City will be in a better position to assess the economic impact. McLean said that by around this time next year the city could expect to see such an analysis.
During public comment community activist Dena Leavengood said that the sooner companies adapt to the enactment of the ordinance, the quicker they will be competitive amidst the looming changes. Leavengood joined the Sierra Club and several others during public comment in asking the city to make no exemptions in the current ordinance. The Sierra Club argued before City Council:
When it rains, it pours in Tampa during the summer
Summer rainwater washes off urban landscapes in great amounts and travels through the stormwater system directly to the Hillsborough River and Tampa Bay
It does not matter who applies fertilizer before a summer storm, commercial applicator or homeowner, it will be washed off by the intensity of the rainfall
Harmful and nuisance algae threaten Tampa water resources and our local economy
In as much, the Sierra Club asked the City Council to retain the very backbone of the ordinance adopted in June, the strict - no exemptions - rainy season prohibition of nitrogen and phosphorous fertilizer application. Sierra Club advocated that Tampa's ordinance be maintained with the rainy season ban on applying nitrogen intact permanently. The Tampa City Council agreed. Compton contends the experience for the past 4 years in Sarasota with such a restriction has shown an improvement in the health of waterways and turf grass alike, and has imposed no financial hardship on landscape businesses. Compton further contends landscapers have found they can maintain healthy, green lawns at lower operating cost to themselves and their clients, as chinch bug and root rot fungus problems that are exacerbated by summer nitrogen application are greatly reduced. Tampa has joined the 50+ other Florida cities and counties who've already taken this approach to create a solution to pollution that saves taxpayers - $56 million in Tampa - by reducing the cost of removing nitrogen from our bays and rivers, and here, helps restore the health and beauty of Tampa's great natural asset, the Hillsborough River.
- Phil Compton, Sierra Club, contributed to this article.
Precipitation
Discharge
Gage
In accordance with Title VI of the Civil Rights Act of 1964 and other nondiscrimination laws, public participation is solicited without regard to race, color, national origin, age, sex, religion, disability or family status.