In the last two issues of The Weekly Planner, we've taken a look at the recipe for successful places - places where people want to be and business can thrive. Four 'E's emerged as key ingredients:
Economy - the ability to draw industries that will provide a range of desirable career options
Education - quality choices to prepare for productive and meaningful careers
Entertainment - providing a lifestyle rich with arts, culture and recreational opportunities
Environment - both preserving and marketing unique natural assets
Now is our opportunity to clearly define this value and leverage it into a bright future with a more stable and prosperous Economy. The basic ingredients for a sustainable and prosperous future are already here. Environmentally, the Tampa Bay region boasts incredible weather and tremendous natural assets. Our lifestyle attitude bodes well for our Entertainment appeal with great strides in art, culture, recreation and a wide range of local championship sports team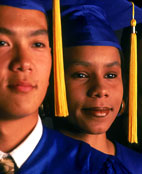 s. But the foundation to truly elevate us to the next level lies in Education.
A big win for Hillsborough County came in 2009 when our School Board was awarded a $100 million Bill and Melinda Gates Foundation Grant for the Intensive Partnership Project for Empowering Effective Teachers. Through this initiative, the district plans to increase the number of college-ready students graduating from 63% to 90%. This is so important, because this grant recognizes education as one of our most precious sustainable resources and is truly an investment in Hillsborough County's future.
On the higher education level, the University of South Florida (USF), one of largest public institutions in the country, is one of only three Florida public universities classified by the Carnegie Foundation for the Advancement of Teaching in the top tier of research activities, a distinction attained by only 2.2% of all universities. Recently, USF has gained international notice for a record number of patents - 83 last year - putting the school at No. 9 among universities worldwide and one of only 14 universities on the Intellectual Property Owners Association's annual list of the Top 300 US patent recipients in the world. Two years ago, the National Academy of Inventors at USF was launched to recognize patent-holders and their work.
The 2011 US News & World Report annual college rankings placed the University of South Florida as the one of the nation's "up and coming universities." USF is ranked very high by the National Science Foundation (NSF) in terms of research expenditures; it received over $360 million of research dollars in the 2007/2008 fiscal year. In a ranking by The Chronicle of Higher Education Almanac 2008-9, USF was rated the fastest growing nationwide in terms of obtaining federal research funds (a 213% increase between 2000-2007). The University of South Florida is a catalyst in uniting and showcasing the region's greatest assets in science, technology, math, engineering, healthcare, education and financial services into a powerhouse economy.
With all of these quality ingredients, how do we serve up a bright future for Hillsborough County? With the recent changes in Florida's growth management legislation, there is more opportunity than ever for us to chart our own course. But it is up to us to define the standard we expect for our quality of life. Do we have a clear picture of the expectations for urban, suburban and rural lifestyle choices in Hillsborough County? With a well-defined vision, our quality of life can guide the decisions made by elected officials. Rather than a blur of bureaucratic and restrictive rules and regulations, decisions can be measured against the big picture values determined by our own community. By planning for things like complete streets and smart, sustainable growth, our standards become interwoven with our regulations and support our long-term vision. These standards of life then become what we can build upon - what we can sell - to market our region in this globally competitive world.
The Locational Assessment and Recommended Strategic Plan for Economic Growth completed in 2010 for the Tampa Hillsborough Economic Development Corporation (EDC) evaluated suitable industries and provided strategies to position Tampa and Hillsborough County for sustainable economic growth. Providing a road map for our economic recovery, the study evaluated our competitiveness and revealed five industry clusters, each drawing a well-trained workforce and offering high-paying careers:
The goal of the plan was to build upon our existing assets and attract quality jobs with lasting value. With so much to offer businesses in Hillsborough County, like the Port of Tampa's, cruise terminal, container facilities and available land for expansion, and Tampa International Airport's excellent level of service, and top tier educational opportunities and public-private partnerships, these industry clusters could be the key to long term prosperity for our region. Cities that have been able to identify their strengths and priorities have been able to turn their values into valuable commodities. Like a magnet, a clearly defined vision and community values can attract top tier businesses and the creative class workforce. But only if we are able to define a clear vision and values will we be able to market ourselves competitively and draw these target industries to invest their future in Hillsborough County and call it home.