It's not too early to shop!
Bowers & Wilkins
Concert for One!
Introducing the noise-isolating P5 Hi-Fi Headphones
Attention Healthcare Professionals! Learn about NEC's
Medical+
Programs....
Mark your Calendar
Mobile CCTV & Classroom AV Course offered at Ohio School Board Association Show
"Technology in the Classroom and on the School Bus"
more info
Looking Ahead

Display Mounting Solutions
Digital Signage: Costs vs. Revenue Generation


Anatomy of a

Central Vac System
Michael Pope & Joe Calderaro attended The Registered Outreach Trainer's Workshop at CEDIA in Atlanta. Of the 6 Instructors available in Ohio to provide CEU/LU Courses to ASID, AIA, NAHB & NARI Members, 3 of them are with Audio Video Interiors - and 1 is one of our manufacturers! We are proud to be able to support our industry partners through these educational offerings. For a list of topics available, please
click here
and see downloads.
PRO SOUND COMES HOME
Synthesis Everest, K2, Atlas..
Which JBL System is the right solution for you? We'll evaluate your room's unique characteristics and design the perfect system for your home. Check out some of our award winning installations.

iPort CM-IW2000 Control Mount for iPad
In-Wall Mount

Wi-fi allows downloads of apps, content & upgrades

Home automation system compatible

Modern & elegant semi-permanent installation

Charges iPad while mounted
Staff Spotlight
Safety Technologies
Paul Popovich, Life-Safety Sales Consultant, has
an extensive background in IT Integration, CCTV Surveillance, Access Control and Fire Alarm products.
Call Paul to schedule a consultation or System Evaluation.
330-723-9795
Staff Spotlight
Audio Video Interiors
Josh Wood, Residential Sales Consultant and Systems Designer has authored this month's Technology at Home feature article. Call Josh to learn about technologies for your home - from a single room to a whole-house system. 330-723-6696
Executive Relocations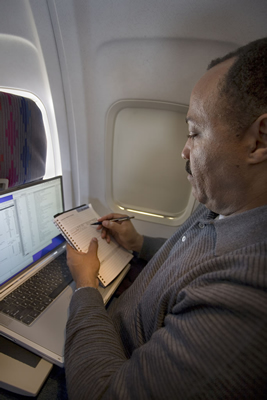 Relocating to the Greater Cleveland or NE Ohio area?
Audio Video Interiors and Safety Technologies can evaluate your new home's exisiting wiring or retrofit for your relocated system. We'll install your equipment, update your programming and have you up and running for a smooth transition. We can also assist with your Security/CCTV and Fire/CO2/Burglar Alarm Monitoring as well. Call us today regarding Executive Relocation Assistance.
Greetings!



Thanks for your feedback! We enjoy hearing what you would like to learn about in upcoming issues of

Your Technology Advisor

. We hope you'll find this month's edition informative.

Click here

to let us know what you'd like to see in future editions!


Have an experience with us you'd like to share? Please send us your comments or write a review at yp.cpm. Audio Video Interiors on YP or Safety Technologies on YP. Thank You!
What's TOO Loud? Decibels, Duration and the MP3 Player.
We have become desensitized to sound levels. The MP3 Generation, especially, is able to insert their ear buds and drown out environmental noises, cranking up the volume without offending those around them. But, like their predecessors who pushed their rock music to its limits, they are due to suffer hearing loss.
Some hearing loss is inevitable as we age. About 16% of adults have trouble hearing someone talking, but a staggering 55 million over age 20 have already lost some high-frequency hearing. The damage is a result of both decibel level and duration. read more...
CePro names DPI Titan 3D among top 3D Demos at CEDIA
"Digital Projection (DPI) showed a series of impressive projectors, including the new HIGHLite Cine 260 HC and the M-Vision Cine 230. The star of DPI's was the Titan 3D. Running clips from G-Force, the images the Titan produced had a nice sense of depth without being overly aggressive, and the overall image quality was detailed with good color accuracy".
nce, right here in our showroom!
Come see for yourself! Visit our showroom for a demonstration.
Special thanks to DPI and our client - our recent project is featured on the cover of DPI's new brochure!
Technology at Home -Choices for Your Home,Made Simple
When it comes to distributing music throughout your home, the sheer number of options can seem daunting to evaluate. From MP3's to CD's, iPods to AM/FM radio, the sources and the way to hear the sources are numerous. In addition to the number of choices one has to listen too, there are several lifestyle considerations that have to be taken into account. Considerations such as:
How do you want to interact with your system?
Keypads? Touch screens? Hand-held remotes?
Would you benefit if you were able to control your lights using the same interface?
There are many choices but you don't need to be intimidated. more
Commercial Corner - New Break for Small Businesses
Some good news: Not only has Section 179 returned for 2010, it's also been enhanced in the passage of HR 5279. The Small Business Jobs and Credit Act of 2010. The limits for Section 179 have been increased - you can now deduct up to $500,000 of equipment, software, and/or vehicles! The following excerpt is directly taken from the IRS web site: http://www.irs.gov/formspubs/article/0,,id=177054,00.html
New for Commercial Clients:
Fire & Security Update - Personal & Personnel Security
Visonic Technologies provides Signaling, Tracking and Access Control Solutions for the healthcare, senior living and correctional facilities markets. From Baby Tracking Systems and personal protection for the elderly to critical Man-Down Systems for correctional Institutions, Visonic Technologies provides a variety of targeted solutions that ensure individuals' safety.
Safety Technologies, whose Installation Team has secured high level government clearance, has provided several Ohio prisons with the Visonic Man-Down System along with sophisticated CCTV Coverage. Call a Security Specialist to see how these products could be incorporated into your total security solution and w
atch this informative video that showcases these technologies.
Project Spotlight
This month's feature project is...us! Here's a sneak peak of our new home in Middleburg Heights.
Slated to open Q1 2011, this 20,000 sq. ft. space will house our new corporate offices, a dynamic interactive retail demo area and an exquisite Design Center with features you can't imagine (we'll keep you posted in upcoming newsletters & on our
blog
)!

Home for the Holidays? Make it the perfect place for holiday entertaining.
It's too early to hang the mistletoe, but it IS time to start getting your home ready for holiday entertaining and guests. Are you prepared for those holiday hi-tech toys? Adding a PS3, XBOX, Bluray player, media server, iPod dock or LCD require planning so that they can be integrated into your system and programmed onto your remote. You might also want to consider your guests' comfort - perhaps an LCD in the guest room and a bedside lighting keypad. And how about upgrading to 3D to watch the big games? Or maybe "home for the holidays" for you means going out of town...how secure is your home? We can help make some sensible choices to add to your home's safety and security. 'Tis the season!
Watch for a weekly email featuring a great gift idea or special promotion!
It's not too late! While the "event" might be over, 3D demos are still available! Call 330-723-6696 for an appointment. Ask for Joe or Josh.
nce, right here in our showroom!
Learn about choices in 3D Projection & LEDs from the experts
Enjoy the ultimate 3D experience on a Cine-V Curved screen
Experience the latest in high-performance 3DTV & Surround Sound
What's Too Loud? (continued)
Studies have shown that a level of 85 decibels for 8 hours can result in hearing loss. MP3 and CD Players can produce sound levels much higher and today's players are able to run for hours without needing to be recharged. And the higher the volume, the shorter amount of time needed to incur damage. As an example, Dr. Tom Valeo writes," Every time you increase a sound level by three decibels, listening for half as long will produce the same amount of hearing loss. The kid who cuts my grass uses an iPod. The lawn mower noise is about 80 to 85 decibels. If he likes listening to his iPod 20 decibels above that, he's in the range of 100-105 decibels. At that sound level he shouldn't listen for more than eight to 15 minutes." Brian Fligor, ScD, director of diagnostic audiology at Children's Hospital Boston (and former rock guitarist) has conducted research that indicates 5 to 25% of us play our MP3 players too loud and suggests that we keep the volume at about 60% maximum. He adds that we can listen to one song loud, but not all.
One solution commonly recommended is to use earphones that block or cancel outside noises, rather than competing with them. See this month's featured P5 noise-isolating headphones by Bowers & Wilkins for an on-the-go listening solution that provides perfect sound reproduction without having to crank up the volume.
Lisa Matthews, CTS
Works sited: WebMD "The Next Generation: At Risk for hearing Loss?", Tom Valeo, MD and "The Health Impact of High Tech", Joan Raymond
We at Audio Video Interiors are thoroughly trained on all of the product options available and can painlessly design a system that fits the needs and desires of our customers. By asking the correct questions, we can cater a solution that fits perfectly into a customer's lifestyle and décor.
Imagine hosting a party and only needing to walk up to an in-wall touch screen in your kitchen and, with a few simple touches, listening to your "Party" MP3 playlist. Next, picture the perfect lighting scenario for your entertaining - soft lighting throughout your social areas, perhaps a few select down lights to highlight artwork along with select patio and landscape lighting. Perfect pre-set party ambience, at the touch of a button! These integrated solutions are not only great to use, but they can be very affordable and help reduce energy costs as well.
There are many integration options available in addition to the ones listed above. Security systems, lighting, shade and HVAC control and audio and video distribution are some of the examples of what Audio Video Interiors can integrate together as one seamless, simple system. Through our design process we can suggest different features and explain options from companies like Control4, Crestron, Lutron and Nuvo, so that our clients can make an educated decision about what best suits their needs and lifestyle. Throughout the process, the client is consulted on all decisions and has direct control of the scope and budget of the system.
Whether you are building a new home or retrofitting your current home, looking for a great sounding way to listen to your MP3 player in your den or wanting to make your whole home "smarter", Audio Video Interiors has solutions for every need and every budget. Call for a complimentary consultation and home analysis.
Josh Wood, Residential Sales Consultant and System Designer
SBJA and Section 179 Deduction
A qualifying taxpayer can choose to treat the cost of certain property as an expense and deduct it in the year the property is placed in service instead of depreciating it over several years. This property is frequently referred to as section 179 property.
The Small Business Jobs Act (SBJA) of 2010 increases the IRC section 179 limitations on expensing of depreciable business assets and expands the definition of qualified property to include certain real property for the 2010 and 2011 tax years.
Under SBJA, qualifying businesses can now expense up to $500,000 of section 179 property for tax years beginning in 2010 and 2011. Without SBJA, the expensing limit for section 179 property would have been $250,000 for 2010 and $25,000 for 2011.
The $500,000 amount provided under the new law is reduced, but not below zero, if the cost of all section 179 property placed in service by the taxpayer during the tax year exceeds $2,000,000.
The definition of qualified section 179 property will include qualified leasehold improvement property, qualified restaurant property, and qualified retail improvement property for tax years beginning in 2010 and 2011.
What does this mean for the average Small Business?
With the enhancements recently passed by congress, Small Businesses can invest in equipment in 2010 & 2011 while realizing tremendous tax incentives. This is not only good for your business but it also is good for economy. If you sell to small businesses, you now have another sales tool in your briefcase!
So how much can you save?
2010 Qualified Equipment Purchase

Cost of Equipment:

$150,000

Section 179 Deduction:

$150,000

50% Bonus Depreciation Deduction:
(on any remaining amount above $500,000)

$0

Normal 1st Year Depreciation:

$0

Total First Year Deduction:

$150,000

Cash Savings on your Equipment Purchase:
(assuming a 35% tax bracket)

$ 52,500

Cash Savings on your Equipment Purchase:

$ 97,500
Thank you for interest! We want to be your technology advisor - please let us know what you'd like to see in future editions and follow our blog:
Your Technology Advisor
Sincerely,
Audio Video Interiors & Safety Technologies
LEADING BY DESIGN