Greetings!
Happy Easter! The weather is beautiful and your garden can be too. Check out Candice's Corner below for gardening tips. And, don't forget to stop by the store for bedding plants, tomatoes and many other plants for your garden.
April is all about horses. April 9th is Horse Day at Ark Country Store! Stop by and use the coupon below. We also have a couple of great articles below featuring information on lactating mares and and the rising cost of horse feed. Visit the Specials page on our website to learn about additional savings available on horse supplies!
Your animals are the healthiest around because you use Purina feeds. Well, share your success with a friend and receive a coupon from Purina. Refer a friend to the Purina 60 Day Challenge. They can save on horse, cattle, rabbit, goat, flock and show chow feed. Read more about the program on our website and below.

We are proud to be your feed and farm supply store!
Candice Jones
Store Manager
Want to grow bigger fish? Control water weeds in your pond? Plug a leak? Learn how to clear a muddy pond. How to put weight on your fish. How to prevent a devastating fish kill. Learn what fish should be removed from your lake, and which ones should stay. Find out what's new in the world of private ponds and lakes.
Sign up for our Free Pond Management workshop with wildlife fisheries biologist and Pond Boss Magazine editor, Bob Lusk. Click here to sign up online, or call to reserve your space. See you on May 17th at 6:30!
Take the Purina 60 Day Challenge!
You've heard about the Purina 60 Day Challenge and how you can save from $15 to $50 off Purina Feed for a year. But did you know that you can save more if you refer a friend?
PurinaŽ 60 Day See the Difference Challenge
Purina Difference Rewards
Refer-A-Friend Program
Through the Purina Difference Rewards program, you can also participate in our Refer-A-Friend Program. Through this program, you will receive a referral code unique to you through an e-mail alert.
For each friend who signs up for the Purina 60 Day See The Difference Challenge at PurinaDifference.com and uses your unique code, you will receive a $5.00 off coupon for Purina feed. You can refer up to five friends and receive coupons for up to $25 off of Purina feed. For new Purina Difference™ Rewards members, look for communications about the program this summer.
Read more about this program on our website. Sign up today and you can print off your coupon and bring it in the same day! What are you waiting for?
Chick Days Are Back!
Chicks are available at Ark Country Store through the end of the month. You can find information on the different types of chicks we have for sale by clicking here. We also, have information on our website to help you raise your flock!
Chickens come in multiple varieties and breeds, with each one having different qualities. Whether you're raising chickens for meat or eggs, by mixing breeds within your flock you can get a variety of looks, personalities, and products. Read more
Learn how to "Start Your Baby Chicks" with tips from Dr. Gordon Ballam! Caring For Your Chicks (Video)
Save money by registering your chicken at Purina Mills and receive timely tips and coupons based on your chick's age!
Nitrogen Protection On Improved Pastures
With today's high cattle prices, ensuring proper nutrition for improved pastures can mean positive returns. Pasture nutrient content determines gain on calves, cow body condition and hay quality..."Nitrogen is directly related to protein content in forages. Higher protein content equates to better quality forage, benefiting the producer grazing livestock or the producer purchasing hay."
Candice's Corner
News from the Master Gardener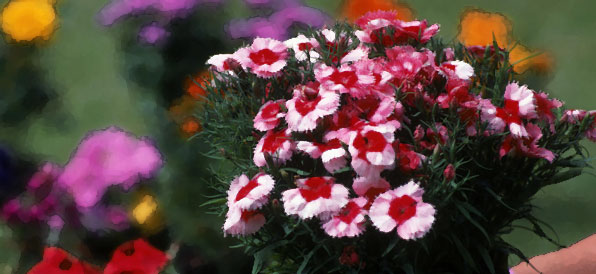 Did you know that nematodes, trichogramma wasps and even Lady Bugs are good for your garden?

Lady Bugs are great for dealing with the Aphid problem. Apply Lady Bugs in the evening after watering on top of your infected plants. They'll eat three times their body weight in aphids! When the Lady Bugs leave, so have your aphids.
Web worms a problem in your trees? Time for the first release of trychogramma wasps. Buy them in tabs with 3,000 eggs on them and hang in a tree. When they hatch they lay their eggs in web worms and kill them. The organic control for the pesky web worm. Bugs taking care of other bugs, Mother Natures way!
Want more tips for your garden? Click here to visit our Garden Tips page on our our website.
Articles & Videos
Check out the latest in our library of articles and videos on our website.
Nutritional Management of Pregnant and Lactating Mares
Broodmares have specific nutritional requirements that differ from other classes of horses. There are differences both in the amount of feed mares need and the nutrient concentration needed in that feed. Throughout the year the broodmare goes through three different phases, each with a different nutritional demand. She is either in early gestation, late gestation or lactation. To keep this cycle going consistently requires that the mare receive the proper health care and nutrition. Read more
Feed Costs on the Rise - Getting the Best Nutritional Value for Your Money
Fuel, groceries, fertilizer, grain and hay are all on the price escalator going up, up, up. There are a number of reasons for this run in prices, including pressure on crops from ethanol production, poor climate conditions in some areas and the declining value of the dollar. Of course none of these reasons lessen the impact on our pocketbooks and horse owners are feeling the financial strain. This has caused many horse owners to become more focused on getting the most value for their dollar when it comes to feeding their horses. Read more
It's Spring - Ready, Set, Ride!
For some horses, the advent of spring means that the source of forage changes from hay to fresh grass. If this is the case, the horse owner should take care to minimize the risk of laminitis as horses are exposed to fresh pastures. Read more

Store Location & Hours
209 South Highway 77
Waxahachie, TX 75165
Phone: 972.937.8860
Fax: 972.9837.7303
Store Hours:
Monday-Friday: 8am - 6pm
Saturday: 8am - 5pm
Find us on Facebook!

Ark Country Store Frequent Buyer Programs
Stop by Ark Country Store and sign up for our frequent buyer programs! You'll walk away with a free bag of feed!
Events News

Join Bob Lusk, editor of Pond Boss magazine and learn about pond management, health, and growth.
Eukanuba Savings

Click here for information on the new line of
Eukanuba Pure.
Save money on older styles of Eukanuba!
Free Advertising!
Looking to buy or sell farm equipment, animals or agriculture related products?
Roscoe
POND BOSS bi-monthly magazine gives helpful tips from the nation's leading pond professionals. And we use plain English! Learn how to clear a muddy pond. How to put weight on your fish. How to prevent a devastating fish kill. Learn what fish should be removed from your lake, and which ones should stay. Find out what's new in the world of private ponds and lakes.
.