Greetings!
March is here and we have a spring in our step here at Ark Country Store. Check out Events News below and save the date for our Horse Owner's Workshop, a visit from the Fish Truck and many more events. The calendar on our website is updated frequently as we schedule new events so check back often!
Chicks are arriving this month! Read below for helpful tips on raising your chicks and to learn how to save money now and as your chick grows!
We are excited to bring you a new monthly series of articles about fertilizer. Choosing the right fertilizer can not only save you money and time, it can give you quality results too. Read the article below to find out how.
Looking to save on your animal and pet feed? Then consider the Purina 60 Day Challenge. You'll find savings on horse, cattle, rabbit, goat, flock and show chow feeds! Refer a friend and receive a coupon! Read more about the program on our website and below.

We are proud to be your feed and farm supply store!
Candice Jones
Store Manager
Ark Country Store will host it's annual Horse Owner's Workshop this Thursday, March 10th. Come learn about horse nutrition, win prizes and see live demonstrations. Dinner is included! Join us for this FREE workshop on Thursday! Click here for all the details and to register.
Ark Country Store is your resource for all things horse related. We carry a variety of Purina Horse Feeds to fit the dietary needs of your horses. We also sell all the supplies you need to care for and manage your horses. Don't forget to check out the Articles & Videos section below and visit our website for great horse articles and videos.
Take the Purina 60 Day Challenge!
Haven't tried Purina Feeds yet? Now is the time! Try Purina feed for 60 days. You'll see the difference in your animals or we'll buy it back. Just for participating, you'll save from $15 to $50 off (value depends on specie) Purina feed for the year.*
As a sign-up bonus, you will receive a welcome e-mail with one coupon per animal you enter in the Challenge. You are welcome to enroll up to two different species. Participating species include: horse, flock, goat, rabbit, cattle and Show Chows.
Purina's 60 Day See the Difference Challenge

Read more about this program on our website. Sign up today and you can print off your coupon and bring it in the same day! What are you waiting for?
Adequate phosphorus is essential for getting a crop off to a healthy, fast start. By placing starter fertilizer near the seed at planting, nutrients are present in the root zone and available to the seedling immediately after germination. Starter applications containing phosphorus can increase early season vigor and stress tolerance under adverse weather conditions. Read more
Sidedressing nitrogen can be both a cost-effective and more efficient way of managing nitrogen.
"In Texas we do not apply all of our nitrogen early in the season. Holding back some nitrogen for later applications helps cut down on the amount of nitrogen that can potentially be lost early on. It also allows us to apply as little or as much as the crop needs when it needs it...Read more
Candice's Corner
News from the Master Gardener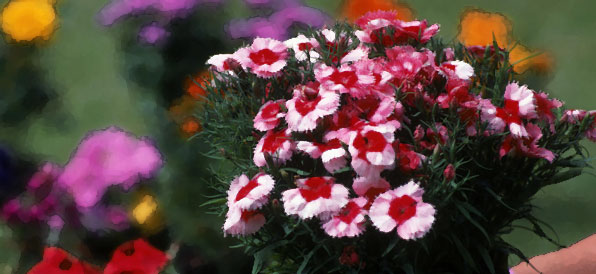 March is the perfect time to work in your garden and Ark Country Store is here to help! We will be at the Waxahachie Lawn & Garden Expo on March 26th, so stop by our booth and visit. In April, tune your radio to KBEC 1390 to hear gardening tips from Ark Country Store's own Master Gardener, Candice Jones.
Get started in your garden with these tips.
Plant tomatoes and peppers after March 14th. Cover if frost or freeze is predicted.

Direct sow seeds of warm-season vegetables such as beans, corn, squash, and melons mid to late March. Wait until April to plant okra.
Read more gardening tips from the Ellis County Master Gardeners on our website. Check back monthly for updates and new tips!
The Chicks Are Here!
Chicks are arriving at Ark Country Store this month and we have information on our website to help you raise your flock!
Chickens come in multiple varieties and breeds, with each one having different qualities. Whether you're raising chickens for meat or eggs, by mixing breeds within your flock you can get a variety of looks, personalities, and products.
Read more
Learn how to "Start Your Baby Chicks" with tips from Dr. Gordon Ballam! Caring For Your Chicks (Video)
Save money by registering your chicken at Purina Mills and receive timely tips and coupons based on your chick's age!
Articles & Videos
Check out the latest in our library of articles and videos on our website.
Taking The Bite Out of Horn Fly Losses With Mineral Additives
One of the things beef producers dread most about the coming warm weather is the advent of troublesome horn flies.
These insects are annoying, to be sure. But, they are more than just pests, they are really "obligate parasites," who must stay with -and live off of- their host in order to survive. They feed on cattle by cutting through the skin and sucking blood. This is not only painful and distressing for the animal, but also has a direct impact on body condition, and consequently, on the producer's bottom line. Read more
Supplement Fish Feeding (video-click here)

Store Location & Hours
209 South Highway 77
Waxahachie, TX 75165
Phone: 972.937.8860
Fax: 972.9837.7303

Store Hours:
Monday-Friday: 8am - 6pm
Saturday: 8am - 5pm
Find us on Facebook!

Ark Country Store Frequent Buyer Programs
Stop by Ark Country Store and sign up for our frequent buyer programs! You'll walk away with a free bag of feed!
Events News

Stock your pond! Pre-order your fish by March 10th.
Join Bob Lusk, editor of Pond Boss magazine and learn about pond management, health, and growth.
Looking to buy or sell farm equipment, animals or agriculture related products?
Roscoe
POND BOSS bi-monthly magazine gives helpful tips from the nation's leading pond professionals. And we use plain English! Learn how to clear a muddy pond. How to put weight on your fish. How to prevent a devastating fish kill. Learn what fish should be removed from your lake, and which ones should stay. Find out what's new in the world of private ponds and lakes.