fresh deliveries
KEN SWINSON
SUSAN MAHAN
GUNTER SCHWEGLER
STEPHANIE TOWNSEND
DAVE BEAVER
JOSIE LAMB
DIANNE LOOS
TORI & JIM MULLAN
KERIN HOUSEBERG
DRAKE ASH
LARRY WATSON

RENEE & BILL BLIZNICK
RICH KOLB
Looking for more doggy fun in the sun?
Join us August 28th for Pittie Please Find A Cure
Idlewild Park, KY
11 to 3
Greetings!
Summer? Wow, that was quick... school has started, football is on tv, soon the leaves will be falling and we'll be shoveling snow~ need a vacation already? Relax, take a vacation, stroll through the neighborhood enjoying desserts, drinks, local shopping, and art! You haven't seen it all, we have new artists and fresh art arriving everyday!
Enjoy these enticing sneak-peeks, then stop by to enjoy the newest collections and much more in person!
Third Thursday Wine Walk & Benefit
Join us Thursday, AUGUST 18 from
5 - 8 for our Third Thursday Wine Walk and Benefit.
We will be enjoying tasty treats; sipping refreshing wine samples; watching Bonnie Mitchell, local ceramic artist who creates these oh so cute animal banks, and shopping the great locally made arts and crafts all to benefit Pets in Need and Cincinnati Pet Food Pantry!
We've gone to the dogs! Not only does indigenous donate 10% of each sale to the Pet Food Pantry, this month's special organizations, but we also have special doggie guests~
Barb Piatt was inspired by her own rescue dog, Boogie to create and sell her homemade, nutritious and delicious dog and cat treats! Stop by the Boogie Bones table to select a few delicious treats for your adorables friends (my cats and dogs love them!)
Recycled Doggies is an all-foster rescue founded by former volunteers of a KY shelter, who formed this rescue to help shelter dogs, one by one, escape death and find their forever homes through Recycled Doggies. We believe that amazing dogs are abandoned at shelters all the time, and our mission is to help those amazing dogs find homes by pulling them from the shelters where they may not put their best paws forward, cleaning them up, socializing them, and then introducing them to you! Visit these adorable doggies and find a new friend as well!
NEW ARTISTS!
we've had a busy summer too....
Amy ELSWICK ~ louisville, ky
Amy's ceramic work focuses on functional and decorative items for the home. Her work is both wheel thrown and handbuilt, many times utilizing
several techniques on one piece. She is intrigued by textures and uses a variety of tools to achieve a unique finish. Her inspiration comes from manipulating the clay. She finds a great deal of satisfaction in being able to carve or scratch into leather hard clay, completely changing the energy of a pot. Enjoy her serving pieces, wine glasses, candlesticks and other items for your home.
Carole STOLTE ~marysville, ohio
Carole creates her beautifully woven baskets using hand-dyed reed or yarn and then embellishes them with colorful found wire, beads, or more funky thread. These baskets come in all shapes and sizes creating beautiful clustered centerpieces or the perfect accent in your own artful collection.
Jana JOHNS

~
louisville, ky
Working out of her studio at home, Jana hand-builds fun, functional pottery using terra cotta clay. She uses slab construction, rolling out the clay with a rolling pin and cutting out shapes freehand. Bright colors and a zany sense of humor are hallmarks of her platters, spoon rests, cheese spreaders, and ornaments.
Bonnie MITCHELL ~ milford, ohio
Bonnie's hand-built pieces of dogs, cats, bunnies, and frogs are fun for all places in your home, but if you need one of your beloved friend she loves doing custom orders as well. She works from photos of your favorite animal to create that special one-of-kind work of heart.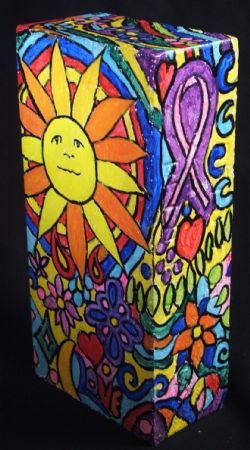 Not only have our indigenous associates, artists, and customers created bricks for this auction, we also act as a site where artists can pick-up and drop-off their bricks! So stop by to pick up a few bricks; gather some friends and have a brick painting party and create your art for this heARTfilled cause.
For more info, visit Bricks Along the Journey.
150 local + regional artists represented everyday

We've filled our summer with finding the latest and greatest handmade works ~ hope you like what we've been up to! Come in soon so we can show off the new talent. Thanks for shopping local & handmade!
indigenous, a handcrafted gallery
2010 Madison Rd
Cincinnati, Ohio 45208
in the heart of O'Bryonville
indigenouscraft.com