THIS WEEK AT THE MUSEUM

Tuesday, September 11 - Sunday, September 16
Exhibition Opening, Artist's Talk and Book Signing
September 14 - December 14, 2012
A GIRL AND HER ROOM
Rania Matar
Friday, September 14, 6:00-8:00pm
Artist's Talk, Book Signing and Opening Reception
Student Seminar: Thursday, September 13, 11:00am
Photography School Lecture Theater, Bldg. 530. Rm. 118
Rania Matar has produced an exhibition and a book of unique and subtle power. Focusing on contemporary young women from vastly differing cultures in the United States and Lebanon, her project, A Girl and Her Room, reveals the complex lives of her subjects in the unique setting of the girls' own rooms.
Click here for more information.
Exhibition Opening
September 14 - December 14, 2012
EDGE TO EDGE: Vintage Panoramic Photography in Florida
Curated by Jay Mechling

Tuesday, November 13, 6:00-8:00pm
Curator's Talk, Catalogue Signing and Reception
EDGE TO EDGE comprises more than 200 vintage panoramic photographs and original vintage postcards that draw out the fascinating history of this unique style of photography from Florida's "golden years" in the early twentieth century. Collected from a number of major public collections and private holdings, these images provide us with an image of the natural environment and of the social and cultural history of a now long-vanished "sunshine state."
Click here for more information.
Exhibition Film Series
Wednesday afternoon matinees continue with our exhibition film series: A Girl and Her Room. Inspired by the exhibition and book of the same name, these dramas, comedies and satirical masterpieces draw us into the confusing, beguiling and compelling world of the modern adolescent.
Wednesday, September 12
1:30pm
Heathers (R)
A dark comedy set at a cliquish high school in Ohio, "The Heathers", comprised of the prettiest and most popular girls in town, rule the school through intimidation, contempt, and sex appeal. As a Heathers member, Winona Ryder begins to exhibit a conscience, and together with her boyfriend, Christian Slater, plot to avenge all the unfortunate victims of the group - with deadly consequences.

Click here for more information.
Dinner and a Movie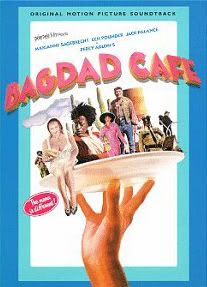 IT'S OK TO LAUGH
This interdisciplinary feature film series presents titles that explore humor and satire in recent cinema. Join Daytona State College faculty members and film specialists for background information, discussion and audience Q & A.
Wednesday, September 12
7:30pm
Bagdad Cafe
German tourist Jasmin Münchgstettner has separated from her husband and is now at the most desolated motel on earth. Brenda, a tough and short-tempered truck stop owner, allows Jasmin to work at the café that is frequented by colorful characters. With an ability to empathize with everyone who visits and a passion for cleaning, Jasmin transforms the café and all those in it.
Click here for more information.
Movie Matinee
This continuing series will showcase the cinema masterworks of some of the most thoughtful and influential directors in recent decades. Both Stanley Kubrick (UK/USA) and Terence Malick (USA) figure amongst cinema's most unique stylists and each has produced milestone works in twentieth century film culture. Kubrick's work ranges from early masterpieces like Spartacus to rarely seen iconic titles like A Clockwork Orange and the classic war film Paths of Glory. Malick's recent blockbuster The Tree of Life has piqued interest in his earlier visionary works.
Thursday, September 13
1:30pm
Barry Lyndon
British-American period romantic war film produced, written, and directed by Stanley Kubrick. Based on the 1844 novel The Luck of Barry Lyndon by William Makepeace Thackeray, the film recounts the exploits of an 18th century Irish adventurer who wins the heart of a wealthy widow and assumes her dead husband's aristocratic position. Starring Ryan O'Neal as Barry Lyndon.
Click here for more information.
Cinema Essentials
This is the first in a continuing series of sustained explorations of the masterworks of modern cinema. Delving deep into the entire vision of some of cinema's greatest directors, the series starts with the essential masterpieces of Sweden's Ingmar Bergman. From his early, lyrical character studies to the dramatic sweep of his penetrating epics, Bergman's vision and style remains unmistakable and fresh today.
Friday, September 14
1:30pm
The Virgin Spring
Set in medieval Sweden, a revenge tale about a father's merciless response to the rape and murder of his young daughter. As a deeply religious man, he begins to question the efficacy of a God that would allow his daughter's death, and permit so bloody a retribution. Inspired by a medieval Swedish ballad, the film begins with a scene of unspeakable brutality and ends with an image of uncommon beauty. Received the "best foreign picture" Academy Award in 1961.
Click here for more information.
Museum Gift Shop
ON SALE at the Gift Shop!
Wayne F. Miller
Photographs
1942-1958
Hardcover: 256 pages
Publisher: PowerHouse Books; First Edition edition (October 14, 2008)
Language: English
Product Dimensions: 10.8 x 1.1 x 11.5 inches
Sale price: $24.95
Retail price: $55.00
Click here to see more books.
MUSEUM HOURS

OPEN - Tues, Thurs, Fri: 11-5 pm; Wed: 11-7 pm; Weekends: 1-5 pm
June, July and December Hours: Tues-Sun: 12-4 pm

CLOSED - Mondays and for the following dates:

Easter Sunday, Daytona 500 Weekend, Daytona State College Spring Break, July 4, Thanksgiving Weekend, July 30-August 13, Dec 17 - January 11

MUSEUM LOCATION

Unless noted otherwise, all museum exhibitions, events and films are presented at the Southeast Museum of Photography which is located on the Daytona Beach campus of Daytona State College at 1200 International Speedway Blvd, three miles east of 1-95.

The museum is located in the Mori Hosseini Center (Bld. 1200). Visitor parking is available. Gallery admission is free. For detailed exhibition and program information visit www.smponline.org or call the museum information hotline at (386) 506-4475.

Daytona State College prohibits discrimination and assures equal opportunity in employment and education services to all individuals without regard to age, ancestry, belief, color, disability, ethnicity, genetic information, gender, marital status, national origin, political affiliation, race, religion, sex, and veteran status. For more details, read our policy at this link Equal Opportunity Statement or contact: Job B. Clement, Chair of the Equity Committee at 386-506-3403 or 1200 W. International Speedway Blvd., Daytona Beach, Fl. 32114.

Southeast Museum of Photography

A Service of Daytona State College

1200 W. International Speedway Blvd.

(386)506-4475