THIS WEEK AT THE MUSEUM

Tuesday, March 27 - Sunday, April 1
Artist's Talk and Reception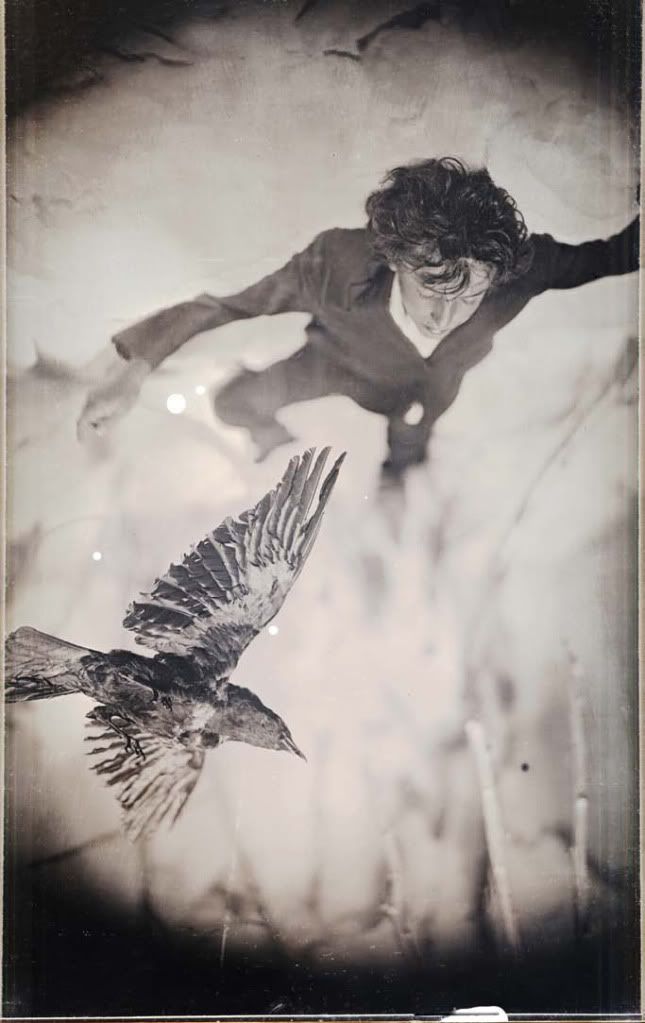 Curtis Wehrfritz
FLUIDRIVE: Modern Daguerreotypes
"The series of work, entitled 'Fluidrive' is focused on the use of ritual. I am interested in a lyric image that can be revisited by the viewer in the way one re-visits the feelings created in a song or prose. The daguerreotype is kind of a reliquary that you can hold in your hands and use like a prayer box. The fact that these "mirrors" last forever and have the ability to render subjects almost as a hologram puts us in a discussion with our own memories." -Curtis Wehrfritz

Artist's Talk and Reception: Friday, March 30, 6 - 8 pm
Student Seminar: Thursday, March 29, 11:00 am
Click here for more information.
Wednesday Movie Matinee
CITY OF LIGHTS: PARIS
The afternoon matinee series continues with films from Paris, the City of Lights. Early masterpieces, contemporary classics and more recent favorites bring the life and light of legendary Paris to the screen. Presented in conjunction with the museum exhibition: A Tale of Two Cities: Atget's Paris and Berenice Abbott's New York.
Wednesday, March 28
1:30 pm
On connaît la chanson (Same Old Song)
A playful, yet somber, musical comedy by one of the greatest living directors. Odile is looking for a new, bigger apartment. Her younger sister Camille has fallen in love with an estate agent who is responsible for Odile's apartment, and who has an elder employee.
Click here for more information.
Dinner and a Movie
SPIRITUAL MATTERS
This interdisciplinary feature film series presents titles that explore the treatment of spiritual issues in cinema. Join series host, Daytona State College faculty member and documentary film specialist Eric Breitenbach for background information, discussion and audience Q & A.
Wednesday, March 28
7:30 pm
Wings of Desire
Directed by Wim Wenders and co-written by Peter Handke, this enchanting film about the joy of life is a truly original concept and screenplay. A lonely angel roams the streets of Berlin providing comfort to mortals in need. But when he is drawn into the life of a beautiful and troubled trapeze artist, he experiences love for the first time and does everything in his power to be seen, heard and felt by her.

Click here for more information.
NOUVELLE VAGUE - FRENCH NEW WAVE
The origins and early history of both photography (Daguerre) and cinema
(Lumiere Bothers) are traceable back to Paris. The city has figured prominently in the history of both these arts and has exerted an especially deep influence on the development of contemporary cinema; both in form and content. The French New Wave cinema movement of the early 1960's revolutionized film, film theory and the style of contemporary movies. Presented in conjunction with the A Tale of Two Cities exhibition.
Thursday, March 29
1:30 pm
Breathless (Ŕ Bout De Souffle)
Godard's first feature-length film. Breathless attracted attention with its lean, exciting and casual style, bold visuals, innovative editing, hand-held photography and its portrayal of the modern world. Jean-Paul Belmondo and Jean Seberg play two young lovers on the run from the law.
Click here for more information.
CONTEMPORARY GLOBAL CINEMA
Emerging directors present film festival and alternative titles ranging from searing drama to quirky romances and comedies in this new series of contemporary cinema from around the world. Presented in association with Film Movement, a global, non-profit independent film distributor.
Friday, March 30
1:30 pm
The Colors of the Mountain
A modern-day portrayal of daily life in a remote part of the mountainous Colombian countryside, set around the friendship between Manuel and Julián.
One day, while playing a game of football, they kick the ball into a minefield. Accompanied by Poca Luz, they do everything they can to recover their prized belonging, an essential part of their everyday lives and dreams.

Click here for more information.
CURRENT EXHIBITIONS
[hyphen] AMERICANS: CONTEMPORARY TINTYPE PORTRAITS by KELIY ANDERSON-STALEY
Continues through May 2, 2012
A TALE OF TWO CITIES: Eugene Atget's Paris and Berenice Abbott's New York
Continues through May 2, 2012
Continues through April 22, 2012
FLUIDRIVE: Modern Dageurreotypes - Curtis Wehrfritz
Continues through April 22, 2012
WONDERS: Images of Florida's Forests by Stuart Rome
LAST CHANCE! Continues through April 1, 2012 at the Lyonia Gallery in Deltona
MUSEUM HOURS

OPEN - Tues, Thurs, Fri: 11-5 pm; Wed: 11-7 pm; Weekends: 1-5 pm
June, July and December Hours: Tues-Sun: 12-4 pm

CLOSED - Mondays and for the following dates:

Easter Weekend, Daytona 500 Weekend, Daytona State College Spring Break, July 4, Thanksgiving Weekend, July 31-August 17, Dec 17 - January 11

MUSEUM LOCATION

Unless noted otherwise, all museum exhibitions, events and films are presented at the Southeast Museum of Photography which is located on the Daytona Beach campus of Daytona State College at 1200 International Speedway Blvd, three miles east of 1-95.

The museum is located in the Mori Hosseini Center (Bld. 1200). Visitor parking is available. Gallery admission is free.

For detailed exhibition and program information visit www.smponline.org or call the museum information hotline at (386) 506-4475.

Daytona State College prohibits discrimination and assures equal opportunity in employment and education services to all individuals without regard to age, ancestry, belief, color, disability, ethnicity, genetic information, gender, marital status, national origin, political affiliation, race, religion, sex, and veteran status. For more details, read our policy at this link Equal Opportunity Statement or contact: Job B. Clement, Chair of the Equity Committee at 386-506-3403 or 1200 W. International Speedway Blvd., Daytona Beach, Fl. 32114.

Southeast Museum of Photography

A Service of Daytona State College

1200 W. International Speedway Blvd.

(386)506-4475