THIS WEEK AT THE MUSEUM

Tuesday, March 6 - Sunday, March 11
Free admission and public welcome at all screenings.
A joint presentation of the Global Education & Affairs, Global Friends Club, Department of Modern Languages and the Southeast Museum of Photography at Daytona State College.
Brazil Week Film Series
SENNA
Tuesday, March 6
6:30 pm *Note time change
This is a feature-length documentary about arguably the greatest and certainly the most charismatic racing driver of all time, Brazilian Ayrton Senna. The real story has been told, definitively, thrillingly and with real emotion. The film lets the singular personality of Senna; and the spectacular theatrics of Formula 1 racing, tell his story without any forced drama or fanfare.
Click here for more information.
Brazil Week Film Series
MORO NO BRASIL (I Live in Brazil)
Wednesday, March 7
2:30 pm
A musical journey that delves deeply into the heart of Brazil. Experience Brazilian culture and get to know its people with over 50 musical performances from the streets of Brazil, including interviews and performances. Moro no Brasil is a passionate documentary that grants the viewer unparalleled access to the diversity and musical richness of Brazilian music, reaching far beyond Samba and Bossa Nova.

Brazil Week Film Series
BLACK GOD, WHITE DEVIL (Deus e o Diabo na Terra do Sol)
Wednesday, March 7
7:30 pm
Widely considered to be the greatest Brazilian film of all time. This epic and moving work blends mysticism, religion, and popular culture, into a powerful, bleak and cruel epic, that unashamedly expresses its frustration with many of the major institutions of Brazilian life.

Click here for more information.
Brazil Week Film Series
CENTRAL STATION (R)
Thursday, March 8
2:30 pm

In the opening scenes of Central Station, colorful crowds of Brazilians stream into and out of a Rio de Janeiro train, pushing through doors and windows. You're immediately pulled into the brutal vitality of a nation in motion, setting the tone for a picturesque road movie that charts Brazil's renaissance. Two very unlikely souls, a motherless young boy and a lonely retired school teacher become inextricably linked and form an uncommon bond as they venture from the bustling city to Brazil's remote northeast region.

CITY OF GOD (R)
Thursday, March 8
6:00 pm

Celebrated with worldwide acclaim, this powerful true story of crime and redemption has won numerous prestigious awards around the globe. With enough visual vitality and provocative substance to spark heated debate, it's a bracing feat of stylistic audacity, borrowing from a dozen other films to form its own unique identity.
Friday, March 9
12:30 pm

Filmed over nearly three years, Wasteland follows contemporary Brazilian artist Vik Muniz as he journeys from his home base in Brooklyn to his native Brazil and the world's largest garbage dump, Jardim Gramacho, located on the outskirts of Rio de Janeiro. Muniz collaboration with these characters as they create photographic images of themselves out of the garbage reveals both the dignity and despair of the "catadores" as they begin to re-imagine their lives.

Click here for more information.
Museum Gift Shop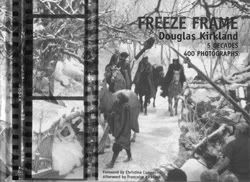 FREEZE FRAME - Douglas Kirkland
5 Decades / 400 Photographs
Hardbound, 352 pages. Forward by Christina Comencini. Published in 2007.
ON SALE! $29.95 (was: $39.95)
(Prices do not include Florida sales tax or shipping & handling.)
Limited quantities remaining.
Click here to see more books.
CURRENT EXHIBITIONS
[hyphen]-Americans: Contemporary Tintype Portraits by Keliy Anderson-Staley Continues through May 2, 2012
A Tale of Two Cities: Eugene Atget's Paris and Berenice Abbott's New York
Continues through May 2, 2012
Continues through April 22, 2012
FLUIDRIVE: Modern Dageurreotypes - Curtis Wehrfritz
Continues through April 22, 2012
WONDERS: Images of Florida's Forests by Stuart Rome
Continues through April 1, 2012 at the Lyonia Gallery in Deltona
MUSEUM HOURS

OPEN - Tues, Thurs, Fri: 11-5 pm; Wed: 11-7 pm; Weekends: 1-5 pm
June, July and December Hours: Tues-Sun: 12-4 pm

CLOSED - Mondays and for the following dates:

Easter Weekend, Daytona 500 Weekend, Daytona State College Spring Break, July 4, Thanksgiving Weekend, July 31-August 17, Dec 17 - January 11

MUSEUM LOCATION

Unless noted otherwise, all museum exhibitions, events and films are presented at the Southeast Museum of Photography which is located on the Daytona Beach campus of Daytona State College at 1200 International Speedway Blvd, three miles east of 1-95.

The museum is located in the Mori Hosseini Center (Bld. 1200). Visitor parking is available. Gallery admission is free.

For detailed exhibition and program information visit www.smponline.org or call the museum information hotline at (386) 506-4475.

Daytona State College prohibits discrimination and assures equal opportunity in employment and education services to all individuals without regard to age, ancestry, belief, color, disability, ethnicity, genetic information, gender, marital status, national origin, political affiliation, race, religion, sex, and veteran status. For more details, read our policy at this link Equal Opportunity Statement or contact: Job B. Clement, Chair of the Equity Committee at 386-506-3403 or 1200 W. International Speedway Blvd., Daytona Beach, Fl. 32114.

Southeast Museum of Photography

A Service of Daytona State College

1200 W. International Speedway Blvd.

(386)506-4475