THIS WEEK AT THE MUSEUM

Tuesday, January 24 - Sunday, January 29
Museum Exhibition Opening - Friday, January 27 6-8pm
SURFLAND - Joni Sternbach
January 27 - April 22, 2012
Friday, January 27, 6-8pm: Artist's Talk, Book Signing and Opening Reception
Captured directly on the shoreline, Joni Sternbach's luminous images possess the immediate quality of a singular print created then-and-there as she captures portraits of contemporary surfers in tintype, a 19th-century technique first used during the American Civil War and little changed since then. The large camera seems to slow down time, so that her subjects possess a distilled and timeless grace and beauty that seems so far removed from the energy, movement and animation we commonly associate with the surfing life.
Click here for more information.
Museum Exhibition Opening - Friday, January 27 6-8pm
Curtis Wehrfritz
FLUIDRIVE: Modern Daggeurotypes
January 27 - April 22, 2012
March 30, 6-8pm: Artist's Talk and Reception
"The series of work, entitled 'Fluidrive' is focused on the use of ritual. I am interested in a lyric image that can be revisited by the viewer in the way one re-visits the feelings created in a song or prose. The daguerreotype is kind of a reliquary that you can hold in your hands and use like a prayer box. The fact that these "mirrors" last forever and have the ability to render subjects almost as a hologram puts us in a discussion with our own memories." -Curtis Wehrfritz
Click here for more information.
DOCUMENTARY FEATURE
Part of the museum's continuing series of documentary film presentations.
Wednesday, January 25
7:00 pm
Senna
This is a feature-length documentary about arguably the greatest and certainly the most charismatic racing driver of all time, Brazilian Ayrton Senna. The real story has been told, definitively, thrillingly and with real emotion. The film lets the singular personality of Senna; and the spectacular theatrics of Formula 1 racing, tell his story without any forced drama or fanfare.
Click here for more information
Exhibition Film Series
NOUVELLE VAGUE - FRENCH NEW WAVE
This film series presents the French New Wave cinema movement of the early 1960's which revolutionized film, film theory and the style of contemporary movies. Take a look at some of the seminal figures and films from that era. Presented in conjunction with the museum exhibition: A Tale of Two Cities: Atget's Paris and Berenice Abbott's New York.
Thursday, January 26
1:30 pm
Les Bonnes Femmes (The Good Time Girls)
One of Chabrol's best films and a masterpiece of the French New Wave. There's a breezy naturalism that invigorates the film: easy, seemingly spontaneous ensemble performances, the immediacy of shooting on
location, and a loose, episodic story full of rich detail. But this is no urban fairy tale: the dreams of these girls are frustrated by a tawdry and brutal world in a shocking, sad finale.
Click here for a detailed listing of this film series
Film Movement Feature Series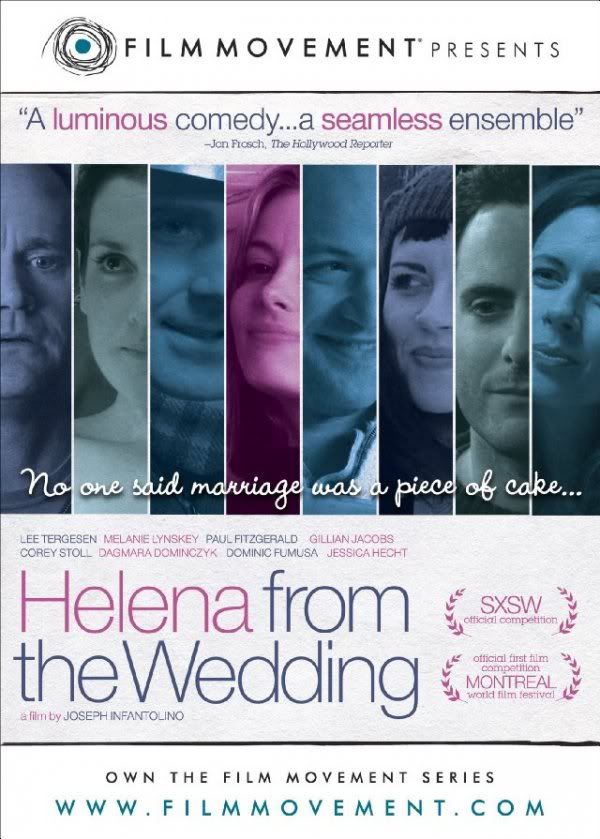 CONTEMPORARY GLOBAL CINEMA
This film series presents emerging directors and alternative titles ranging from searing drama to quirky romances and comedies in this new series of contemporary cinema from around the world presented in association with Film Movement, a global, non-profit independent film distributor.

Friday, January 27
1:30 pm
Helena From the Wedding
One dark night in the life of Alex Javal, a man who is so distracted looking back that he doesn't see what is right in front of him. The film captures the feeling between the fading of youth and the beginning of the rest of life, and a look back before we move forward into the future.
Click here for a detailed listing of this film series
Museum Gift Shop
Coco Chanel: Three Weeks/1962
Douglas Kirkland (Author, Photographer)

ON SALE NOW:
Sale Price: $29.95 / Retails for $50.00
(Prices do not include Florida sales tax or shipping & handling.)

For a limited time, these featured books are on sale in our museum gift shop and can also be ordered over the phone by calling (386)506-3350.
To see more books click here.
CURRENT EXHIBITIONS
DOUGLAS KIRKLAND: RETROSPECTIVE - Fifty Years of Photography
Continues through February 19, 2012

WONDERS: Images of Florida's Forests by Stuart Rome
Continues through March 19, 2012 at the Lyonia Gallery in Deltona
Selections from the Permanent Collection of the Southeast Museum of Photography: Andrey Chezhin and Rogelio López Marín (Gory)
Located at the Atlantic Center for the Arts in New Smyrna Beach, FL.
Continues through February 4, 2012
MUSEUM HOURS

OPEN - Tues, Thurs, Fri: 11-5 pm; Wed: 11-7 pm; Weekends: 1-5 pm
June, July and December Hours: Tues-Sun: 12-4 pm

CLOSED - Mondays and for the following dates:

Easter Weekend, Daytona 500 Weekend, Daytona State College Spring Break, July 4, Thanksgiving Weekend, July 31-August 17, Dec 17 - January 11

MUSEUM LOCATION

Unless noted otherwise, all museum exhibitions, events and films are presented at the Southeast Museum of Photography which is located on the Daytona Beach campus of Daytona State College at 1200 International Speedway Blvd, three miles east of 1-95.

The museum is located in the Mori Hosseini Center (Bld. 1200). Visitor parking is available. Gallery admission is free.

For detailed exhibition and program information visit www.smponline.org or call the museum information hotline at (386) 506-4475.

Daytona State College prohibits discrimination and assures equal opportunity in employment and education services to all individuals without regard to age, ancestry, belief, color, disability, ethnicity, genetic information, gender, marital status, national origin, political affiliation, race, religion, sex, and veteran status. For more details, read our policy at this link Equal Opportunity Statement or contact: Job B. Clement, Chair of the Equity Committee at 386-506-3403 or 1200 W. International Speedway Blvd., Daytona Beach, Fl. 32114.

Southeast Museum of Photography

A Service of Daytona State College

1200 W. International Speedway Blvd.

(386)506-4475