How Academic Success Can Support You
At
Academic Success
we take great pride in finding the right coach to support the unique needs of each student we help. Please check out the areas where we work on our
web site
and let us know how we can support you.
Academic Success Partner of the Month
The commitment of Yellen & Associates Psychological, Educational, Speech & Language Services is to allow adults, adolescents, and children an opportunity to have all their psychological, educational, speech and language needs met through one coordinated effort. It is their belief that the coordination of professional services provides clients and patients with a less stressful process. Among the services they offer are:

* Psychological and Diagnostic Services
* Educational Services
* Speech & Language * Therapy
* Group Therapy
* Educational Specialties
* Irlen Syndrome Diagnostics
* Social Facilitation
* TRACK
* Neuro-Electrical Diagnostics & Analysis
* Biofeedback
Check Out 826LA
Academic Success'
favorite
charity,
826LA
, offers writing workshops in local public schools and free after-school tutoring in its Venice and Echo Park facilities. To see how this dynamic organization is making a real difference in our community, check out their
blog
or go to one of their free
events
.
Looking for a College Counselor or Ed Therapist?
We work and partner with excellent Educational Therapists and College Counselors throughout the L.A. area. Give us a call and we can recommend the right fit for your child.


Looking
for a Student Community Service Opportunity?

Surfrider is a responsible and passionate organization dedicated to environmental education, clean-up, and progress. Read about the
West L.A.Chapter's
Teach & Test program at Santa Monica High, which empowers students, using lab equipment to test the water in Santa Monica Bay for contaminants. Surfrider then studies and posts the results, and educates the community about the possibility of changing the effectiveness of water treatment facilities.

Finding the Right Coach with
Academic Success


With our team of coaches, there is one perfect fit for every student who needs support. Check out our
web site
or call us to learn more about our coaching team.
Greetings!
The daily school schedule has been set, the back-to-school nights have been attended, and new teachers have been met. Now, the real work begins.
Even though term papers, final exams and semester grades may seem to be on the other side of the horizon, the study habits and organization that students invest now will pay huge dividends later. Students who can keep their notes organized and time-manage their assignments have a huge advantage and are much better positioned to avoid an end-of-semester panic.
Better yet, why not study a little each day to avoid night-before-the-test panic as well?
Academic Success
coaches support their students by teaching them to plan ahead and break down their work load into manageable bites. A little organization goes a long way to diminishing stress and producing positive results.
Please call us with any question or concern at 310-823-4398.
Sincerely,
Jamie and Eric
Behind-the-Scenes in The College Admissions Process
This winter, with the metaphorical doors closed and shades drawn, colleges will wade through millions of applications and decide who will get thick envelopes this spring and who will not. This entire process is one of the most mysterious and anxious events in any student's life.
Is it better to get B's from a top flight high school or A's from a school that is not as competitive?
What kind of essay do application readers hate?
Do readers actually watch those DVDs from school plays or athletic events that some applicants send in?
Is it important to have a lot of extra-curricular activities or just have a few that are really important?
Mr. McClintick will be continuing this dialog with
The New York Times
during the school year, so check back in to see more of his insights.
Study Tip #1 - Go to a Teacher's Office Hours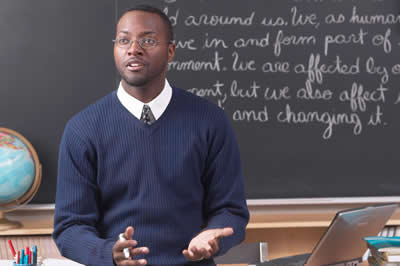 Ask any teacher who their favorite students are and the answer is not surprising: teachers connect with students who express an interest in their class' subject matter and put in visible effort to achieve a strong grade.
So how can students let their teachers know that they care? Tell them! Start now, early in the year, and before the first round of grades have been calculated. Visit your teacher's office hours, and let them know how you are committed to succeeding in the class. Ask for suggestions and check back in every 4-6 weeks for more insight. Your teacher will be pleased and rooting for you to do well.


Study Tip #2- Build in Rewards While You Are Studying
You have to read Acts II and III of
Hamlet
by Thursday. There will be a class discussion, and if you do not know your
Polonius
from your
Rosencrantz
, you will be in bad shape. But the brand new version of
Beatles Rock Band
is in the living room, calling to you.....play me!
Don't torture yourself. Reward yourself. Use that new toy as an incentive to get your work done. Create a nightly schedule for yourself that includes breaks. Make a deal that for every hour you spend plowing through your work, you will give yourself 15 minutes of free time doing what you want to do. That 15 minutes will be all the more satisfying knowing that you earned it.
Meet Kathie Lange
Coach Profile of the Month
Triathlon training, paddle boarding, and playing on the beach are a few of Kathie's favorite past times. However, teaching is the activity that Kathie Lange is most passionate about. A 10-year veteran teacher, Kathie is now teaching 3rd grade at Hermosa Valley School, HBCSD. Yet, not all of her teaching takes place in the classroom. Kathie also spends after-school hours coaching track, cross-country, and later this year soccer. Luckily, Kathie also manages to work with Academic Success students to improve their early reading and math abilities. Using the experience from her role as an after-school reading interventionist, Kathie has a knack for making the shyest learners feel confident and comfortable. Her love of learning, paired with an enthusiastic approach makes Kathie a fantastic coach, academic and otherwise.
:



We consider it a privilege and an honor to support students and their families throughout the Los Angeles area. Please call us at any time; we welcome your thoughts and input. We are available at 310-823-4398.


Jamie Altshule & Eric Altshule
Academic Success, Inc.