How Academic Success Can Support You
At
Academic Success
we take great pride in finding the right coach to support the unique needs of each student we help. Please check out the areas where we work on our
web site
and let us know how we can support you.
Understanding the College Admissions Process
Getting into college can be a daunting and intimidating process. Picking the right schools, going through the application and admissions process and making your final choice is one of the most critical events in your teenage years.
University Drive
has produced a DVD called "College Admission. Simplified" to help families understand the process. The video is a 6 episode series walking parents and students through every step of the college admission process and, features interviews from a number of college admission experts in a fast paced format. You can check out portions of the video on their
website
which also provides some useful information about the admissions process, links to some really useful articles, blogs, tips and suggestions, and has a great search feature that lets students sift through a giant database of college information.
Check Out 826LA
Academic Success'
favorite
charity,
826LA
, offers writing workshops in local public schools and free after-school tutoring in its Venice and Echo Park facilities. To see how this dynamic organization is making a real difference in our community, check out their
blog
or go to one of their free
events
.
Looking for a good College Counselor or Ed Therapist?
We work and partner with Educational Therapists and College Counselors throughout the L.A. area. Give us a call and we can recommend the right fit for your child.
Academic Success
Summer Teen Reading List
One of the great joys of summer is casual reading. Students get to enjoy books without the pressure of taking notes, highlighting passages, and dissecting themes. Here is a great
list
of books separated by grade level that may spark some interest. However, nothing beats visiting a small bookstore to talk to an expert. Our favorite neighborhood bookstore is
Children's Book World
on Pico Blvd. We suggest visiting a local bookstore right after school gets out and loading up on options to carry you through the whole summer.
Looking
for a Student Community Service Opportunity?

Surfrider is a responsible and passionate organization dedicated to environmental education, clean-up, and progress. Read about the
West L.A.Chapter's
Teach & Test program at Santa Monica High, which empowers students, using real lab equipment to test the water in Santa Monica Bay for contaminants. Surfrider then studies and posts the results, and educates about the possibility of changing the effectiveness of water treatment facilities.

Finding the Right Coach


With our team of coaches, there is one perfect fit for every student who needs support. Check out our
web site
to understand more about our coaching team.
Greetings!
It's May and summer is almost here, but students cannot afford to relax quite yet. First, there are end-of-the-year exams, projects, term papers, AP and SAT II tests and the inevitable question, "How can I raise my grade?" This can be an overwhelming time for many students, and a game plan will help. The best tool is a daily road map with a list of small tasks that need to be accomplished each day, leaving time for reviewing for finals (it is definitely not too early to start now) and study breaks. Personal organization and planning are the critical tools students need today, so their study schedule can be manageable and effective, and they can see how they can accomplish their list of tasks one at a time.

As always, we stand ready to help. Call us with any question or concern at 310-823-4398.

Sincerely,

Jamie and Eric
The Summer is Prime SAT/ACT/ISEE Test Prep Time
Like it or not, the Standardized Test is one of the necessary hoops that students must reluctantly jump through on their way to college acceptance. These are tricky tests, and their formats are not familiar to many students. There are two keys to scoring well. The first is mastery of the content of the exam, and the second is comfort with the actual format of the test. Students are not generally accustomed to the manner in which these tests pose questions and the many hidden traps designed into the tests. When test taking strategies and content are mastered, students can achieve their highest possible scores.

There is no perfect time of year to prepare for the SAT, ACT or ISEE, but the summer often presents a calmer, less pressurized time to study. Without the demands of daily classes, students have the opportunity to practice and absorb the proven strategies for taking the tests. For students who prepare over the summer, these are the first dates in the fall the tests are offered:

ACT - September 18, 2009
SAT - October 10, 2009
ISEE - various dates and locations starting in September

What is the Difference Between the ACT and SAT?
Over the past decade, virtually all colleges and universities have moved to accepting either the SAT or ACT. So, with your No 2 pencil in hand, which test is right for you?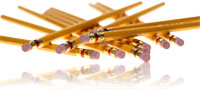 Here are a few basics: the ACT questions, especially in the math section, tend to mimic the type of substantive, content based questions most students confront in their daily academic life while the SAT tends to ask more logic and reasoning based questions, some of which are designed to lead students into incorrect answers. Some people describe the difference between the ACT and the SAT as the difference between knowledge and reasoning. The SAT tends to have a more "strategy" based assessment, while the ACT can be a little more straight-forward in its approach.

Finally, the biggest difference between the two tests may be stamina. The SAT is an hour longer, and for some students, the tank may run dry in that last hour. For other students, who can stay focused for longer periods, the SAT may offer an advantage.

An informative article from the
New York Times
, highlighting some of the differences can be found
here
.
TIP #1 - Pick the Right Lab and Study Partner!

When it comes time to pick a lab or study partner, the temptation is to pick a friend. Sure, it would be fun to spend a class period talking about the upcoming Green Day album or the new Star Trek movie. Nevertheless, picking the right partner pays big dividends when it is time to produce quality work. Your close friend may not be the person who best contributes to a great final product, or who has listened in class as much as they should. A better choice for members of group projects are those who care about their grades and are known to work hard. Choosing a different partner can also be a chance to get to know someone better and even make a new friend. Either way, choose smart!
TIP #2 - Get the Bibliography Right
Once the hard work has gone into researching, compiling information, and writing a research paper, one of the toughest final steps is completing the process with a correctly organized bibliography. Source materials are found in an ever widening field, and knowing how to accurately site those sources (like those found on the web) can be a challenge. Although there are differing styles of bibliography, MLA is the most commonly used among middle and high schools. Buying the latest MLA guide is an option, but for a faster result, we recommend,
EasyBib
where you can choose the style, type of source material and get an accurate result each time.
Meet Robert Johnson
Coach Profile of the Month
Ever since Robert began tutoring his fellow eighth graders in geometry, teaching has been a natural match for Robert's abilities. Over the past 15 years, Robert has successfully worked with pupils, ranging from fifth graders all the way to graduate students in subjects like math, history, and writing. Today, Robert specializes in standardized test preparation for exams such as the ISEE, SAT, SAT II's and ACT, working with small groups as well as individuals. But it's the one-on-one coaching that he finds most rewarding: "The most satisfying aspect of my work," Robert says, "is seeing the sudden light of understanding turn on in a student's eyes." In addition to working as an educator, Robert has written and performed sketch comedy in New York City and also moonlighted as a professional sushi chef in Malibu.

:



We consider it a privilege and an honor to support students and their families throughout the Los Angeles area. Please call upon us at any time; we welcome your thoughts and input. We are available at 310-823-4398.


Jamie Altshule & Eric Altshule
Academic Success, Inc.