How Academic Success Can Support You
At
Academic Success
we take great pride in finding the right coach to support the unique needs of each student we help. Please check out the areas where we work on our
web site
and let us know how we can support you.
Check Out 826LA
Academic Success'
favorite
charity,
826LA
, offers writing workshops in local public schools and free after-school tutoring in its Venice and Echo Park facilities. To see how this dynamic organization is making a real difference in our community, check out their
blog
or go to one of their free
events
.
Looking for a good College Counselor or Ed Therapist?
We work and partner with Educational Therapists and College Counselors throughout the L.A. area. Give us a call and we can recommend the right fit for your child.
Academic Success
Teen Movie Rental of the Month
The 1980s was the golden era of teen movies, and perhaps no movie spoke to teens like Cameron Crowe's
Say Anything
. This funny, romantic film captures that moment when teens have to look adulthood in the eye and decide what really matters to them. It is hard to find a more perfect film to speak to the hopes and anxieties of young adults.
Top teen movies of the 80s
Looking for other great 80s movies for teens? Although this Amazon
list
is a little heavy on
John Hughes films
and sinfully omitted
Risky Business
, it should give you some ideas for what you can rent this weekend!
Looking
for a Student Community Service Opportunity?

Surfrider is a responsible and passionate organization dedicated to environmental education, clean-up, and progress. Read about the
West L.A.Chapter's
Teach & Test program at Santa Monica High, which empowers students, using real lab equipment to test the water in Santa Monica Bay for contaminants. Surfrider then studies and posts the results, and educates about the possibility of changing the effectiveness of water treatment facilities.

Finding the Right Coach


With our team of coaches, there is one perfect fit for every student who needs support. Check out our
web site
to understand more about our coaching team.
Greetings!
Our mission is to inform and engage about the latest news regarding students of all ages, schools and family life. This time of year, the most pressing issue for many students is end-of-the-year exams and projects. Spring Break's moment of calm will soon yield to term papers, AP tests, SAT II tests and final exams. We are presented with our last opportunity to reap all that this school year has to offer, and complete the semester with a sense of accomplishment and achievement.

Use this moment to prepare for the academic sprint that is May and June. Simple tasks like "spring cleaning" the desk, organizing binders, locating missing books, and refreshing school supplies can help put students in the right frame of mind to effectively manage the final months.

As always, we stand ready to help. Call us with any question or concern at 310-823-4398.

Sincerely,
Jamie and Eric
Taking A Year Off Between High School and College? Many Students Are Now Planning for Gap Year.
In the 1950s and 60s, many students did not speed right from High School to College. They often took a gap year to spend some time maturing, earning a little money and preparing themselves for higher education.
The New York Times
is reporting that this trend may be coming back. There seem to be a couple of reason why -
Many people's college funds have taken a big hit over the past year. Many families are choosing to see if those investments can recover some before depleting them.

Students can gain maturity and enter college more focused on their academic work after spending a year working in the "real world."
Almost all colleges are willing to defer admissions for a year, so even if you are accepted, you can take a year off without losing your slot. While a gap year may not be for everyone, it is something more and more people are considering.
TIP #1 - Where you Sit In Class Can Make a Big Difference!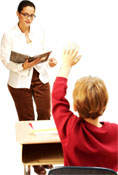 Little things can make a big difference. Sitting in the front row, close to the teacher, can have a significant impact on a student's grade. By sitting closer to the front, students can make eye-contact with the teacher, hear the lesson more clearly, keep their attention focused, get a better view of the board, and get called on more easily by the teacher. From a teacher's perspective, sitting in the front relays the unspoken message that you are serious student, interested in the class, and looking for opportunities to participate. Once a teacher believes in a student's effort, they are more likely to help that student in any way they can.
TIP #2 - Clean out the Backpack Once a Week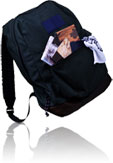 For many students, the school backpack can become a combination of luggage, file cabinet, and trash receptacle. Our suggestion is that on Sunday night, students completely empty their backpacks and go through each binder. Dump the trash, pull out the papers you need to keep on file at home for studying, place the papers you need to take to school in the right section of their notebook, and throw the useless papers into the recycler. Starting the week with a clean slate will make it easier to organize upcoming work and make sure that no important assignments have wormed their way to the bottom of the backpack and out of view.
Meet Rebecca Heller
Coach Profile of the Month
Rebecca knows first hand how much is expected of today's students. In addition to working in the College Guidance Department at Crossroads School, she also is a school counselor at Venice High as part of her preparation to receive her Masters in Counseling this Spring from LMU. So Rebecca must be all work and no play, right? Wrong. She also teaches surfing, and has written a couple of books to help young women perfect their ability to ride both the waves and the pavement. Academic Success is proud to have Rebecca on our team.

:



We consider it a privilege and an honor to support students and their families throughout the Los Angeles area. Please call upon us at any time; we welcome your thoughts and input. We are available at 310-823-4398.


Jamie Altshule & Eric Altshule
Academic Success, Inc.