Coaching Series Jun 5 - 7 AM or 6 PM

June Topic: Selling With Style
How to blend your sales style with your customers buying style.
We are all in sales whether we are selling a product, service, an idea, or ourselves.
People buy from people they like! The problem is: What do they like?
Join us on Tuesday, June 5 for the Competitive Edge Coaching Series. Steve Hendon, Certified Professional Coach, will share proven methods for understanding what the customer likes and how to blend your selling style with the customers buying style. Handouts and strategies will be shared to help you increase your sales effectiveness.
Networking Lunch Jun 5 - 11:30 AM
Great business leads, great food, great FUN!
Looking for a new avenue to pick up contacts? Join us for lunch at Italia Express, 305 W. FM 1382, Suite 410, located in Uptown Village. Formerly known as Ambassador Lunch but is now open to all Chamber Members that want to network and need to eat.
Referral Exchange Tuesdays - 11:30 AM
Get More Qualified Referrals!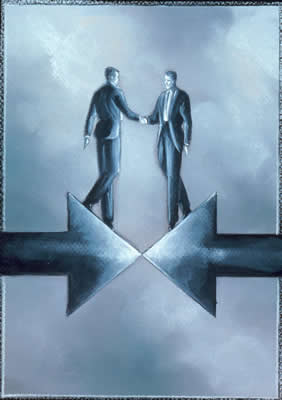 Did you know that word of mouth referrals are up to 27% more effective than any printed advertising and cost you nothing.
If you'd like more qualified referrals to help you grow your business, join us on these new dates at 11:30 for some lunch and leads.....
IHOP, 205 E. FM 1382
4th Tuesday - Jun 26
Chamber, 300 W. Houston
Coffee & Connections Jun 13 - 7:30 AM
Premier peer learning, networking group designed to build business relationships. Open to anyone that wants to build name recognition, connect with business leaders, network and strengthen relationships in an informal, no expectations atmosphere. Simply bring $2.00, plenty of business cards, and anything you would like to donate to the giveaways.
Event will be at 1419 N US Hwy 67.

Last Monday Jun 25-6:00 PM
Last Monday is a monthly networking event hosted on the last Monday of the month at various businesses throughout the year. This event is designed for you to develop new business relationships in an informal environment.
Bring plenty of business cards.
213 W. Beltline Rd - Cedar Hill
BSW Luncheon Jun 28 - 11:30 AM
Quarterly Luncheon Presents
Elected Mayor in June 2011, Mike Rawlings brings three decades of high-level business and civic leadership to Dallas City Hall.
The Mayor will touch on how his business expertise aligns with the Best Southwest's core initiatives:
For More Info and to Register NOW!
Best Southwest Allied Partner:

Welcome New Members
Dunkin Donuts

650 Uptown Blvd

Cedar Hill, TX 75104

Lisa Cantu

(214) 250-1434

Nsync Services, Inc.

2004 N. Hwy 360

Grand Prairie, TX 75050

Del Ramirez

(469) 826-2171

Project Dream Haus

P.O. Box 621

Cedar Hill, TX 75106

Eugene B. Keahey

(214) 531-3252

Rental Stop

2935 S. State Hwy 360

Grand Prairie, TX 75052

Don Ellis

(972) 336-0059
Ribbon Cuttings
Saturday, Jun 2
Jeter & Son
Funeral Home @
436 N. Hwy 67 - 12:45 PM
Open House from 1 to 3 PM. Light refreshments
will be served
.
Wednesday, Jun 6
Dunkin' Donuts @ 650 Uptown Blvd - 11:30 AM
Saturday, Jun 9
Flip Flop Shop @ 305 W. FM 1382 (located in Uptown Village, facing the fountain)


- 10:30 AM
Diamond Member




Platinum Members

Gold Members
Cedar Hill EDC
Comfort Rehab & Chiropractic
Oncor Electric Delivery
TXI
Silver Members
AAFES
Atmos Energy
Coca-Cola Enterprises
Nationwide Construction
Proforma A-Z Specialties
Prosperity Bank
Regions Bank
UNT - Dallas Campus
A Premier Chamber serving and enhancing our community through business growth and development
Committee Meetings
Sunday, Jun 10
820 S. Cockrell Hill Rd,
Ovilla
- 4:00 pm
Thursday, Jun 14
Government Affairs Committee
@ Dick's Uptown Cafe, 610 Uptown Blvd, Suite 100 - 7:30 am
Tuesday, Jun 19
Business Development Council @ Chamber - 12 noon - B.Y.O.L.
Wednesday, Jun 27
Membership Development Council / Ambassador Committee
@ Chamber - 11:30 am - B.Y.O.L.