February Ambassador of the Month
Mr. Del Ramirez
The Computer Guy
Is the current President and CEO of
The Computer Guy. His company is an information technology consulting firm serving small and mid-sized businesses in Dallas, Tarrant, and Ennis County. Their services include website design, hosting, marketing via social networking, payment websites, cloud services, technology security, electronic medical records, trainings and much
more. The Computer Guy specializes in partnering with their clients to find technology solutions that make a real difference.
Referral Exchange Tuesdays - 8 AM
Get More Qualified Referrals!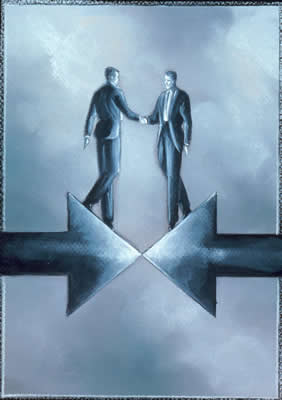 Did you know that word of mouth referrals are up to 27% more effective than any printed advertising and cost you nothing.
If you'd like more qualified referrals to help you grow your business this year, join us from 8:00am - 9:00am at the Cedar Hill Chamber and become a member of our new Referral Exchange Group.
We're just getting started so this is a ground floor opportunity that won't last long. Hope to see you there soon...;0)
Mar 6 - 7 AM or 6 PM

Competitive Edge Coaching Series
Explore strategies, tools, and mindsets that will help empower you to discover your path to move your business forward.

March Topic: Realizing Goal Success:
Four Powerful Strategies That Work
If you own a business, manage a business, manage a sales territory as a commissioned sales professional, or hope to one day own your own business, the Competitive Edge Coaching Series is designed to provide you with education and support in the form of new ideas, strategies, and tools, to help you realize your success. We invite you to participate. Everyone brings something of value to the learning process.
Networking Lunch Mar 6 - 11:30 AM
Great business leads, great food, great FUN! Ambassadors are a vital part of the Chamber Program of Work. They serve as the face of the Chamber and assist in welcoming and getting members involved so that they can maximize the benefits they receive from membership. Looking for a new avenue to pick up contacts in 2012? Join us for lunch at Toshio's - 100 S. Main St #100 Duncanville, TX
Coffee & Connections Mar 14 - 7:30 AM
Premier peer learning, networking group designed to build business relationships. Open to anyone that wants to build name recognition, connect with business leaders, network and strengthen relationships in an informal, no expectations atmosphere. Simply bring $2.00, plenty of business cards, and anything you would like to donate to the giveaways. This month event will be held at the Cedar Hill Chamber.
Texas Scholars Presentations
Support this program by becoming a presenter and providing special consideration for the hiring and recognition of Texas Scholars. The Cedar Hill Texas Scholars Program is a partnership between the business community and Cedar Hill ISD and Trinity Christian School. One of the program objectives is to ensure that every student receives the finest education available and is prepared to enter the workforce and contribute to their community.

Presentation times available:

Thursday, March 8 from 7:40 am to 8:30 am

Bessie Coleman Middle School



Thursday, March 22 from 8:30 am to 9:30 am

Cedar Hill High School

Last Monday Networking Mar 26 - 6 PM
Last Monday is a monthly networking event hosted on the last Monday of the month at various businesses throughout the year. This event is designed for you to develop new business relationships in an informal environment.
Bring plenty of business cards.
Come mingle, network, and prizes!
Free Hors d'oeuvres and Happy Hour Prices
If you would like to sponsor Last Monday event, please contact Doris@cedarhillchamber.org
305 W. FM 1382 Suite 502 * Uptown Village at Cedar Hill

Avon Products, Inc. District 1722
www.youravon.com/district172
The Buckle
Uptown Village
Christopher Townsend
972.293.7700
Metal Central
660 Grigsby Way
Cedar Hill, TX
Don Richardson
972.297.4605
Diamond Member




Platinum Members
Gold Members
Cedar Hill EDC
Comfort Rehab & Chiropractic
Oncor Electric Delivery
TXI
Silver Members
AAFES
Atmos Energy
Coca-Cola Enterprises
Nationwide Construction
Proforma A-Z Specialties
Prosperity Bank
Regions Bank
UNT - Dallas Campus
A Premier Chamber serving and enhancing our community through business growth and development
Committee Meetings
Thursday, Mar 8
Government Affairs Committee @ Dick's Uptown Cafe, 610 Uptown Blvd, Suite 100 - 7:30 am

Wednesday, Mar 14

Membership Development Committee @ Chamber - 10:00 am


Tuesday, Mar 20
Business Development Council @ Chamber - 12 noon - B.Y.O.L.
Thursday, Mar 22
Monthly Luncheon @ 11:30 AM
Speaker TBA
Northwood University

Monday Mar. 5
Eclair Bistro
Ribbon Cutting @
327 Texas Street- 06:30 PM
Light refreshments
will be served.



Happy Saint Patrick's Day

March 17

Primary Election Day

March 29