December Ambassadors of the Month
Sherry has been in the promotional side of the business for about 30 years as an office administrator, sales rep and owner of Proforma A-Z Specialties. Tom left the corporate world to join her 24 years ago. They moved from Chicago to Duncanville in May 1987. From 1989 - 1991 they owned their own screen printing company where they screen printed apparel for their customers as well as for other distributors. Because they were blessed with adopting t
heir daughter, and there were only 24 hours in a day, they sold the business in 1991. In October 2000, they joined Proforma and became Proforma A-Z Specialties.
Referral Exchange Every Tuesday @ 8 AM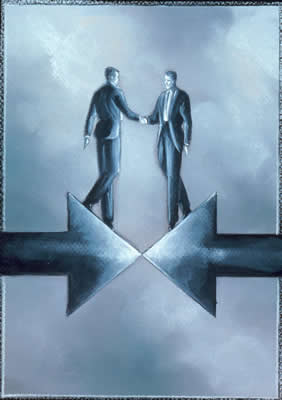 Did you know that word of mouth referrals are up to 27% more effective than any printed advertising and cost you nothing.
Would you like more qualified referrals to help grow your business in 2012?
New Group forming NOW!
Every Tuesday at the Chamber.
February 7 - 7 am or 6 pm

Competitive Edge Coaching Series
Explore strategies, tools, and mindsets that will help empower you to discover your path to move your business forward.
February Topic: SUPERCHARGE YOUR GOALS
Take a look at the latest research on setting and realizing goals. Also learn new strategies and tools to select the right goals for you as well as getting in the right mindset to improve your chances of succeeding with your goals.
Networking Lunch Feb 7 @ 11:30 AM
Great business leads, great food, great FUN! Ambassadors are a vital part of the Chamber Program of Work. They serve as the face of the Chamber and assist in welcoming and getting members involved so that they can maximize the benefits they receive from membership. Looking for a new avenue to pick up contacts in 2012? Join us for lunch at Applebee's - 649 Uptown Blvd, Cedar Hill.
Coffee & Connections Feb 8 - 7:30 am
Premier peer learning, networking group designed to build business relationships. Open to anyone that wants to build name recognition, connect with business leaders, network and strengthen relationships in an informal, no expectations atmosphere. Simply bring $2.00, plenty of business cards, and anything you would like to donate to the giveaways. This month event will be held at the Credit Union.
Competitive Edge Signature Series
Must not miss this opportunity!
Workshop * Feb 23, 10 am
Leadership Presentation
"Where did all the leaders go?"
What it takes in today's economy to be a leader and how to establish the environment to create leaders and growth.
BSW Lunch * Feb 23, 11:30 am
Keynote Address
"Finding true North when everything is going South"
Both events will be held at
Trinity Church of Cedar Hill - Worship Center
Last Monday Networking Feb 27 @ 6 PM
When asked what the Chamber could do in 2012 to help you more, the most common answer was MORE NETWORKING!!!!
So we are excited to present LAST MONDAY Networking.
305 W. FM 1382 * Uptown Village at Cedar Hill

Welcome New Member
Eclair Bistro
Cedar Hill, TX 75104
David Gros
214-701-4409
Diamond Member




Platinum Members
Gold Members
Cedar Hill EDC
Comfort Rehab & Chiropractic
Oncor Electric Delivery
TXI
Silver Members
AAFES
Atmos Energy
Coca-Cola Enterprises
Nationwide Construction
Proforma A-Z Specialties
Prosperity Bank
Regions Bank
UNT - Dallas Campus
A Premier Chamber serving and enhancing our community through business growth and development
Committee Meetings
Wednesday, Feb 8

Membership Development Committee @ Chamber - 10:00 am


Thursday, Feb 9
Government Affairs Committee @ Dick's Uptown Cafe, 610 Uptown Blvd, Suite 100 - 7:30 am
Tuesday, Feb 21
Business Development Council @ Chamber - 12 noon - B.Y.O.L.
Thursday, Feb 16
EyeCare Associates of Texas
Grand Opening & Ribbon Cutting
@
634 Uptown Blvd - 5 to 7 pm
Cocktails & Light Refreshments
Happy Valentine's Day