Core Building Opens Just in Time for Fall 09
You may or may not have noticed that the tall skinny building in the middle of the Campus Complex building has been getting spruced up for the past year or so. It's now ready for business and promises to be a well-utilized building for students, staff and faculty.
The first floor, CO1, hosts three "smart" classrooms to be used for a wide variety of classes, maybe even one of yours! The classrooms will accommodate 38, 40 and 60 students. A smart classroom is one that has an instructor station equipped with computer and audiovisual equipment, allowing the instructor to teach using a wide variety of media. These include DVD playback, PowerPoint presentations, and more all displayed through a data projector.
The second floor, CO2, is home to an open computer lab with 54 new PC computers, pay-for-print, and wireless access and space for those who want to use their own laptops. This area also hosts the Computer Science Department, with a special A+ lab and A+ certification testing room, and faculty/staff offices. The lab is staffed by Computer Center Technicians James Spagnol and Karen Stanton. Lab assistants are also available during the day and evening to help students with various homework assignments. The lab hours are: Monday - Thursday: 8:00 a.m. to 10:00 p.m., Friday: 8:00 a.m. to 1:00 p.m., Saturday: 9:00 a.m. to 1:00 p.m. Karen Stanton explains, "The Drop-In lab will be a wonderful source for students looking to complete their homework assignments. The computers are up to date with the current specs for courses taught in Computer Science. We even have a study area for small group work."
The third floor, CO3, is where you'll find "The CORE: Center for Academic Support", formerly known as the Reading and Writing Center. This is a space for students to seek out academic support from select faculty and peer tutors. They also provide free workshops dedicated to improving student success.
The fourth floor, CO4, houses the Office of Instruction - that's where you head if you need a dean's signature (if you're a student), along with the LMC Research Office and the Marketing and Media Design Department.
Art Classes Moved to New Classroom Space
The Art Department has moved to new digs. If you're looking for your art classes, be sure to check this out.
The ceramics and sculpture classroom has moved to the old Graphic Arts building. Professor Lucy Snow has been busy readying the kilns and getting the workspace ready. It is located to the northwest of the current Child Study Center, hidden behind a green fence.
Graphics has moved to what was the old Reading & Writing Center. That's right, room CC2-265: the large, but hidden, classroom on level CC 2. But the best part is that we have brand shiny new iMac computers with 24-inch screens and the latest versions of Adobe Photoshop, Illustrator and InDesign. We even have a few new chairs! It promises to be a great workspace — just ask it. Painting and drawing are also next door, as are offices for professors Ken Alexander, Lucy Snow and Curtis Corlew. The painting area even has a bright new metal sink that is as clean as only an unused sink can be. We're all excited about having students in to actually use it. But don't write any of this in ink as this is only temporary! In about three semesters (Spring 2011), we'll all be moving back to our space on CC 3. It will be completely remodeled and bigger, better, faster, get more miles per gallon and make you even smarter than ever before. It will feature an expanded ceramics and sculpture area, and new classrooms for painting, drawing and graphics.

New Center for Academic Success
Nestled in the third floor of the newly-remodeled core building (center of the college complex) is the The CORE: Center for Academic Support, a comfortable, relaxing place where students can find collaboration and community. The CORE replaces the Reading and Writing/Tutoring Center and is staffed by the same friendly people.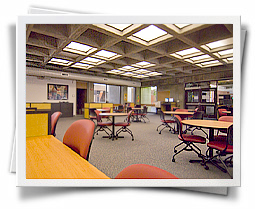 Professors working at The CORE offer students one-on-one assistance with reading and writing assignments, in person and online. Appointments are recommended, but drop-in consultations are accepted on a space-available basis.
Peer tutors will also be available to help students. Subjects tutored include, but are not limited to, Art & Art History, Business, Chemistry, Computer Science, EETEC, ESL, Music Theory, Physics, Political Science, Psychology, Recording Arts, and Spanish. Tutoring is conducted on a drop-in basis and does not require an appointment. Be sure to check the schedule in the center for hours and subject availability.
The CORE will continue to provide the variety of free workshops formerly offered by the Reading and Writing Center. Some of the most popular workshops focus on scholarship and personal statement essays, and how to combat test-taking anxiety with strategies for taking college-level tests.
Drop in and see our beautiful new center soon!