| | |
| --- | --- |
| | In This Issue |
Greetings!
Welcome to Spring Semester at Los Medanos College and the new Student Services E-Newsletter. We hope you take a moment to check out the information below. Our plan is to send a monthly e-newsletter to keep you informed and help you succeed in your LMC experience.
Feel free to contact us if you have any questions or comments. We'd love to hear from you!
Getting Started with Spring Semester
Important Spring Semester Dates - Don't Forget!

January 14 - Spring Semester Begins
January 21 - Martin Luther King Jr's. Birthday - Holiday
January 22 - Spring Parking Permits Required
January 28 - Last day to add semester classes and pay fees / Last day to drop semester classes and be eligible for refund
For additional Spring Semester dates, click here....
Important Office Hours For Students - Spring 2008
Extended hours of service will be provided on Saturday, January 19. The Bookstore, the Admissions & Records Office, the Financial Aid Office, and the Information Center will be open from 8:30 am - 1:00 pm. A counselor will also be available to assist students on a drop-in basis.
Check out when important offices are open to serve you this semester! Click here......
New Students - Do You Know How to Get Your Student ID Card and Free Bus Passes?

Bring a copy of your spring class schedule and your photo ID to the second floor of the Library to receive your student ID card and FREE BUS PASS.
ID cards are required in order to use Library books and materials, campus computer labs, the assessment center and other student services. With a current ID card, you can also receive a free spring semester Tri-Delta Transit bus pass.
You can pick up a free bus pass in the Library or in the quad near the cafeteria from January 14 through 18 (9:00 am - 5:00 pm). Starting January 22, you can pick one up at the Information Center near Admissions and Records, plus the Student Life Office and the Library. For more information, click here.
Continuing Students - Want To Know Your Fall Semester Grades?
Don't forget to visit WebAdvisor or call the phone registration system, 925-370-9000, to find out your final grades for the fall semester. Aren't you curious??
Financial Aid and Scholarships
Financial Aid Update
Attention students who have NOT received a Financial Aid payment for the Fall 2007: all requested documentation MUST be submitted to the LMC Financial Aid Office no later than Friday, January 25 by 2:00 p.m. for the next paydate of February 1, 2008.
It is not too late to apply for the 2007-2008 Financial Aid. Please visit the FAFSA website.
Beginning January 1, 2008, be sure to apply for the 2008-2009 FAFSA for Fall 2008. The priority deadline is March 2nd.
If you have any questions, visit the Financial Aid homepage or call (925) 439-2181, ext. 3139 to schedule an appointment to meet with a Financial Aid staff member or drop by the office.
2008-09 LMC Foundation Scholarship Application Now Available
The 2008-2009 LMC Foundation Scholarship Application is now available. The deadline for application is February 28, 2008. The scholarships available, requirements for application, deadlines, etc. are included in the application. You can access the LMC Scholarship webpage by clicking here. Copies will also be available in the Scholarship Office.
It is important to read and follow the instructions carefully. Good luck to all of our students!
Bookstore & Cafeteria News
Bookstore News
Spring Textbooks are now on sale. Please bring your class schedule with you when purchasing books.
Extended Store Hours:
Jan. 14 - Jan 26, Monday - Thursday, 7:45am - 8:00pm;
Friday, 7:45am - 4:00pm;
Saturday (1/19 & 1/26/08 only), 8:30am - 1:00pm
Last Day for Spring 2008 Textbook Refunds/Exchanges* is January 29th. *Must have current semester receipt & books must be in original condition.
Please visit www.lmcbookstore.net/ for more information and to purchase textbooks online.
Cafeteria News
Talk about making things convenient for us all! Starting in the Spring 08 semester, the LMC Cafeteria will accept credit and debit card payments with no service charge.
Additional Student Services Updates
Co-op/Work Experience Orientation Available
Registering for a co-op orientation has never been easier. Go to the Co-op/Work Experience webpage and follow the directions. Students working at least 20 hours per week may receive college credit. Attend an orientation to find out more!
LMC Counselors Are Here to Help You Plan Your Future!
Be sure to visit a counselor to develop or update your educational plan. Don't delay!!! For information on drop-in hours, please call (925) 439-2181, ext. 3334 to hear a recorded message. Regular appointments can be made beginning January 28th, 2008. For more information, visit the Counseling Services webpage.
English As A Second Language (ESL) Classes Available

Welcome to our new exciting ESL program here at LMC. We encourage all new and continuing ESL students to schedule a counseling appointment with Luis Morales, our ESL counselor. Luis will assist students in developing an educational plan that appropriately reflects the students' interest and goals.
We encourage all ESL students to utilize the new ESL lab located in Room 281. ESL classes are offered at both the Pittsburg campus and the Brentwood Center.
To schedule an appointment with the ESL counselor, please call Carmen Pacheco at (925) 439-2181 ext. 3423. For more information, click here.
Student Life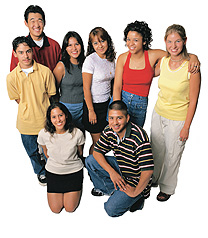 Upcoming Events

Monday 1/14 - Friday 1/18 Free Bus Passes 9:00 am - 5:00 pm in quad
Monday 1/14: Club Day, 10:00 am - 2:00 pm in quad
Wednesday 1/16: Bar-B-Que, 12:00 noon - 2:00 pm, outside of cafeteria
Thursday 1/17: Poetry Café, 3:00 - 6:00 pm, cafeteria stage
Friday 1/18: Poker Tournament 2:00 - 5:00 pm, cafeteria
Contact the Student Life Office (room 800A) at (925) 439-2181, ext. 3266 or click here to find out more.
Announcing the Creation of the Veterans Club!
For all veterans and recipients of veteran benefits, a new student club at LMC is being started for those who have served their country and are now pursuing higher education. The club will focus on providing essential information regarding educational benefits and resources to help veterans achieve their academic goals.
For information or to join, contact Marco Madrigal at ruizmadrigal@losmedanos.edu.
LMC Athletics
Focus on Women's Softball
Want to play Intercollegiate Softball? Enroll in ATH 092-0487, call Coach Watson at (925) 439-2181, ext. 3140 or at (925) 250-4374. Click here for more information.
Brentwood Center Update
Student Services Just for You! If you attend, or thinking of attending, the Brentwood Center, do you know that there are student services available just for you? Stop by the front desk at Brentwood for more information.
Highway 4 Bypass News If you commute to the Brentwood Center from Highway 4, note that the second section of the Highway 4 bypass is due to open mid-January 2008. This is the section that runs from Highway 4 in Oakley to Lonetree Way n Antioch. You will no longer have to fight Lonetree Way or Brentwood Blvd. traffic to get to the Brentwood Center.
If you are currently taking the Lonetree or Hillcrest Avenue exits, you'll stay on Highway 4 a few more miles and take the Highway 4 bypass exit in Oakley, which will take you all the way to Sand Creek Road. Enjoy!!!
Quick Links