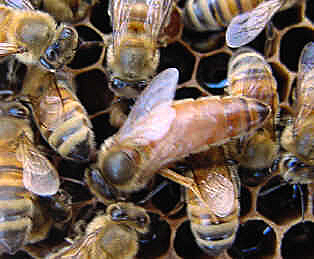 January's seminar will feature Jerry Webb, noted local beekeeper and owner of the Beekeeper Company. Jerry will introduce you to the art and science of beekeeping as a backyard hobby. The life and times of bees are fascinating. You will be amazed at how the social behavior of a bee colony operates and how important they are to nature's structure. Of course the added benefit to the beekeeping hobby is loads of delicious honey for you and your family!
Topics covered will include:
- a review of a beekeepers year
- pollination
-the honey harvest and extraction
-what really goes on inside the hive.
Knowledge learned at the seminar will help expand your understanding of nature, local plants, gardening, and the difference between beneficial and destructive insects. Both young and adult will find this seminar fascinating.
You will actually see a live Queen being attended by worker bees in an active observation hive!
We will also touch on the Mason bee and other native bees working hard in your backyard. We sell Mason bee houses at the store as well as live bees to help start your own colony.
Location of seminar will be at the Audubon Society of Greater Denver's "classroom in the wild" on Waterton Road 4 miles south of C-470 in Waterton Canyon. Afterwards all attendees are invited to visit Jerry Webb's store and honey house a short distance away.
Call or email the store to reserve a place for you at the seminar. We will be happy to help provide detailed driving instructions.
Hope to see you there. Tom & Diane
(Look for future seminars on Falconry, wildlife sketching, optics, and native plants.)