Upcoming Events
TEAM HOPE Run/Walk Madison
Saturday May 7
Vilas Park Madison
Wisconsin Family Picnic
Sunday June 5th
11am - 3pm
Wil-o-way Center
10625 N. Underwood Pkwy
Midwest Log Rolling Championships
Saturday June 12th 2011
Wingra Park, Madison, WI
www.madisonlogrolling.com
HDSA National Convention
June 24th - 26th 2011
Sheraton Bloomington
Bloomington, MN
www.hdsa.org
Davis Drewiske Hockey Fundraiser
Friday July 15th 2011
Hudson, Wisconsin
More info to come!
TEAM HOPE Run/Walk Fox Valley
Saturday August 27th 2011
Riverside Park, Neenah
Support Groups
Milwaukee
3rd Saturday of every month
10:30am to noon
Froedert Hospital West
9200 W. Wisconsin Avenue Contact Jean Morack 414-257-9499 or 877-330-2699
Madison
On hold due to lack of attendance. If interested please contact: Jean Morack 414-257-9499 or 877-330-2699
Marshfield Clinic
Marilyn Seidl-Kramer
Marshfield Respite Care Center (Wesley Methodist Church)
205 East Third Street
Marshfield, WI
715-305-8224
Sat 10 am
Will meet in early summer/date not set yet

Menominee, MI
1st Saturday of every other month
1 pm - 3pm
Faith Baptist Church
350 N. Stephenson Ave.

Peshtigo, WI
Faith Baptists Church
350 N Stephenson Ave
Peshtigo
10:30-noon
June 5, Aug 7, Oct 2
Contact Christine Salew40@new.rr.com
715-938-5902
Oshkosh
10:30 am to noon
Aurora Health Center
855 N. Westhaven Drive
Oshkosh
Contact Debbie Zwickey facilitator 920-456-2030
HDSA Wisconsin Supporters
In Memory of Jerry Kitzerow
Tom, Rosie, Lisa Watry


In Memory of Thomas Ertl
Wayne & Paula Whittow


In Memory of Sharon Lanphier
Sean Lanphier


In Memory of Dewey Gurquierre Roll
Paula & Walter Minder


Other Donations:

Paula Minder
Katherine Hueppchen
Tricia Tollefson
Charity Schneider
Charles Liska
Michelle Sirinek
Capt Steven Rogers
Mary Topel
Jeffrey Whittow
Ironman Foundation
Stephen Dankert
William Reinhard
James Wood III
Elizabeth Gabardi
Dr Michael Levin
A Note From the President
President: Caitlin Bradfield
Dear Wisconsin family and friends,
I hope this note finds you all well. The Wisconsin Chapter has had a great year so far! Earlier this month we had our "Living with Hope" state conference, and I cannot tell you how great it was to see so many families come together to learn, network, and support each other. We were lucky enough to have three speakers from three different Centers of Excellence (Illinois, Indiana, and South Carolina). A big thank you goes out to everyone (speakers, volunteers, and you!) who helped make it a great conference! A special thank you to our social worker, Jean Morack, for her tireless effort to make sure the day was a success!
We have several events coming up for this Spring and Summer, so please make sure to check out the Upcoming Events section of this newsletter. We would love for you to be able attend!
If you have any questions, comments, concerns, or ideas for our HDSA Wisconsin Board, please contact me at Caitlinmb22@gmail.com
HDSA National Programs Update
HDSA Announces Burden of HD Surveys
In partnership with the Euro-HD Network, HDSA is offering two on line surveys that examine the burden of HD on both the caregiver and the person with HD. The information gathered will be used to measure the economic, social and psychological impact of HD on the person with HD and their caregiver. Though these are completely anonymous surveys, we do ask for your city and state and an email address at the end. Please include this information. The city and state will be used for future legislative efforts. The email address will only be used if we have a question about how you replied to a specific question. If you don't want to use your personal email, you can create a new one by going to any free ISP provider such as yahoo, hotmail, gmail, etc. We invite caregivers to link to www.hdsa.org/boccaregiver and complete the survey. We invite people with HD to link to www.hdsa.org/bofhd to take this version. If you are unable to complete the survey yourself, please ask your caregiver to lend assistance. Should you have any questions, please contact Deb Lovecky at Dlovecky@hdsa.org.
HDSA Launches Care Coordination Portal
HDSA is pleased to announce the launch the HDSA Care Coordination Portal, powered by Lotsa Helping Hands. The HDSA Care Coordination Portal is a free, private, web-based tool that caregivers can use to manage the care and administrative needs of their loved one, as well as the outpouring of support from their network of family and friends. Create your caregiving community today at www.hdsa.org/carecoordination.
We Are HDSA is Going Electronic!
The HDSA Support Group Newsletter, We are HDSA! will be going electronic, starting in October of 2011. If you would like to continue receiving We Are HDSA! after October 1, please sign up for the electronic version by sending your name, email address, zip code and name of the support group to which you belong in an email to Deb Lovecky at Dlovecky@hdsa.org.
Wisconsin Family Picnic
Sunday June 5th, 2011
11AM-3:00PM
Wil-0-Way Center
10625 N. Underwood Parkway
Wauwatosa, WI
The Cookout begins at Noon. Bring the entire family compliments of Lundbeck and HDSA-Wisconsin!
Questions? E-mail Tom Mueller at: tgmueller47@yahoo.com
Please let Amy Roth know what dish you can bring to pass: amyroth@earthlink.net
Caregiver Tips: Dental Care and HD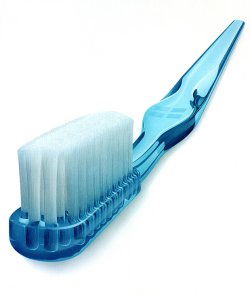 Having someone else put a toothbrush or anything else in your mouth is an uncomfortable experience.
When you can't hold your head still and have difficulty speaking fluently, it's frightening-even more so when that person is someone unfamiliar to you. His anxiety can intensify his chorea and make it more difficult to help him. Toothbrushing will be a comfortable activity if the person needing help and their
helper take a few moments to relax together and to position themselves in such a way that the helper can gently stabilize the head.
The importance of oral and dental care increases as the disease progresses into its more advanced stages. He may breathe in his own saliva. Effectively cleaning the mouth minimizes the bacteria that can be aspirated and reduces the risk of infection. Sometimes dipping the toothbrush in mouthwash rather than toothpaste is preferred since it can be difficult to spit out toothpaste. Cleaning the teeth and mouth should
be done after main meals and, most importantly, at bedtime.
HD presents a series of unique problems related to dental care. Due to involuntary movement and changes of muscle tone in the mouth, "bruxism" or teeth grinding is not uncommon. Sometimes people regurgitate food. Over time stomach acid can damage tooth enamel, weakening the teeth and leaving them susceptible to breakage or decay. Assessing pain in the mouth or teeth can be difficult when the person with HD can't communicate clearly.
Source: A Caregiver's Handbook for Advanced-Stage Huntington Disease by Jim Pollard
Join our HDSA Wisconsin
Chicago Half Marathon Team!
Date: Sunday, September 11, 2011
Time: 1/2 Marathon 7:00 am, 5K 7:45 am
Location: Jackson Park, Chicago IL
S. Lake Shore Drive & 63rd St.
Registration: 1/2 Marathon $80, 5K $25
Registration code: CHMHD11
Come be a part of our team! Last year there were over 20,000 people who participated in the 5th largest half marathon in the U.S. and the 21st largest road race in the country. Enjoy running on Lake Shore Drive and help raise funds and awareness for Huntington's Disease.
Register: Register at http://www.chicagohalfmarathon.com to run the Chicago Half Marathon or 5K and enter the HDSA Team Run for HD code CHMHD11 (make sure it's in all caps) in the coupon code box on the payment page to designate you are with Team Run for HDSA. Once you're registered, you will receive an online confirmation from the Chicago Half Marathon. That's it!
You're now an official member of Team Run for HDSA - we're thrilled to have you as part of our team!
Fundraise: Team Run for HDSA will raise funds to support medical research programs and services offered by the HDSA Great Lakes Region for people who suffer from Huntington's Disease and their families. You can also set up a fundraising page at:
http://www.firstgiving.com/hdsa-greatlakes/Event/chicagohalfmarathon
If you would like to find out more information about the Half Marathon or 5K Run, visit http://www.chicagohalfmarathon.com.
If you would like more information about Team Run HDSA or would like to help volunteer, please contact Ann Moll at amoll@walkforhd.org or at 414-852-0861.
Advocacy Update: New Cosponsors in the House and Senate!
Exciting News! The Huntington's Disease Parity Act has new cosponsors in the House of Representatives and in the Senate!

H.R. 718: 43 cosponsors in the House of Representatives!
We are now up to 43 cosponsors in the House of Representatives! If your Representative is not yet a cosponsor of H.R. 718, (s)he needs to hear from YOU to support the Huntington's Disease Parity Act. Click here to personalize a letter to your Representative! Want to do more? Your Representative is currently home for the District Work Period. Contact me at jkogan@hdsa.org if you are interested in setting up a local meeting.
S. 648: Two new cosponsors in the Senate!
We now have 2 cosponsors of S. 648, the Senate companion to H.R. 718! Thank you to Montana Senator Jon Tester, and South Dakota Senator Tim Johnson, who joined as cosponsors of S. 648. Because there are only two Senators per state, members of the Senate get a HUGE volume of mail, and it is important to be persistent. If you've written to your Senator and haven't heard back, send another message; if you've received a noncommittal response, contact HDSA, and we'll give you tips on how to follow up. Click here to personalize a letter to your two Senators.
May for the Huntington's Disease Parity Act
May is HD Awareness Month, and we need all HDSA advocates on board to raise awareness and generate support for the Huntington's Disease Parity Act! Each week in May, HDSA will ask advocates to take a specific action and offer ways for your friends, family members, coworkers and others to get involved. Click here to watch HDSA's video about May HD Advocacy, and mark your calendars for May 31, HDSA's National Call-in Day for the Huntington's Disease Parity Act.
As always, please don't hesitate to contact me with your questions, comments, or concerns.
Many thanks,
Jane Kogan
jkogan@hdsa.org
Research Update:
Neurogenesis and the HD Brain
While the Huntington's disease community waits for gene silencing or combination drug therapies that could stop the progression of the disease, researchers are working on another important approach to treatment. Brain restoration techniques will be needed to repair damage that has already occurred.
A team of University of Queensland researchers led by Dr. Tara Walker has found that a population of latent stem cells persists through the course of the disease in the hippocampus of the R6/1 mice despite age related declines in the wild type (normal) mouse.
Working with the R6/1 mice, they investigated the subventricular zone (SVZ) and the hippocampal regions of the brain. They found that neural precursor cells declined in the SVZ as both the R6/1 mice and the wild type mice aged. However, while neural precursors declined in the hippocampus of the wild type mice, they persisted throughout disease progression in the R6/1 mice. Neural precursors are stem cells which have differentiated to the point that they can only become brain cells.
Despite the persistence of the precursor cells, neurogenesis did not take place. Dr. Walker and colleagues plan to investigate why.

"Now we know that the capacity to generate neurons is retained in animals in even advanced stages of Huntington's disease, further research will need to explore what stops this process from occurring," Dr. Walker says. "This may not only allow the restoration of neurogenesis, but may also allow this process to be harnessed to repair other areas of neuronal cell loss."
The authors do not reference Dr. Steven Goldman's research in their article, but his work has provided proof of principle of the potential of inducing neurogenesis as a Huntington's disease treatment. In 2007, he used a viral vector to overexpress genes for two proteins, Brain Derived Neurotrophic Factor (BDNF) and Noggin in the brains of the R6/2 mice. BDNF, which is reduced in the brains of HD patients, promotes neurogenesis and protects new neurons. Noggin prevents neural precursor cells from developing into astrocytes rather than neurons.

Not only did many new neurons develop, but they integrated into the striatum and they developed specifically into medium spiny neurons. These are the region and the type of brain cell most affected by Huntington's disease. In addition, they developed the kinds of connections that medium spiny neurons form and functioned as normal spinal neurons. Just one administration of this treatment ameliorated symptoms and prolonged life.
We will continue to follow the research of Dr. Walker and others into neurogenesis and the HD brain.
References:
Sung-Rae Cho, Abdelatif Benraiss, Eva Chmielnicki, Amer Samdani, Aris Economides, and Steven A. Goldman. "Induction of neostriatal neurogenesis slows disease progression in a transgenic murine model of Huntington disease." Journal of Clinical Investigation 2007.

University of Queensland press release.

Tara L. Walker, Geoff W. Turnbull, Eirinn W. Mackay, Anthony J. Hannan, Perry F. Bartlett. "The Latent Stem Cell Population Is Retained in the Hippocampus of Transgenic Huntington's Disease Mice but Not Wild-Type Mice." PLoS March 24, 2011.
- Marsha L. Miller, Ph.D., March 30, 2011
Wanted: Children or Teens Helping a Parent with HD
To participate in a study to understand
the experiences and needs of young caregivers.
Who can be in the study?
Any child aged 10-19 who does something to help a parent with HD.
What is involved?
A one time only, 45-60 minute interview with the child.
Where will the interview take place?
Any private place that is most comfortable for the child.
Why is this study being done?
I was a social worker with families coping with HD for many years. I often saw kids helping their parents, but knew of no services specifically designed to support them. In order to develop services to support young caregivers, we need to better understand what they experience and what they might find helpful.
Are their any benefits?
There are no direct benefits to you or your family; however it is hoped that the results of this study will be used to help create programs and services for kids who help their mom or dad with HD.
If you are over the age of 18, or have a child who is eligible and would like to receive more information about this study, please contact
Melinda Kavanaugh, MSW
608-370-4208
Do you feel your area is lacking in fundraising activities? Don't be shy, host your own!
Fundraiser ideas:
Golf Outing
Run/Walk
Pig Roast
Hoop-a-Thon
Bowling Tournament
Bake Sale
Local Grants
Or something unique and exciting for your community!
If you do decide to host your own fundraiser for HDSA-Wisconsin, you will not be alone. Please contact your board (info@hdsa.org) for support in promotion, marketing, volunteers, and more!
TEAM HOPE Run/Walks in Wisconsin
HDSA 3rd Annual Team Hope Events
We have two great events where you can enjoy walking with friends and family or compete against other runners and raise money for our chapter and research to help find a cure for HD! Both events offer a 2K walk and a 5K run, pre and post event refreshments, door prizes and silent auction items. Come join the fun and meet people.
Madison - Saturday, May 7th (it's coming up quick!!!)
5K Run and 2K Walk begin: 9am
Vilas Park, Madison
Register at: http://www.firstgiving.com/hdsa-wisc/Event/Madison5krun2kwalk
Fox Valley - Saturday, August 28th
5K Run: 9:30 am
2K Walk: 10:30 am
Riverside Park, Neenah
Register at: http://www.firstgiving.com/hdsa-wisc/Event/teamhopewalk-foxvalley
To register and for more information go to www.hdsawi.org and click on Chapter Events. If you would like to volunteer or donate to our door prizes and silent auction or if you have any questions about the events, email Ann Moll at amoll@walkforhd.org or call her at 414-852-0861.
If you can't make the events or would like to just donate, contact Ann or go to chapter events, click on register and donate to a fundraiser or set up your own fundraising page by clicking on Raise Money.
Volunteer for HDSA Wisconsin on Memorial Day Weekend!
Come raise money for our chapter on Memorial Day weekend in Madison. Have fun with friends and family and work at Brat Fest or the Madison Marathon. For every hour you work, Brat Fest will donate $9 and the Madison Marathon will donate $8 to our chapter. If you are fundraising or are on a team for the Madison or Fox Valley walk/runs, your money will be applied towards your individual fundraising goals (you just need to let Ann Moll - amoll@walkforhd.org know).
Bratfest May 27 - 30
http://www.bratfest.com/charities-101/what-to-expect-as-a-volunteer/
Along with volunteering and HDSA receiving money for your volunteer hours, you will get a voucher for a free brat or hot dog, soda and free ice cream.
The minimum age is 14 years old unless otherwise noted on above link
When you register to volunteer, type in Huntington's in the box "which organization are you volunteering with"
Madison Marathon May 27 - 29 http://www.madisonfestivals.com/marathon/volunteer/
There are tons of opportunities; from handing out t-shirts at the marathon expo to working the course on race day.
To sign up for a shift (or a few!) follow the steps below.
TO REGISTER FOR SHIFTS:
1. Go to www.volunteermadison.com and log in using your username and password.
a. If you haven't already created a profile, click "Volunteer Registration" on the left to get started.
2. Once you've logged in, click "Events" on the left and select 2011 Madison Marathon.
3. Select "Shifts" on the left-hand side once the blue Madison Marathon page comes up.
4. On the shifts page, scroll down to view the shifts and descriptions. You can filter the shift options by day or date using the tools at the top of the page.
5. To view shift times for each task, click the "Show Shifts" button. Check the boxes for the shift time(s) you would like.
a. Select Huntingtington's Disease Society of America - Wisconsin from the drop-down menu.
6. Click the button in the red box to volunteer for that shift.
If you have questions, email erin@madisonfestivals.com
2011 HDSA National Convention in Minnesota
This is right next door to us! We should have a GREAT Wisconsin representation!
HDSA 26th Annual Convention
June 24 - 26, 2011
Sheraton Bloomington Hotel, Minneapolis South
Minneapolis, MN
For more information please contact Robert Coffey in HDSA's National Headquarters at
1-800-345-HDSA (4372) ext. 210 or via e-mail at coffeyr@hdsa.org or visit our website at www.hdsa.org/convention.
Join HDSA's National Youth Alliance for their 4th Annual NYA Day.
Thursday, June 23, 2011
Register by May 15, 2011
HDSA cordially invites you to become an HDSA Clinical trials Diplomat!
Join us for an in person training in Bloomington MN on Thursday June 23 from 3:30 - 5:00 p.m.
Click here to register for our training on June 23! www.hdsa.org/diplomat
What is a Clinical Trials Diplomat?
Diplomats are volunteers, usually people who have participated in a clinical trial or observational study who believe that such studies are important to advancing research, treatments and a cure for HD.
Volunteers are trained by HDSA to provide information and answer questions about clinical trials and observational studies in small group settings such as support group meetings or at information days at an HD clinic
Diplomats are trained annually but are not expected to be experts in the clinical trial process. Since a HDSA Clinical Trial Diplomat has been either a trial participant or believes that clinical trials are important, their experience and positive attitude are invaluable.
If you would like to learn more about being an HDSA Clinical Trials Diplomat, please contact Deb Lovecky at HDSA. Call 800-345-HDSA extension 228 or email Dlovecky@hdsa.org.
World's Highest Bungee for HDSA-Wisconsin
World's Highest Bungee to Beat Huntington's Disease
What could top summiting Mt. Kilimanjaro to cure HD? We decided that was impossible to top, but risking the world's highest bridge bungee in South Africa was a close second!
On February 23rd 2011 Shana Martin and Nate Greenberg dove 710 feet (216 meters) off of the Bloukrans Bridge in beautiful South Africa in honor of Debby Martin, and all others suffering with Huntington's Disease.
We raised over $4,000 for HDSA Wisconsin AND spread awareness to thousands through our popular You Tube video and photographs. We are currently taking recommendations for next year's adventure!
Please help HDSA Wisconsin fund our newsletters, support groups, website, and social workers. Donations are also accepted online at:
http://www.firstgiving.com/hdsa-wisc

Checks can be mailed to:
HDSA-WI
Attn: Jean Morack
2041 N. 107th Street
Wauwatosa, WI 53226

Checks payable to: HDSA-Wisconsin