Herndon Enrichment Program students and volunteers worked all school year to create this stained glass masterpiece.
| | |
| --- | --- |
| Reston Interfaith Newsletter - June 2011 | |
A Change of Plans
Even the best laid plans may leave some out of the American dream. There are those who work hard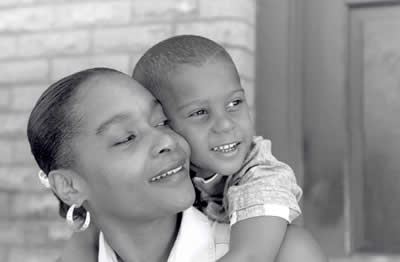 but cannot create sufficient income to live in a decent home. Others must struggle with limited employment opportunities, or no available work due to things beyond their control. Even families who once lived comfortably can suddenly find themselves not knowing where they will live or when they will eat.
The Mead family's troubles started when the sole bread-winner of the family - the father, lost his IT-industry job. The family spent their savings and lost their home. As the father tried to regain employment, the family of three lived with friends and family for as long as they could. This transient lifestyle became too trying on their 6 year old son. They knew they needed help and asked for it by calling 211, a regional combined social service program. Fortunately, the family gained access into the Embry Rucker Community Shelter (ERCS).
Their ERCS Case Manager was soon able to stabilize the Mead family's situation. ERCS provided a mental health screening to one member of the family, job placement assistance for both parents and tutoring for their son. Additionally, the ERCS Housing Locator guided the family to apply and get approved for a Project Housing Voucher, which enabled the Mead family to find and secure a home after a year of being homeless.
Due to the support the Mead family received, they are now working to implement a new plan. Both parents are still working in their respective fields, saving money, and their son is doing very well at school.
Citizenship Trip Downtown

In mid-May, thirteen students in the Cedar Ridge Citizenship Class met with members of Congressman Moran's staff, and received a tour of the Capitol building. This was a great experience for the students, giving them an inside look at how our government works, and how ordinary citizens have the freedom to meet and lobby with our elected officials. The class was a mini United Nations, as the students originally came from Egypt, Ivory Coast, Sudan, Ethiopia, Saudi Arabia, and Peru. Thank you to Gillian Sescoe and Representative Moran for making this possible.

17th Annual Rucker Memorial Golf Tournament presented by

Reston Interfaith invites you to enjoy an invigorating round of golf at the River Creek Club, a premier private championship 18-hole golf course that borders the Potomac River in Leesburg, Virginia, for the 17th Annual Rucker Memorial Golf Tournament - presented by Clear IT.

Sponsorship opportunities are available. For more information please email Kitta Crawley or call 571-323-9570.

Join us:

Click here to view the Golf Registration and Sponsorship Form.

Click here for the Golf Clinic and Dinner Registration Form.

Back to School Drive

Donors needed. A concerning number of families in our neighborhoods are unable to afford backpacks and other essential items to help a child be fully prepared to start school.

'Tis the Season! Christmas in July?

"I wish it was Christmas." That's a sentiment expressed by many a child, but also by Shana Eubanks, Director of Embry Rucker Community Shelter. "During the holidays, the outpouring of community support, donations, and volunteer efforts is astounding! That largesse gets us through the cold winter months, but by summer, our supplies dwindle."

Homelessness is not a one-season problem. Everyone is aware of the challenges faced by the homeless during the cold months of winter, but the magnitude of the need is just as critical when the weather is hot and humid. The heat can be extremely dangerous for our clients with diabetes, heart disease, cancer, and other chronic health issues. Our need for gloves and winter coats is replaced by the need for bottled water, back packs, sunscreen, rain gear, insect repellant, and other items from our Summer Wish List. Gift cards are especially helpful to pay for client needs like work clothes, boots, medicines, and transportation. In addition, we are looking for volunteers to provide meals at the shelter, act as bagged meal caterers, and donate canned food and dry goods, too.

Click here to view the Embry Rucker Community Shelter Wish List

Volunteer Opportunities

Donate the most precious gift - your time. The benefits of volunteering are endless.

Keys For a Cause - A Hit Fundraiser

For the second year a group of talented homeschooled musicians dedicated the proceeds of their annual recital to the Embry Rucker Community Shelter. These innovative students charged a small fee to their family members and friends. The audience enjoyed classical music, film scores, and other whimsical piano pieces. Their generous donation goes directly to support the clients at the shelter and we are so grateful for their support.

Applause Applause

To Kathy Brennan and the moms from Wee Play for treating ERCS moms to a special night out, which included childcare, manicures, and dinner to celebrate Mother's Day.

To Peter Murray and Hidden Lane Landscaping for creating a vegetable garden for the children living at ERCS.

To Vienna Rotary and Sima Kowkabi, Sandy Spring Bank for their generous donation to ERCS.

To Freddie Mac employees for providing manpower and material to do landscaping improvements around ERCS.

To Keller Williams staff for painting the interior of ERCS.

To Reston Association for hosting the Raise A Racquet for Kids Tennis Tournament benefiting LLC.

To Cherry, Bekaert & Holland, and the USPS - Reston branch for coordinating a fantastic Stamp Out Hunger Food Drive where over 3 tons of food was collected for the Food Pantry.

To Caring Kids Cards for providing delightful Mother's Day Cards for all the moms in our Healthy Families Fairfax program.

To Gillian Sescoe and Congressman Jim Moran's Staff for making a wonderful tour of the U.S. Capitol possible for 13 members of the Cedar Ridge Citizenship Class.

To Art Garcia and Nick Cotter for assisting Graceful Spaces in moving donated items to the Green and Graceful Townhouse.

To Vade Bolton for being honored as a Community Champion by Molina Health Care and for donating funds back to ERCS.

Upcoming Events to Benefit Reston Interfaith

Date: Sunday, June 12, 9am-4pm

Location: Reston Town Center Pavilion

A free event highlighting different yoga styles and many

health related companies will be demonstrate their services.

2. Chamber Music Concert featuring Johannes Brahms Celebration

Date: Sunday, June 26, 2011 at 3pm

Location: RCC - Lake Anne Gallery, 1690-A Washington Plaza, Reston, VA

Make plans to enjoy the music of Johannes Brahms, as performed by a trio of internationally acclaimed musicians - pianist Maribeth Gowen, clarinetist Clair Eichhorn, and cellist Miron Yampolsky. Seating is strictly limited. Suggested tax-deductible donation is $25. Please, RSVP to Miron Yampolsky at 703-966-6980, e-mail [email protected] or by mail to 1318 Pavilion Club Way, Reston, VA 20194

Reston Interfaith

11150 Sunset Hills Road, Suite 210, Reston, VA 20190

571-323-9555