LAUGHTER IN THE PARK 2009
12 Weeks / 6 Parks / 0 Cost
TJ Miller
Union Square Park / Sunday, June 7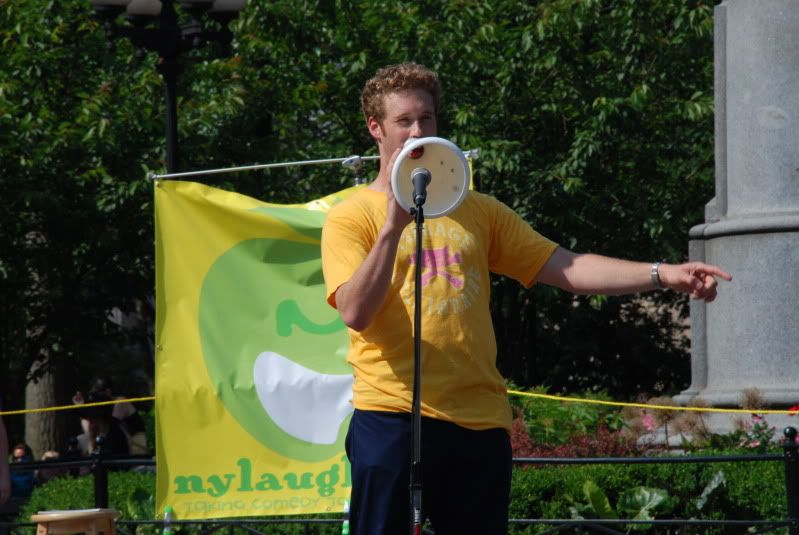 Surprises Us with a Visit at Our KickOff Event!



Mo Mandel
Tompkins Square Park / Sunday, August 9

West coast based Mo Mandel steps in

to headline when Dan Ahdoot



WE WERE A WEEKEND BEST BET IN ENTERTAINMENT!
8-1-9 show
WE WERE A TIME OUT NY BEST BET 8-8-9!!!
sunday, august 23 @ tompkins square / 2p

KARITH FOSTER is one of the hottest comics to come out of New York City according to both The Hollywood Reporter and Backstage Magazine who named her one of the "Top 10 Comics to Watch" in 2004.

She is currently a regular cast member of Don Imus' nationally syndicated program "Imus in the Morning" on WABC Radio and RFD-TV. Originally from Plano, Texas this self-described Huxtable moved to New York 12 years ago to pursue a career in television. With her B.S. in Broadcast Journalism from Stephens College (Columbia, MO) and Oxford University's St. Peter's College, this former ABC affiliate reporter took a position on the production team for WABC-TV and Barbara Walter's, "The View" where she was first introduced to the world of comedy. After her first stab at stand-up she was hooked. Not only did she become one of the New York Friars' Club's youngest members; but she has since performed in all of the major comedy clubs in New York City and across the country.

She is now combining her comedic talent, wit, experiences and soul to create the hysterical and heartfelt book "Laugh Long and Prosper." Check her out at:
www.karith.com
.
ADDITIONALLY
OPHIRA EISENBERG
Recently featured in NY Magazine as one of "Ten New Comedians People Find Funny."

TOM MCCAFFREY
Won the New York semifinals in Comedy Central's nationwide standup competition, "Laugh Riots". Comedy Central's "Premium Blend." Selected as one of Comedy Central's "Fresh Faces of Comedy." Has appeared on Comedy Central Records' "Invite Them Up CD" and written for "The Onion."


CHARLES STAR
A sometimes lawyer, sometimes comic, and host of Adult Ed, the
monthly lecture series at Union Hall, which has been called "Essential" by Time Out New York and "informative and thoroughly entertaining" by The Onion A.V.
ALSO DAVID BAKER, GIULIA ROZZI, MARIANNE SCHABERG

SUZETTE SIMON - FOUNDER, NYLAUGHS
TV producer and casting director who has cast or is currently casting projects for the development departments of BET, mtvU, MTV and Discovery. Some of her comedy related projects are casting for Jerry Seinfeld's "Marriage Ref" and producing the Emmy nominated Season 4 of "Kathy Griffin: My Life on the D-List." Her comic demons were unleashed while writing for "Queer Eye for the Straight Guy" three years ago which led her to start doing stand-up in the subways of NYC. She soon graduated to the parks with the founding of NYLaughs. Now her mission is two-fold in comedy: 1) to use it for good by ensuring that laughter becomes a free and accessible part of the daily urban experience of every New Yorker and 2) to use it to mask a more sinister and mercenary plot to acquire a shoe collection that even Oprah would envy
.
NYLaughs, Inc. is a new not-for-profit corporation that wants to change the cultural landscape of the Big Apple through humor. We seek to elevate the comic arts and provide laughter for free to New Yorkers on a consistent basis by producing outdoor comedy shows throughout the City's public venues.
To support this worthy cause, please donate to NYLaughs' performances via PayPal:
call for weather updates: 718-419-5515