June 2012
Volume 100 No. 105
Cagan Seminar Informative and Fun
It was great to see everyone who participated in our Thursday, June 14th seminar. The training room at our headquarters was a busy place. We enjoyed sharing ideas and overwhelming our very knowledgeable industry professionals with questions. Many thanks to:
...And, here is the answer to the question so many of you have already asked. The date for the next seminar has been set for Monday, October 15th. We will update you as details develop.
The Timed Agenda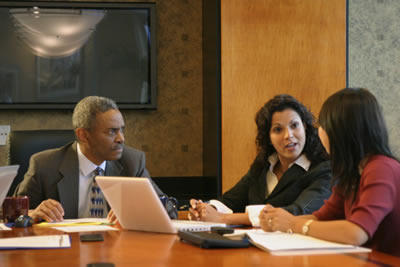 Productive meetings are both an art and critical to community living and governance. The most successful meetings are planned well in advance beginning with a meeting notification and agenda (plan for the meeting). A timed agenda is simply a written agenda that allocates a certain amount of time to each agenda item. This will assure your meeting will actually end on time...and well before midnight! Now, that's a relief.

Meetings are the most basic way community associations get work done. Whether it be a committee meeting, board meeting or annual meeting, this is how ideas get presented, reviewed, prioritized and enacted. People discuss issues, share new information and make important decisions in meetings. However, much time can be wasted in this process which can discourage members of your community from participating in the governing structure and process. A timed agenda can be a great way of keeping meetings on track and making sure that meetings not only begin and end on time, but that each topic also gets appropriate attention.
One of the main benefits of a timed agenda (other than time efficiency) is that it forces the participants to plan for the meeting in advance. This keeps unnecessary topics from taking up time and undermining the focus and intent of the meeting. It also forces the group to prioritize in order to fit within the time constraints. While you will want to allow enough time to discuss topics and do business, it may be necessary to table an item or refer it to committee where additional research and an action plan created as a recommendation to the board at the next meeting.
A timed agenda also lets participants know how much time they will have for reports, questions and new business in advance. This is why the agenda, along with the meeting notice should be provided at least a week in advance... or more, if required by your governing documents. Advance notice gives everyone a chance to prepare. In order for a timed agenda to work, all the participants have to accept the discipline and honor the time limit. When determining time allowances, be sure to take into account time to make introductions, vote on business items or time for other necessary administrative details. A timed agenda can keep meetings lean, functional, meaningful and productive.
New Cagan Team Member

This month Janneth Navarro joined the Cagan Management team as a bookkeeper. After seven years of working in Catering as an Event Coordinator, she decided to pursue accounting, her chosen career. So far, she claims it has been a blast. Janneth comes to us having earned a Bachelor's Degree in Accounting from the University of Illinois at Chicago (UIC). She also has an Associate's Degree in Management and Marketing from Wilbur Wright College. Currently, she is preparing to take the CPA exam and hopes to be certified by next spring. Her energy, skill and ambition are exciting.
Bricks and Mortar

Bricks and mortar often refer to an independent business working out of a physical building. Today, many businesses use

clicks

and mortar. When it comes to your home and community association,

clicks

can't replace

bricks

and there is nothing virtual about it. Bricks and mortar must be maintained.

Tuck-pointing is the repair and replacement of mortar between layers of brick or stone. The mortar joint plays a significant role in the structural integrity of any brick wall. Mortar holds the bricks together. The bricks bear the compressive weight of the structure. Mortar also seals and keeps out moisture. Before the days of skyscrapers and curtain wall construction, building height was actually limited by the crush rate of stone. The higher the building, the thicker the walls had to be in order to distribute the weight of the building over the weight bearing walls. Once you reach the crush rate of stone, the walls collapse. Therefore, there was a limit to how high you could build a building. Masonry load bearing construction was eventually replaced by frame and current wall construction which allows walls to hang from a building frame instead of bear the weight of the building. This is what makes our Chicago glass fašade skyscrapers possible.

Beautiful brick walled buildings are still a staple for homes and communities. Over time, crumbling mortar or areas of missing mortar are common in brick walls. General exposure to the elements, intense freeze/thaw cycles and/or water erosion can cause these problems. Have your residents been allowed to install satellite dishes on brick walls? Guaranteed, you will have to repair the damage at some point in the future.

Large holes and washed out mortar are typical signs that tuck-pointing is needed. This is an expensive process but if done right it generally lasts a long time. Tuck pointing is done by removing old mortar to uniform depth and replacing it with new mortar of a similar consistency.

You have probably heard an ounce of prevention is worth a pound of cure. If your building has a flat roof, it may be possible to build a platform and support system specifically for satellite dishes to avoid damage to exterior brick and mortar walls. Ask your Cagan property manager if this would work for your building. In the long run, this may be much cheaper than repairing water damage caused by holes punched in brick walls.
Outdoor Water Conservation Tips

Recently, we have experienced dry times. Even though we use water every day, it's easy to take it for granted. The decisions and actions we take today truly affect our water resources. Here are some suggestions:
Get a rain gauge to measure rainfall. One inch of rain per week is generally sufficient for lawns and gardens. Supplement only when rainfall is inadequate.
Use mulch around landscape plantings. Mulch will help eliminate weeds and hold moisture in the soil.
Select hardy plants that don't need much water. Native plants that are well adapted to your climate and soils will survive well without supplemental watering.
Water plants during the cool part of the day to avoid rapid evaporation.
Raise the mowing heights on lawn mowers. This promotes healthier grass that can better survive dry periods. Your landscaping service should know this.
When watering is necessary, water slowly and thoroughly. If you notice puddles or runoff, turn the water off and wait for it to soak in. Also be sure your sprinkler puts water where you need it-not on driveways or sidewalks.
Visit www.auduboninternational.org for more conservation tips.
Cubs vs. Padres

You may recall that May 30th was a good day for the Cubs. They swept the Padres after loosing 12 in a row. Darwin Barney hit the winning home run of the game in the bottom of the ninth. Cubs won 8 to 6. Members of the Cagan team had the opportunity to enjoy this moment. We were the guests of the CondoCPA team...another wining team when it comes to providing audit accounting and tax services to community associations.


Many thanks to Brad Schneider and CondoCPA. We even managed to capture the moment. Here is Darwin Barney all wound up just moments before he made contact with the ball and hit the game clinching home run that brought in the two winning runs.