Paul (on right) & nephew Sean, diving Cozumel
Welcome to April's Sea-gram, the monthly newsletter for ocean lovers, divers, and "deep-thinkers," from
milabooks.com
.
I put the finishing touches to this issue yesterday, during Earth Day. Hopefully our logo, a reading dolphin circling a blue globe, will remind everyone that Mother Earth is our fragile lifeboat traveling through space, and we are the stewards of her finite resources.
This month's cover photo, a hawksbill turtle "flying" along in the Cayman Islands, was contributed by Frank Kaufman, whose Lionfish photo is featured in this month's Story Behind The Photo section.
If you have a good photo with an interesting story about how it was taken, let me know at paul@paulmila.com and I'll be happy to include your story in a future issue.
April's
Conservation Corner
concerns U.S. supported legislation, intended to save whales from ending up on the tips of deadly harpoons, but which may have the opposite effect.
The Updates Section, right column, contains news about recent U.N. votes which will negatively impact sharks, bluefin tuna and polar bears.
However, we also found some positive news.
On a more upbeat note we selected a winner in our LOGO TAGLINE CONTEST, and in the right column we have interesting Guest Links for you to explore.
I hope you enjoy reading this month's Sea-gram !
Sincerely,
Paul J. Mila
MilaBooks.com
516-334-6189
The Story Behind The Photo . . .
Lionfish invade the Caymans

By Frank Kaufman, Carmel New York
In several past issues we reported on the Lionfish problem in Cozumel, Mexico. These sea-going varmints have spread throughout the Caribbean, even to the Cayman Islands, where diver Frank Kaufman encountered this one.

Here is Frank's Story Behind The Photo:
Lionfish are very beautiful to look at, although they can cause excruciating pain to a careless diver. They carry plenty of toxins in their dorsal fins, which act like hypodermic needles. When touched, they fire their toxin into whatever has stimulated them. The spiny fins can easily penetrate skin or a wet suit, causing unbelievable pain and discomfort.
Down in the Cayman Islands, and more specifically in Little Cayman, lionfish are now a major problem. Once never seen in the Caymans, lionfish are now observed on just about every dive. No one is sure how they got here, but it is thought that fish collectors released some, and their numbers grew very quickly. I have learned that they lay some 20,000 eggs a month and have no natural predators.

Lionfish are destroying the reef and killing all the native fish. Whenever they are seen, divemasters catch and kill as many as they can. So far, it seems this is not making much of an impact to correct this problem. Only time will tell what will happen to the reef and fish populations in the coming months and years.
This particular shot of a lionfish was taken with my SeaLIfe 800 camera with a strobe setting of about one third power. I set my camera's focus controls to automatically select a very fast shutter speed. I also set the ISO at 1600. It was a sunny day and the depth of this shot was about at 50 feet.

I wanted to shoot upward at my subject, but the lionfish was tucked in tight under some coral which made this angle impossible. But as you can see, I was able to get some good detail of the very pretty red colors on the body, a clear picture of the eye, and very detailed picture of the fins and tail. You can see the blue tones very clearly. Even the mouth and head came out to my liking. I was able to take my time and steady myself, and waited for the lionfish to start swimming around before I took the shot. I could have done a better job trying to center the lionfish, no easy task when taking shots at fifty feet.
While diving in Little Cayman I witnessed a divemaster feeding a killed lionfish to a Nassau Grouper. The divemaster very carefully pushed the dead fish toward a grouper that was swimming near us, and to our surprise, the grouper swam right in and swallowed the lionfish. It happened very quickly and was interesting to view because lionfish have no natural predators in the Caribbean, and the toxic dorsal fins had no affect on the Grouper. On another dive, a divemaster tried to push a recently killed lionfish towards a barracuda, but nothing happened. The barracuda had absolutely no interest in the free meal.
Although no one is sure how to deal with this relatively new problem of lionfish, and their negative effect on fish populations and coral, it will be interesting to see the end result. As one who loves the ocean and all that it holds, I hope that this problem comes under control, and that the waters in the Caribbean, and specifically the Caymans, does not suffer irreversible damage. It would sure be an unbelievable loss for future divers.
Conservation Corner . . .
Whale Research, Japanese Style
AP photo above: The carcasses of a mother whale and its calf on a Japanese ship, according to the Australian government.

The website

www.icrwhale.org

painted just above the slipway where the dead mother whale and calf are being hoisted, stands for

Institute of Cetacean Research

. This is a Japanese organization which acts as a cover for Japan's illegal commercial whaling program, thinly disguised as research. The small blue lettering above the website, flanked by a whale logo and Japan's flag, says,

"Legal Research Under the ICRW."


The photo speaks for itself!

The lead-in below, to a NewYork Times story by John Broder, appears very optimistic at first glance:


"WASHINGTON - The United States is leading an effort by a handful of anti-whaling nations to broker an agreement that would limit and ultimately end whale hunting by Japan, Norway and Iceland, according to people involved with the negotiations."

However, the full story is much more complex. The compromise deal would allow Japan, Norway, and Iceland to continue whaling for another 10 years, but killing reduced numbers. However, nothing permits these nations from returning to unlimited whaling after the expiration of the agreement.

Patrick Ramage of the International Fund for Animal Welfare terms the deal "a whaler's wish list," enabling the continuation of commercial whaling.

But Monica Medina, U.S. delegate to the International Whaling Commission, counters, "We can't stop it (whaling); we can only try to control it."


For the full article, and both sides of the issue, click on:
U.S. Bid To End Whaling
About MilaBooks.com
www.milabooks.com
is your home for exciting dive adventure novels, YouTube videos about ocean creatures, and more.
The winning entry, Dive Into Adventure, was submitted by Roger Conroy of New Zealand.
Our "thanks" and a set of DANGEROUS WATERS, WHALES' ANGELS, and FIREWORKS are on their way to Roger.



Thanks for visiting, and we'll see you next month!
Paul J. Mila
MilaBooks.com
75 Titus Avenue
Carle Place, New York 11514
516-334-6189
To forward Sea-gram to a friend, please
click the "Forward email" link below.

Featured Article, in this month's Conservation Corner: Whale Research, Japanese Style, discusses the new U.S. sponsored proposal that will be submitted at the International Whaling Commission (IWC) meeting this coming June. Basically, it allows whaling nations (Japan, Norway and Iceland) to continue whaling in exchange for promising to kill fewer whales. What the promises of nations already killing whales illegally are worth is open for conjecture.
George Muller, New Zealand based marine biologist, and author of the anti-whaling novel, ECHOES IN THE BLUE, (see guest link below) has written an editorial for the New Zealand Herald, highlighting why allowing the killing and sale of threatened wildlife is extremely bad for conservation.
Read the full article here:
In addition, George Muller is circulating an anti-whaling petition. Let's put an end to bloody scenes like this:
Photo by Jeremy Sutton-Hibbert

Click below to read George's petition, and please sign!
* * * * * * * * * *
Weird But True Department
So easy, even an . . . Octopus . . . can do it!
Check out this YouTube video, showing how a video camera snatching octopus turned the tables on a diver. Click on:
* * * * * * * * * *
In February's Sea-gram we wrote about The Great Pacific Garbage Patch, a floating sea of discarded plastic the size of Texas.
The link below, forwarded by a Sea-gram reader tells of a gray whale killed by ingesting plastic off the U.S. west coast, near Seattle Washington.
Sea Shepherd Update
(from the Sea Shepherd newsletter)
Sea Shepherd Whale Defense Campaign Saves 528 Whales


Operation Waltzing Matilda was a spectacular success, and we are excited to report that more than half of the whaling fleet's quota was not met, because of our interventions and your support!

The Japanese whaling fleet set out for the Southern Ocean Whale Sanctuary with a permit issued by the Japanese Government to kill 935 protected Minke whales, 50 endangered fin whales, and 50 endangered humpback whales. Their objective was to kill 1035 whales in total.

We are happy to report that we saved 528 whales - our biggest impact on the whale quota to date!

Sea Shepherd's flagship, the Steve Irwin, will visit New York City and be available for tours, April 26 to April 30. The ship, a veteran of Sea Shepherd's Antarctic campaigns featured on Animal Planet's WHALE WARS, will continue on to the Mediterranean to defend critically endangered bluefin tuna populations [See story below].

* * * * * * * *

The U.N. soundly rejected an American supported proposal to ban international trade in critically endangered bluefin tuna, and to protect polar bears. The vote, 68 to 20 against protecting tuna, and 62 to 48 against protecting polar bears, was a clear victory for Japan, which led the opposition. Japan consumes 80% of the annual bluefin tuna catch. Bluefin tuna stocks have declined by 80% since 1970.
Click on the New York Times story below for details:
U.N. rejects Bluefin Tuna and Polar Bear Protection
* * * * * * *

In another victory for Japan and China, the largest consumer of shark fin soup, U.N. delegates rejected proposals by Palau and the United States to protect sharks by regulating trade.
Click on the New York Times story for details:
U.N. Rejects Shark Protection
Quick Links
A fun dive site, where you can rent a beachfront condo, view great dive photos, and more!
GUEST LINKS
Check out
New Zealand marine biologist George Muller's excellent anti-whaling novel (I read it; it's a great story!),

ECHOES IN THE BLUE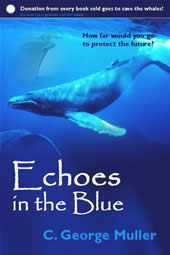 Click the author's name to visit his website:
* * * * * * * * *
* * * * * * * *
Guest Link!
YOUR LINK CAN BE HERE!

E-mail
paul@paulmila.com
for details.



Join Our Mailing List
If a friend forwarded Sea-gram to you and you'd like to receive future issues, let us know. Click the JOIN link above, or E-mail me at paul@paulmila.com