Greetings!
It is common knowledge in the travel business that most consumers, about 70%, don't know what a travel agent can do for them. Daily I encounter travelers, who unbeknownst to them, are paying plenty more for air seats, hotel rooms, car rentals and tours.
As travel professionals please don't believe for one moment that our profession is dying and that the online internet companies like Expedia, Orbitz etc can provide consumers with better rates and service. It will behoove you to always contact a destination specialist for their professional help in planning that hard earned getaway.
A little humor in this topic is always good for a laugh, try clicking on this well watched video (over three million views) of this comical rendition of booking "cheap" seats! I am sure you will find it quite funny...
In this Issue
Disney World - Spoil Your Inner Child


When Walt Disney said of the vast Florida grounds that would become Disney World, "There's enough land here to hold all the ideas and plans we can possibly imagine," it's easy to envision him standing in an open field, his hands on his hips, elbows out, with the world's most giant twinkle in his eye.
Now's the time to...

Have a travel question? Ask Endora!
Join Joyce Craddock and Patricia Ellington on Crystal Symphony's Nautical Norway Voyage June 4, 2013 - June 15, 2013
With air costs soaring now is the time to go to Costa Rica - it is affordable and a fabulous destination for adventure!
Christmas! Now is the time to reserve!!!
Book your expedition cruise with the Great Whales Feb. 23 to March 2, 2013, The trip is a Lindblad/National Geographic Expedition!
Start planning 2013 weddings now as private homes/condos fill up quickly. Most of the summer beachfront homes are already sold out!!!
Dear Endora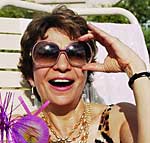 Dear Endora,
I am contemplating a river cruise, but I am not sure I would like this type of travel. Is there a target market identified by these lines as to who would be a good river cruise candidate?
I don't want to waste time on a trip if I don't think it will suit my tastes or needs, got to hit as much as I can on the bucket list!
Thank you, Greg

Heirloom Tomato Salad with Blue Cheese

This is a family keeper, we LOVE fresh home grown heirloom tomatoes. We use all varieties as the flavors are just incredible. With the abundance of fresh tomatoes in the summer now is the time to enjoy this healthy meal!
Featured Property - The Kahala Hotel and Resort


Long recognized as the hideaway of international royalty and Hollywood celebrities, "Hawaii's Legendary Hotel" has been reborn with unrivaled standards of luxury and comfort. This secluded luxury resort is on a selected beachfront in Kahala overlooking both Diamond Head and Koko Head craters, yet is within ten minutes of Waikiki's world-class shops and entertainment.
Wailua River Adventure with the Smith Family

In 1946 Walter Smith Jr began taking visitors up the Wailua River in a small rowboat to allow visitors a chance to witness the beautiful "Fern Grotto" or Mamaakualona to Hawaiians.
Four generations later the family tradition is still going strong. In fact the visitor experience is totally retro and a welcome relief in the midst of all high adrenaline activities offered in Hawaii.
Read more...