Greetings!
As a baby boomer I am hard pressed to use more and more technology, as I feel totally at a loss in this fast paced market. But I have to admit there are some apps that are worth using and I don't want to live without. At a recent travel exchange meeting we were all asked to share our favorite apps.
Here is a "condensed" list - but it would be great fun to receive an email from our loyal readers to know what your favorite app is - so PLEASE share!!!
Send me, Joyce Craddock, and email at jc@incrediblejourney.net...
In this Issue
Why You Still Need a Travel Agent


Last year, a good friend took an international trip with a two-stop flight itinerary. Afterwards, he reflected on how beat up he felt when it was over: "Adding that third airport into the mix seemed to add a ton of extra travel this year; it was rough."
Now's the time to...

Have a travel question? Ask Endora!
Join Joyce Craddock and Patricia Ellington on Crystal Symphony's Nautical Norway Voyage June 4, 2013 - June 15, 2013
With air costs soaring now is the time to go to Costa Rica - it is affordable and a fabulous destination for adventure!
Christmas! Now is the time to reserve!!!
Book your expedition cruise with the Great Whales Feb. 23 to March 2, 2013, The trip is a Lindblad/National Geographic Expedition!
Start planning 2013 weddings now as private homes/condos fill up quickly. Most of the summer beachfront homes are already sold out!!!
Dear Endora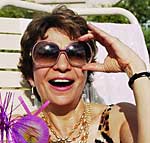 Dear Endora,
My wife and I are in search of the perfect Mai Tai. Where was the first Mai Tai concocted in Hawaii?
Clay from Austin

Basil Lime Chicken

I was actually surfing the web, Pinterest to be exact and somehow came upon this recipe which sounded so good. I did substitute the lime for a lemon and I have to say this is now one of my favorite marinades. Not only is this healthy it is super easy to make.
Featured Property - Manihi Pearl Beach Resort


Beautifully integrated with the sea, the Manihi Pearl Beach Resort is an example of tasteful, traditional Polynesian architecture.
This charming resort has 19 overwater bungalows (with glass lagoon-viewing coffee tables) that will beckon you to snorkel among the myriad of crystalline blue lagoons surrounding this exotic resort.
There are 22 beach front bungalows situated along the palm fringed beach. The restaurant's terrace opens onto the beautiful blue lagoon. The Miki Miki bar lies between a pure white sand beach, a natural saltwater swimming pool and the lagoon. There is a unique fresh water swimming pool at the edge of the lagoon and fins, masks, snorkels and outrigger canoes are provided free by the hotel.
My Cruise Adventure to the Land of Fire and Ice

Iceland is an amazing destination for those seeking a new adventure. Whether you choose to travel by land or by sea, Iceland is a great travel destination. I chose to tour Iceland on a grand yacht, Le Boreal, named "Best New Ship of the Year" by the European Cruiser Association in 2010.
Iceland's untamed landscape of active volcanoes, massive glaciers, frozen waterfalls and exploding geysers make it a marvel in contrasts and a wonder to behold. My expedition began in Iceland's capital, Reykjavik, and proceeded along the northern coast, delivering splendid views of scenic fjords and dramatic glimpses of Icelandic daily life.
Read more...