Greetings!
The forecast for travel in 2012 is quite promising this year. I have seen an increase in travel for 2011 of about 15%, and this year expectations are even higher as more people decide to enjoy life and take a well deserved holiday.
Incredible Journey provides travel in ALL ways, shapes and forms - and as a savvy traveler it is important to understand that what the public has access to via the mega online travel sites will not always be the best value - especially for that dream vacation.
From time to time I will compare pricing via Costco and Expedia (or another mega online travel site), just to make sure my suppliers are offering the best value for our clients. And almost 100% of the time I have found my pricing to beat anything online.
However, the best value can always be found when we create a package that includes air and a land component such as hotel/condo/resort. And what is important to note is that we have specials offered to us that change every few weeks. It truly is mind boggling how much information is sent to each of our travel consultants daily!
I would encourage anyone who is considering travel this year to contact us ASAP with travel questions so that we can get the most competitive rates, and best accommodations before they are sold out - when our discounted rates are gone, the price increase can be considerable!
Plus in todays "Do it yourself" world how nice is it to actually speak to someone on the phone, and the same person every time you call - who provides you service and personal expertise?
In this Issue
A New Day Dawns at Disney California Adventure Park


It's no secret that big changes are underway at Disney California Adventure Park, one of the jewels of Disneyland Resort. Some of the new additions have already been unveiled – but much more is on the way. Today The Insider is honored to give you a peek behind the wall with looks at two big additions to the Park, both slated to open this summer – a whole new beginning to the day for Guests arriving at Disney California Adventure, and a magical new land where they will enter the world of Disney-Pixar's "Cars."
Now's the time to...

Have a travel question? Ask Endora!
Click here to view more unique journeys!
Check out our HOT DEALS to Tahiti, I am seeing amazing specials even on the luxury Paul Gauguin! Contact Joyce (jc@incrediblejourney.net) for more information
Christmas is fast approaching - reserve your holiday getaway now!
River Cruises are still on sale for 2012 - savings of over 50%, plus kids travel free and free air promotions!
Air is going up, up, up! Make reservations now!
Adventure travel is the trend - We offer A&K luxury adventures, as well as Cox and Kings (purveyors in luxury travel to Africa and points beyond).
Dear Endora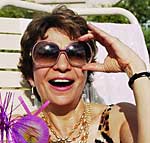 Dear Endora,
Several years ago I visited Volcano National Park and remember it quite vividly. I am planning a return visit and hear they have a boat tour that will take you to see the lava flow into the ocean. I am curious what are things I can see on this trip that I won't find elsewhere?
Grace - Conneticut

Chicken Lettuce Wraps


From the wonderful Viking Cruise lines comes a scrumptious light and tasty meal. Ahhh, wish I were on a river cruise enjoying the sights, small intimate group of guests, and not having to cook!!! Enjoy...
The Zen of Air Travel: San Francisco Airport Opens Yoga Room

Flight delayed for another three hours? Just breathe deeply.
By Aylin Zafar
The San Francisco International Airport continues its quest to make itself its own destination. The airport has just opened a yoga room for harried travelers seeking a moment of peace following airport security.
Featured Property - Sheraton Maui


The Sheraton Maui is nestled on 23 beachfront acres on Kaanapali Beach.
The elevated grand lobby reveals a panorama of natural wonders: the cobalt blue Pacific, the golden sands of Kaanapali, neighboring islands in the distance, and a fantastic oceanfront swimming lagoon surrounded by lush tropical landscaping.
Two of the Best Unique Big Island Adventures

On a recent trip to the Big Island of Hawaii – Hawaii; our group of travel agents were toured around the island with gracious hosts and wonderful hospitality.
The mission was clear – to SEE, DO, and LEARN about what makes the island of Hawaii stand apart from the other Hawaiian Islands.
Read more...