Greetings!
Travel has changed over the last 20 years. Using a travel agent used to be the best way to plan a vacation. You personally knew and trusted your travel investment with this person.
Fast forward to the last ten years and now you can plan travel via the mega internet travel sites. Who can argue how cool it is to plan your own vacation with a few clicks of the mouse? Now you have total control over your vacation investment from the luxury of your office or home which saves you tons of time and money - or does it?
Before I get to the cost savings of using a company such as Incredible Journey Travel, lets move even further ahead to today where it is all about social media - real time reviews from past guests, tweets, blogs, YouTube videos (love them!) and the list goes on.
We have come to an age in travel planning where you, the traveler, can seek the help of many, many, different online sources to help you decide where you want to go and stay on vacation all from the luxury of your office or home. Let's face it every picture tells a story, and the internet provides a sensory emersion with each photo and each travelers comment.
However, there still is yet one more way of planning travel and that is by using an online destination specific travel agency such as Incredible Journey Travel. We operate in real time; have access to online photos (many are on our site); have comments from past guests (under specific properties), we still beat any price on the internet over 90% of the time (and if we don't we can match the price). We are travel professionals, this is all we do! Plus all of our agents specialize in specific destinations and work with tour operators who only work in specific regions - we have "been there, done that."
The new travel agency of today has added all the fabulous online features we love, but provides personalized service, and expertise no mega online site can match!
The package Incredible Journey provides our clients is value; personalized vacations; special services (such as free room upgrades, late check out, welcome gifts etc.) at no extra charge; and a huge factor for many is that we will save you time and frustration which will come from internet information overload - ultimately saving you time and money!
We encourage you to contact us for all your vacation needs!
This information will be transmitted by the airline carriers to Transportation Security Administration. It is important that this information matches the name on the airline ticket.
In this Issue
Summertime Tours in Denali National Park


Last time I visited Denali National Park I went on an escorted bus tour arranged by Holland America Cruise Lines. The tour went about 90 miles into the park, stopping short of Kantishna and Wonder Lake.
The tour was fantastic, we saw lots of wildlife, and learned so much for the experienced guides plus we had a perfectly clear day and were able to see Mt. McKinley from the base on up!
Now's the time to...

Book your holiday cruises (contact pat@incrediblejourney.net for the promotional list)
Check out our secured group rates on 2010 cruises to Alaska, Baja and the Exotic Mexican Riviera!
Click here to view our Hot Deals to Hawaii, the Bahamas, Costa Rica, Fiji, and Mexico specials - pricing starts at just over $300 p/person including airfare from LAX/SFO
Click here to view Tahiti specials
Have a travel question? Ask Endora!
Ask how you can travel to South and Central America for nearly ½ the price of other destinations!
Start reserving your Hawaii private beach front Holiday home now.
Whale season IS here, call for Incredible savings to Maui!
Getting married or know of someone who is? Why not put the honeymoon on a Gift Registry? Call Joyce for more information.
Dear Endora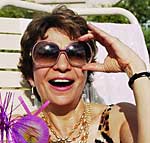 Dear Endora,
I am considering going on the Exotic Mexican Riviera cruise on Carnival that goes down to Acapulco. Has anyone in your office been on this cruise before? I would like to get their opinion of the cruise.
Thank you,
Beth - San Diego
What's New On Kauai

Island Helicopters recently began a new 90-minute island tour, highlighted by an exclusive landing at the base of the 400-foot Manawaiopuna Falls, made famous in the movie Jurassic Park.
Moroccan Carrot Soup


One of my family's favorite food items is soup. So I try many different recipes to add some variety to our well stocked inventory of "beloved" soup dishes. This soup dish sounds quite easy to make and thought I would try it and see if it becomes a "must have" item. Enjoy!
Hilton Waikoloa Village


62 gorgeous ocean front acres on the Kohala Coast of Hawaii's Big Island.
This magnificent resort has beautiful lush tropical gardens, streaming waterways, exotic wildlife, award-winning restaurants, lounges, entertainment, and boutique shopping, along with outstanding service and friendly people.
The Hilton Waikoloa Village's 1,240 guest rooms and suites are divided among the three low-rise Ocean, Lagoon, and Palace Towers, which can be reached by convenient, silent trains or on canal boats that traverse over one mile of quiet waterways.
PERUVIAN JOURNEY

Recently reopened is Machu Picchu, one of the most must see destinations in the world.
The below itinerary is 15 - 17 days in length (optional excursion) and highlights all the not to be missed excursions in Peru. This is a fabulous soft adventure trip with guaranteed small guided tours included at most destinations.
For sure this Incredible Journey will be an adventure on many travelers "bucket" list! This trip includes travel to the Arequipa, Colca Canyon, Lake Titicaca, Train travel on the Orient Express, Cusco, Machu Picchu, Amazon rain forest, and an optional excursion to view the Nazca Lines - this tour is recommended year round.
Read more...