Greetings!
Now that 2009 is but a memory our hopes and dreams are that 2010 will be a better year for everyone. Travel has been hit hard by the economic downfall, however, if you can get away now is the time to take advantage of the amazing specials just about everyone is offering for 2010 and into 2011.
The best special we booked thus far for 2010 was a couple who went on Seadream Yacht Club for a super discounted rate and then were asked if they wanted to be upgraded to a Commodore suite for an additional $1000 this cabin category normally prices out at $15000!!
The biggest savings I have seen are for travel to Ireland, United Kingdom, Australia, New Zealand, Cruises to just about anywhere and dont forget about the USA.
We still advise our clients to book in advance to get best availability, however, if a lesser price comes available we can always get this rate.
We encourage you, our loyal clients, to ask us about any and all specials you find as we can almost always get a better price while still creating a personalized itinerary.
I hope that 2010 will be the year that you can save big and go on a well deserved Incredible Journey!
In this Issue
Costa Rica Dreams


In 2009 and 2010 we are expecting travel to Central America, and more specifically Costa Rica to be one of the best travel bargains out there. If you haven't been and want to go I get fabulous rates, and have wonderful itineraries to recommend for all types of travelers.
Now's the time to...

Check out our secured group rates on 2010 cruises to Alaska, Baja and the Exotic Mexican Riviera!
Click here to view Hawaii, the Bahamas, Costa Rica, Fiji, and Mexico specials
Click here to view Tahiti specials
Have a travel question? Ask Endora!
Central America and Europe are offering some of the best values now, call us and see how far your dollar will go in these international hot spots!
Start reserving your Hawaii private beach front summer home NOW, before space is all gone!
Whale season IS here, call for Incredible savings to Maui!
Getting married or know of someone who is? Why not put the honeymoon on a Gift Registry? Call Joyce for more information.
Dear Endora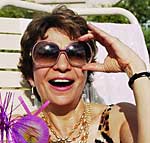 Endora,
I am planning to honeymoon in Tahiti this September. There are so many options I am confused. The Over Water Bungalows look so romantic, but taking a cruise allows us to visit many islands. What do you suggest?
Confused in San Diego
Welcome to the Big Island


The Big Island of Hawaii is truly one of the most amazing places on earth and if you haven't been there make 2010 your year to go!
You will find tremendous diversity, for this is the land of fire and ice, jungle and desert. Ski the slopes of Mauna Kea one day then hike along a jungle path and discover a huge waterfall the next.
Grilled Chicken Drummettes with Ancho-Cherry Barbecue Sauce


Super Bowl Sunday is this coming weekend and I know what I will be making. I found this yummy recipe on www.epicurious.com and will be trying it first hand I should start a blog about these recipes!
Featured Property - Hale Ma'ana Hou


Welcome to the "House Filled with Peace and Joy."
This beautifully appointed, Mediterranean style home is located on a protected, white sand beach in sunny Poipu.
The large, open living room offers magnificent, ever-changing views of the Pacific Ocean and spectacular sunsets.
Which Hawaiian Island Should You Visit?

When thinking of the Hawaiian Islands, most first time visitor's first impression of what the islands look like is far from accurate. The Sandwich Islands, now commonly known as the Hawaiian Islands, form an archipelago of 19 islands and atolls which encompass 1500 miles. This enormous under sea mountain range is called the Hawaiian - Emperor seamount range and is still being formed by a volcanic hot spot in the earth's mantle as we speak. In fact, the newest island is named Loihi and is located southeast of the Big Island of Hawaii.
Read more...