Greetings!
Finally Incredible Journey is on Twitter and Facebook! We thought that with so many "specials" coming across our computer daily what better way to keep in touch with our clients than using Twitter to spread travel news!
What is nice about Twitter is that we can put snippets of information out to our followers and they can communicate back to us. To sign up please follow each logo on our website.
In other important news the TSI has mandated that ALL air tickets match your photo ID EXACTLY as it appears. So if you are traveling domestically and using a driver's license then your air ticket must match this ID and when traveling abroad your air ticket must match your passport.
Also, when traveling abroad your passport must be valid for 6 months after your return home, otherwise for most destinations traveled to your passport will be deemed invalid.
In this Issue
Tips for Women Traveling Alone

Alexandria, Va., Oct. 5, 2009 - Now more than ever, women are traveling by themselves for business or pleasure. And although their reasons for traveling are similar to their male counterparts, women traveling alone have very different concerns. From safety issues to cultural variations, women travelers encounter a variety of difficulties that can be avoided if the necessary precautions are taken.
Now's the time to...

Check out our secured group rates on 2010 cruises to Alaska, Baja and the Exotic Mexican Riviera!
Click here to view Hawaii, the Bahamas, Costa Rica, Fiji, and Mexico specials
Click here to view Tahiti specials
Have a travel question? Ask Endora!
Central America and Europe are offering some of the best values now, call us and see how far your dollar will go in these international hot spots!
Be a kid again, celebrate your birthday at Disneyland and get in FREE!
Passion Play 2010, reserve now before it is too late. Check it out now.
Start reserving your Hawaii private beach front summer home NOW, before space is all gone!
Whale season will soon be here, call for Incredible savings to Maui!
Merry Monarch Hula festival on the Big Island, this is a sold out event call for more information.
Getting married or know of someone who is, why not put a honeymoon on a Gift Registry? Call Joyce for more information.
Dear Endora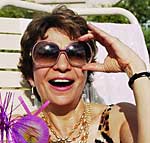 Dear Endora,
I know on Kauai Mount Makana is known as "Bali Hai," however, in James Michener's novel what island did he have in mind when describing this mythical island?
Just Curious
Sauté Island Greens

At Couples Resorts we believe the recipe for a deeper connection consists of three primary things - Tranquil Days, Intimate Nights and Romantic Always. If couples can strive to share at least one tranquil day and one intimate night a month together, then romantic always will be a constant.
Featured Property - Sheraton Maui


Located on the silken sands of Oahu's world-famous crescent of coast, Outrigger Reef on the Beach offers an exceptional value for your next visit to Hawaii. The resort has just completed its extensive $110 million dollar re-creation, from top to bottom the "new" Outrigger Reef on the Beach will envelope each visitor with a Hawaiian experience of true genuine warmth and hospitality that define the aloha spirit throughout the deluxe, family-friendly accommodations.
Lahaina's Historic Walking Trail

When I lived in Lahaina I would pass by historic homes and temples every day on the way to work. While living there I often took this historical part of Hawaii for granted - but when I came back to Maui with my young children in tow many years later I was eager to share the islands rich historical past with them.
The Ala Hele Mo'olelo O Lahaina (Historic walking trail) is a fabulous self guided tour which takes locals and tourists alike back into Lahaina's colorful past starting from the 16th century through the mid 20th century.
Read more...