Greetings!
Over the past nine years Incredible Journey has been blessed with having a wonderful group of caring travel consultants. Vicki Sanders, one of our first Hawaii Specialists, has decided to expand her horizons and will no longer be with our company, we wish her luck and know that all her clients will miss her. The rest of the Incredible Journey team has been very busy this year expanding our travel knowledge base.
Mike Sanders, a Hawaii Destination Specialist, has been to Hawaii several times this year viewing privately owned homes, resorts and visiting with activity providers throughout the islands. In November he will be attending a familiarization event on the Big Island so for all of you out there planning a visit to the Big Island in the future Mike will be a key resource for you.
Patricia Ellington, our Master Cruise Counselor, has been on several cruises this year to Europe. New for her this time was a cruise on Oceania's Regatta to the Baltic. In September she also was able to attend a familiarization trip to Kauai - key visits were to the newly remodeled St. Regis in Princeville as well as Koa Kia in Poipu. Make sure to check in with Pat when planning your next visit to Kauai or cruise vacation.
Joyce Craddock has spent two months in Hawaii this year to review properties new and old, as well as searching for new "hidden gems."
Everyone at Incredible Journey would like to say "MAHALO" to all our wonderful clients for allowing us to be such a big part of your lives. We all love our jobs and enjoy planning such Incredible Journey's for all!
In this Issue
Which Hawaiian Island Should You Visit?


When thinking of the Hawaiian Islands, most first time visitor's first impression of what the islands look like is far from accurate. The Sandwich Islands, now commonly known as the Hawaiian Islands, form an archipelago of 19 islands and atolls which encompass 1500 miles. This enormous under sea mountain range is called the Hawaiian - Emperor seamount range and is still being formed by a volcanic hot spot in the earth's mantle as we speak. In fact, the newest island is named Loihi and is located southeast of the Big Island of Hawaii.
Now's the time to...

Check out our secured group rates on 2009 and 2010 cruises to Alaska, Baja and the Exotic Mexican Riviera!
Click here to view Tahiti, Hawaii, the Bahamas and Mexico specials
Have a travel question? Ask Endora!
Central America and Europe are offering some of the best values now, call us and see how far your dollar will go in these international hot spots!
Be a kid again, celebrate your birthday at Disneyland and get in FREE!
Passion Play 2010, reserve now before it is too late. Check it out now.
Start reserving your Hawaii private beach front summer home NOW, before space is all gone!
Whale season will soon be here, call for Incredible savings to Maui!
Merry Monarch Hula festival on the Big Island, this is a sold out event call for more information.
Getting married or know of someone who is, why not put a honeymoon on a Gift Registry? Call Joyce for more information.
Dear Endora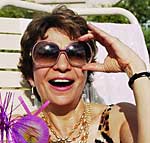 Dear Endora,
We want to go to Alaska but I am so frustrated. I don't understand why there are so many price options to consider. Can you help me understand because I'm really confused?
Strawberries


I have been going to our local farmer's markets lately and buying beautiful organic strawberries, I know even in September! But I live in California so we get strawberries almost year round. Anyways, this is a wonderful light and refreshing dessert to end the summer with!
Featured Property - Outrigger Reef on the Beach


Located on the silken sands of Oahu's world-famous crescent of coast, Outrigger Reef on the Beach offers an exceptional value for your next visit to Hawaii. The resort has just completed its extensive $110 million dollar re-creation, from top to bottom the "new" Outrigger Reef on the Beach will envelope each visitor with a Hawaiian experience of true genuine warmth and hospitality that define the aloha spirit throughout the deluxe, family-friendly accommodations.
Exploring Alaska on a Holland America Cruise/Tour

Having visited the wondrous state of Alaska a few times, I can understand why it is one of the most popular itineraries in the cruise industry. Spectacular is an understatement.
If you've always wanted to explore the vast state of Alaska, a cruise/tour experience is an economical way to fulfill your dream. Three days in Alaska's interior before or after a seven day cruise would provide you with a quality but economical experience. An Alaskan itinerary provides a unique multi-generational experience and is perfect for family celebrations of all kinds.
Read more...