Greetings!
As of May 1st 2009, TSA (U.S. Transportation Security Administration) changed the requirements for travel and will require additional information from travelers for both domestic and international travel.
For all travel going forward, the new requirements will be as follows:
Domestic travel
Your full name as it appears EXACTLY on government issued ID
Your date of birth
Your gender
In addition to what is required for domestic travel, international travelers will be required to provide the following additional information
Passport number
Expiration date of passport
The reason for the additional information will be to allow TSA to perform terrorist watch list matching which is currently being done by the individual airlines.
Note that these new requirements are not optional and failure to provide the information could result in not being allowed to get a boarding pass and/or undergoing additional airport screening, and ultimately being denied boarding of your flight. For frequent flyers, there is an important note: if your I.D./profile name does not EXACTLY match the name of your frequent flyer accounts, you may not receive frequent flyer miles and elite status may not be recognized. Please compare your government I.D. name with the name on each of your frequent flyer programs and in cases where they do not match, I highly recommend that you begin the process of changing your frequent flyer name today. I just updated my accounts with United and American and did it over the phone within a few minutes.
Secure Flight Rules Regarding Name your name must match LETTER FOR LETTER what your government issued I.D. shows. If the name on your I.D. is "William Quincy Jones" then the name on your ticket cannot read "William Q Jones". Prefixes such as Ms., Mr., Dr. or Rev. are not allowed under Secure Flight, regardless of what is on your I.D. Suffixes such as Jr. and III are not allowed under Secure Flight, regardless of what is on your I.D.
In this Issue
Wyoming - Quest for the West


It has always been my joy to travel, and spend quality time with friends and family. Years ago, when our children were young, we often talked about vacationing at a Dude Ranch. Well that time for me has come and gone, now that our kids are in college. I still think it would be a fun way for kids to get back to nature, explore our wonderful National Parks, and have quality family time together without the hustle and bustle of our daily life.
Now's the time to...

Check out our secured group rates on 2009 and 2010 cruises to Alaska, Baja and the Exotic Mexican Riviera!
Click here to view Tahiti, Hawaii, the Bahamas and Mexico specials
Have a travel question? Ask Endora!
Central America and Europe are offering some of the best values now, call us and see how far your dollar will go in these international hot spots!
Be a kid again, celebrate your birthday at Disneyland and get in FREE!
Passion Play 2010, reserve now before it is too late. Check it out now.
Check out our travel deals to Europe and other Exotic Ports of Call!!! Savings are unprecedented.
Getting married or know of someone who is, why not put a honeymoon on a Gift Registry? Call Joyce for more information.
Dear Endora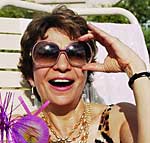 Dear Endora,
If I book a cruise and have the cruise line add the air, which carrier will I fly?
Brian - Michigan
Costa Rica


Everyone is asking about "deals" well here is a fabulous one being offered by our Central America wholesaler. What a fabulous opportunity to visit a true eco friendly environment, stay in top rated properties, have tours included, daily breakfast and transportation! The only thing lacking is air from your departure city and YOU!
Grilled Peaches with Pecorino and Prosciutto

This weekend my husband and I picked Italian plums from our orchard as well as peaches. Our trees don't produce what they used to, and we are constantly battling birds and deer for the fruit, but we were able to pick enough to make some fabulous homemade recipes - one of which I thought I would share with everyone.
Featured Property - Kaulana Naue


Beautiful four bedroom, 3 and a half beachfront home on Kauai's scenic north shore. Custom-designed with many amenities, this is the perfect setting for the vacation of your dreams.
Large picture windows bring a stunning ocean vista into the spacious living area.
The ocean front lanai with Jacuzzi is truly romantic and is a great gathering spot when entertaining. Lush foliage surrounds the well manicured grounds, affording guests an extra measure of privacy.
Europe

As promised and hoped for, I have finally uploaded my video (albeit quite condensed) of my October 2008 River Cruise along the Rhine and Moselle rivers as well as an independent tour of the Bavarian region of Germany.
Needless to say my video does not do this region justice, and I know now that I need lots of practice! But, I did capture some interesting footage, and the photos I am including in this article are much better!
Read more...