Greetings!
Now is the time to travel. Times are definitely tough, but the economy will improve and once it starts rebounding you can be assured that prices will increase for all travel.
With cruise lines offering up to over 65% off over last years rates, air flight becoming more competitive as more airlines enter existing markets, the dollar gaining value on the Euro, and hotels offering unprecedented savings it makes sense to go on that long awaited dream vacation.
We foresee that discounts will apply to 2010 travel as well. Again, some of the biggest savings are on luxury cruise lines where you can often find 2 for 1 Fares PLUS Free air PLUS Shipboard credits. Another market with spectacular savings is Australia's air market - this is due to the influx of new competition and price wars. And then depending on when you travel resorts/hotels worldwide are offering massive discounts.
Now don't expect the best "value" for high seasons which will cover the summer months, major holidays - but for the rest of the year you should be able to score super deals!
Give us a call, I am sure we will be able to help you ascertain the best value for your dream vacation!
In this Issue
Discover the Best of All Worlds with Cruise West


Cruise West is a preferred small ship cruise line for Incredible Journey. They pride themselves on providing up-close, casual and personal cruise experiences. Cruise West has been considered the leader in small-ship cruising for 30 years because of their exceptional spirit of exploration.
Now's the time to...

Check out the great cruise rates we've secured for you for 2009 cruises to Alaska, Baja and the Exotic Mexican Riviera
Click here to view Tahiti, Hawaii, the Bahamas and Mexico specials
Have a travel question? Ask Endora!
Central America is on SALE and HOT as a destination, call for incredible offers!!!!
With the economy all over the board this year, it is imperative that you check with us to see if a special is really that or just a hook to get you to call! We know what prices are, have been and should be - we will tell you the truth, whether it is music to your ears or not!
Amazing offers for cruising abound for 2010 Now is the time to reserve, what have you got to lose?
Passion Play 2010, reserve now before it is too late. Check it out now.
Europe is discounted this year by more than 30% over last year! Call Joyce Craddock for more information (888-729-6899)
Check out our travel deals to Caribbean, Europe and other Exotic Ports of Call!!! Savings are unprecedented...
Dear Endora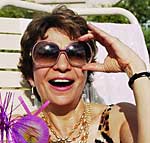 Dear Endora,
"Why should I use a travel agent?" With all the different options available online nowadays what is the advantage of using a travel agent?
Confused traveler
Kilauea Update

While there are many reasons to visit the "Big Island" of Hawai'i, none are bigger than the opportunity to get a close up look at Kilauea, the world's most active volcano. Much to my delight, it has been acting up again and sending lava steaming into the ocean. One of the real highlights of my travels (I tend to like adventure travel) has been to hike down to the actual lava flows and stand so close that I could have stepped into the boiling lava. Witnessing Kilauea's molten lava flows, curling steam clouds, vast lava fields, heated steam vents, sulfur banks, prehistoric lava tubes and huge summit caldera is an unforgettable experience.
The Royal Mai Tai

Lately I have been spending a lot of time poolside. The heat wave which has affected Northern California has turned my office into the pool (well at least I look at the pool a lot from the confines of my desk!). But when I am done working, and actually slide into the refreshing water it is nice to unwind with a refreshing drink. I came across this recipe in the Hawaii Magazine, it is the Mai Tai recipe from the Royal Hawaiian - one of the most nostalgic hotels in all of Hawaii.
Featured Property - Mauna Kea Beach Hotel


The world-renowned hotel is located on beautiful Kauna'oa Bay, considered by many to be the island's single most picturesque beach. Crescent-shaped with pure white sands and shimmering aqua waters, it is perfect for water activities including swimming, snorkeling, scuba diving, sailing, kayaking, catamaran riding, whale watching and deep-sea fishing.
Even at night, guests step onto a circular lava outcropping overlooking the Bay, to watch the manta rays swim beneath.
Shore Excursions

With proper planning, shore excursions can be a highlight of your next cruise adventure. Below I've listed some important information for you to consider when scheduling shore excursions.
Book the tours that you can't do on your own. If you look at a map of where you'll be going and you see that the dolphin swim tour is conducted about two miles from the ship, then you may decide to hop in a taxi from the pier and go over yourself. If you know ahead of time where you want to go, then get a taxi for the day or grab a tour from an operator on the pier, or rent scooters and take off on your own, at your own pace. Tours can be less expensive that way.
Read more...