Greetings!
With internet advertising on the rise many hoteliers, private owners of vacation rentals, cruise lines etc. have found ways to skew ratings on travel sites such as Tripadvisor and other high user travel websites to their favor.
As a travel professional I have seen this happening for many years, however, just recently I read an article in a travel trade publication that stated sites such as Cruise Critic and Tripadvisor are saturated with fraudulent reviews.
Granted Tripadvisor does post warnings on certain comments they deem fraudulent, however, one has to wonder how many more reviews are posted daily that are not valid and truly unbiased opinions of past guests.
I know of and have heard of some individuals and hoteliers rewarding past clients with monetary incentives to post favorable reviews. So not only does Tripadvisor have a problem with integrity, they have a problem with biased opinions and where does it end? In the quest to get the highest ranking possible from Tripadvisor, advertisers are willing to do whatever it takes to be number one.
I have always stated to my clients that the internet is an amazing research tool - but it is just the jumping off point. When I research a destination I search dozens of websites, read literature on what I am researching, and employ the help of my colleagues as I know they are professionals.
I still use various sites on the internet to view comments about properties, however, as a travel professional I don't stop here in my analysis in determining if I will send a client to a certain property or not.
I advise clients when utilizing these sites to view the comments with skepticism, as travel is personal and now it is clear that comments can be used to favor a property or private home for the benefit of that property and not the traveler.
In this Issue
2010 Oberammergau Passion Play


In 2008 my sister and I were fortunate to have traveled to Oberammergau, Germany. In our visit it was clear to us that to attend the Passion Play would be a once in a life time event as it only occurs once a decade. It makes sense to travel to this beautiful region no later than mid October, and as you will see there are many dates for the play. If you travel during the "season" you can add on visits to Mad King Ludwig's Castle Linderhof, which is just a ten minute drive from the town of Oberammergau. Plus in order to view Hitler's Eagles Nest you must travel before mid October, before the snow flies!
Now's the time to...

Check out the great cruise rates we've secured for you for 2009 cruises to Al aska, Baja and the Exotic Mexican Riviera
Click here to view Tahiti, Hawaii, the Bahamas and Mexico specials
Have a travel question? Ask Endora!
Central America is on SALE and HOT as a destination, call for incredible offers!!!!
With the economy all over the board this year, it is imperative that you check with us to see if a special is really that or just a hook to get you to call! We know what prices are, have been and should be - we will tell you the truth, whether it is music to your ears or not!
Amazing offers for cruising abound for 2010 Now is the time to reserve, what have you got to lose?
Passion Play 2010, reserve now before it is too late. Check it out now.
Europe is discounted this year by more than 30% over last year! Call Joyce Craddock for more information (888-729-6899)
Check out our travel deals to Caribbean, Europe and other Exotic Ports of Call!!! Savings are unprecedented...
Dear Endora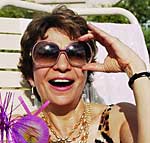 Dear Endora,
I am used to visiting the Caribbean and the water there is quite warm. I am traveling to Hawaii this September and was wondering what to expect?
Greg - New Jersey
Scandinavian Splendors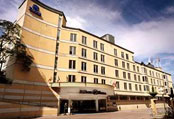 I am excited to share news about an August Seminar-at-Sea I am attending on a 14-day cruise to Northern Europe on Oceania Cruises Regatta. This adventure has a wonderful itinerary, allowing me to visit Tallinn, Estonia; St. Petersburg, Russia; Helsinki, Finland; cruise the Baltic Sea; Gdansk, Poland; Copenhagen, Denmark; Berlin, Germany; Kiel Canal Transit; Amsterdam, Netherlands; Bruges, Belgium; and London, United Kingdom.
Watermelon, Feta, and Arugula Salad with Balsamic Glaze


As I was putting together this month's newsletter, in the sweltering Northern California heat, I came across this mouth watering recipe once again courtesy of Bon Appetite magazine. It is officially summer and this is the perfect way to kick off the season with something refreshing, and locally grown and available!
Featured Property


Perched on a mountainside one mile from the water, Lake Arenal Lodge offers the finest accommodations and a breathtaking view of Arenal Volcano. Surrounding the lodge are landscaped gardens, an inner patio solarium features, tropical plants, ferns, flowers and orchids. The lodge, built in contemporary ranch style, has 12 junior suites, 1 luxurious master suite, and 6 standard doubles that can accommodate up to 42 guests, and includes such amenities as a fireplace, a game room complete with pool table, library and bar. The Lodge was built for comfort and relaxation, and caters to anglers, naturalists, volcano enthusiasts, birdwatchers and outdoor enthusiasts.
Hanalei Bay Named #1 Beach in America

Finally this fabulous two mile stretch gets the recognition it deserves. Dr. Beach, who chooses the top ten beaches in America every year, has given top honors to infamous Hanalei Bay.
Read more...