Greetings!
As owner of Incredible Journey, and a licensed CPA, I know that it takes a tremendous amount of time and energy to plan vacations. Some vacationers know exactly what they want, they return year after year to the same spot and couldn't be happier - these vacations are pretty simple and straight forward to plan. But the majority of vacations include multiple destinations or coordinating family members traveling from different regions of the world, and when you start mixing these types of scenarios together travel planning becomes a more daunting task.
I recently read a report that stated the majority of travelers believed they found the best vacation value on their own. What the survey did not state is how many hours they spent planning and researching their vacation and at what cost. It makes sense that if you spend several hours doing the research yourself you would assume to get compensated for the work? And according to many polls the majority of vacation planning takes place at work.
I wonder if the self planners ever asked for a price comparison? And if not, how would they know they are getting the best value? As many of you know when traveling it is important to match exact flights, type of accommodations, travel dates etc. in order to get a true comparison. And what if your dates are flexible, how many times has a travel planner asked you this question, and for good reason - we all know that the price of an airline ticket can vary dramatically from one day to the next. Not to mention high and low season rates, or special deals that are offered during a limited amount of time. Travel professionals are constantly getting bombarded with marketing from vendors for limited time only sales.
What about the relationships the travel company has with the various hoteliers, resorts and cruise lines. I know that our company sends many clients to Hawaii and Tahiti and for ALL our VIP clients we bend over backwards to get complimentary upgrades, free meals, or activities included. This alone can be thousands of dollars saved.
I have to conclude that working with a travel professional makes the most sense. For those who want to do the research (remember CPA, I concur and can relate to these travelers) go for it, but by all means take your findings to a professional and ask his/her opinion. I know at Incredible Journey we always can price match, so you won't be spending more - you will be gaining an ally along the way, a confidant who will provide you unbiased information, and by all means use a specialist - someone who has been there, done that!
Once you find a professional travel planner you trust, you can build a working relationship with this person. They will get to know your likes/dislikes, which will make your life so much easier each time you plan your next Incredible Journey!
In this Issue
Welcome to Maui


If you are dreaming of a tropical getaway where you can relax in the warm sun, play in the sand, frolic in the sparkling Pacific Ocean and let your cares melt away, Maui should be at the top of your list of island choices. Blessed with many wonderful white sand beaches, Maui basks in warm blue waters, incredible sunsets, and has an endless array of water activities.
Now's the time to...

Check out the great cruise rates we've secured for you for 2009 cruises to Alaska, Baja and the Exotic Mexican Riviera
Click here to view Tahiti, Hawaii, the Bahamas and Mexico specials
Have a travel question? Ask Endora!
Click here to view more unique journeys!
Central America is on SALE and HOT as a destination, call for incredible offers!!!!
With the economy all over the board this year, it is imperative that you check with us to see if a special is really that or just a hook to get you to call! We know what prices are, have been and should be - we will tell you the truth, whether it is music to your ears or not!
Amazing offers for cruising abound for 2010 Now is the time to reserve, what have you got to lose?
Europe is discounted this year by more than 30% over last year! Call Joyce Craddock for more information (888-729-6899)
Check out our travel deals to Hawaii, Mexico, Tahiti, Caribbean, Europe and other Exotic Ports of Call!!! Savings are unprecedented...
Dear Endora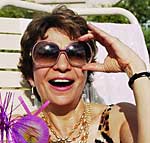 Dear Endora,
I really don't understand the travel insurance programs that are available. Are any worth the price?
To insure or not to insure
Cruise Lines Have Personalities


Have you ever thought of taking a cruise but were confused by all the options available to you? Well, a brief synopsis of Cruise Line Personalities will help you narrow your choices.
Featured Property


An exotic destination off the beaten track and away from maddening crowds. A place where you can slip into a different world, a different culture.
Experience luxury at its finest in the magical, lush, tropical surroundings, tucked away in a small bay on the island of Huahine, in Tahiti's Leeward islands.
Jamaica - When You Go, You Know

As the Caribbean Specialist for Incredible Journey, I have taken numerous cruises and familiarization trips to all parts of the Caribbean. Jamaica is a favorite location of mine, both for the natural beauty of the environment and the friendliness of the people. Jamaica's high season is December 15 - April 15.
Read more...