Greetings!

When I receive calls from potential clients they are typically a bit surprised at what is hot and what is not for this travel year.

Let's face it when you turn on the news, there is nothing but doom and gloom so it would only make sense that travel would be at an all time low. And for some products where there is a surplus of rooms we are seeing incredible discounts such as we haven't seen in a very long time. But I have to say, and I am knocking on wood as I say this, our sales for February are on pace with last years!

I would hope it is because so many people can still afford to take advantage of this unprecedented travel market. And let's face it, for those of us out there that still have dispensable income we all want to escape from reality even if for a few days!

I highly encourage you to CALL us regarding our HAWAII FARES, you will not find them on the internet offered by any online travel company. These are special fares negotiated by our wholesalers who only work with travel agents. And when they are gone, they are gone.

Summertime fares to Honolulu from LAX or SFO start in the $300 range including all taxes for weekend travel. These are nonstop day flights too!

And for those who have always wanted to travel to EUROPE, don't procrastinate to reserve your space, European Cruises and Land Packages are being offered at rates we haven't seen in over a decade and to be honest this market is being booked on pace with Hawaii.

So, don't wait too long - call us before the savings are gone!
In this Issue
Sailing the Calm Waters of Alaska - Fifty Year Statehood Celebration!


There are certain images of Alaska that are embedded deeply within the American consciousness-images of sentinel pine trees frozen in time; of glaciers blanketing the peripherals with giant walls of white; of huskies hopping through a snow drift, the tips of their fur crystallized and glistening. But when it comes to the authentic Alaska, these icons are merely the proverbial tip of the iceberg.
Now's the time to...

Check out the great cruise rates we've secured for you for 2009 cruises to Alaska, Baja and the Exotic Mexican Riviera
Click here to view Tahiti, Hawaii, the Bahamas and Mexico specials
Have a travel question? Ask Endora!
Click here to view more unique journeys!
Ask about our Fishing excursions to Central America!
With the economy all over the board this year, it is imperative that you check with us to see if a special is really that or just a hook to get you to call! We know what prices are, have been and should be - we will tell you the truth, whether it is music to your ears or not!
Book your 2010 cruise - savings are still unbeatable!
Europe is super hot savings are more than 30% over last year! Call Joyce Craddock for more information (888-729-6899)
Dear Endora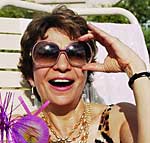 Dear Endora,
I really don't understand the travel insurance programs that are available. Are any worth the price?
To insure or not to insure
Lasagna with Basil and Fennel

I first tried this recipe for my son's graduation from high school and it was a huge success. It is important to get the best sausage possible, make sure to use all the basil and don't scrimp, finally fresh pasta will make for a better meal. Let me know what you think!
Featured Property


The Sheraton Maui is nestled on 23 beachfront acres on Kaanapali Beach.
The elevated grand lobby reveals a panorama of natural wonders: the cobalt blue Pacific, the golden sands of Kaanapali, neighboring islands in the distance, and a fantastic oceanfront swimming lagoon surrounded by lush tropical landscaping.
Traveling Through France Without Reservations

Several years ago we took a family vacation to France. We traveled very spontaneously, meaning no reservations except in Paris.
This sort of travel is not for the faint of heart or those who like to be in control as it can be a most stressful way to travel. However, the rewards are doing what you want when you want which makes this sort of travel more adventurous and appealing.
Read more...