Greetings!

When I receive calls from potential clients they are typically a bit surprised at what is hot and what is not for this travel year.

Let's face it when you turn on the news, there is nothing but doom and gloom so it would only make sense that travel would be at an all time low. And for some products where there is a surplus of rooms we are seeing incredible discounts such as we haven't seen in a very long time. But I have to say, and I am knocking on wood as I say this, our sales for February are on pace with last years!

I would hope it is because so many people can still afford to take advantage of this unprecedented travel market. And let's face it, for those of us out there that still have dispensable income we all want to escape from reality even if for a few days!

I highly encourage you to CALL us regarding our HAWAII FARES, you will not find them on the internet offered by any online travel company. These are special fares negotiated by our wholesalers who only work with travel agents. And when they are gone, they are gone.

Summertime fares to Honolulu from LAX or SFO start in the $300 range including all taxes for weekend travel. These are nonstop day flights too!

And for those who have always wanted to travel to EUROPE, don't procrastinate to reserve your space, European Cruises and Land Packages are being offered at rates we haven't seen in over a decade and to be honest this market is being booked on pace with Hawaii.

So, don't wait too long - call us before the savings are gone!
In this Issue
Warm Caribbean Waters - Dive In

You can't help but close your eyes when you first hit the water. Even with the mask secured snuggly over your face, your eyes instinctively shut as you tip backwards out of the boat and into the welcoming embrace of the warm Caribbean Sea. Once under, you spend the first few moments righting yourself in the liquid silence, until finally opening your eyes.
Now's the time to...

Check out the great cruise rates we've secured for you for 2009 cruises to Alaska, Baja and the Exotic Mexican Riviera
Click here to view Tahiti, Hawaii, the Bahamas and Mexico specials
Involved with fundraisers or want to raise money for your alma mater? Ask how we can supply a cruise to auction at your next event.
Have a travel question? Ask Endora!
Click here to view more unique journeys!
Whale watching on your mind? Reserve our fabulous beach front condos on Maui for a show of a lifetime featuring these graceful giants.
With the economy all over the board this year, it is imperative that you check with us to see if a special is really that or just a hook to get you to call! We know what prices are, have been and should be - we will tell you the truth, whether it is music to your ears or not!
Go on a CRUISE the savings are unheard of this year!!!!
Europe is super hot and we have super great rates, call for more information!
Dear Endora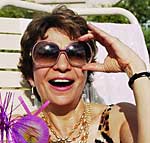 Dear Endora,
I want to take my family on a three week trip to Europe. I would love to visit France, Italy and England. I know I need more time, but I work and this is the most I can take off at a time. What do you suggest to get the most out of my family vacation?
Alan - California
Sun Dried Tomato Dip

I made this super simple dip for Superbowl, the spread would be good on sandwiches too. When making it I used less feta, so it didn't over power the dip. Bon Appetit!
Wine and Cruises - A Happy Blend

Do you like to travel? Do you appreciate wine? Do you have family and friends that like to travel and appreciate wine, too? If so, I've got a cruise you might be interested in.
Wine-themed cruises appeal to many travelers today and represent a growing segment in travel. This month's cruise article provides general information about this type of cruise adventure. The below information was selected from an online article of the Miami Herald (For wine lovers, there's nothing like discovering new tastes of the grape).
Featured Property


The ideal vacation hideaway. Charming oceanfront custom home with breathtaking views of fabulous "Bali Hai" bay and mountains. Set on the edge of scenic Haena Bay, this custom designed house offers the relaxed, comfortable island lifestyle that makes Hawaiian vacations so special.
Pu'u One's location offers immediate access to Haena's stunning white-sand beach for sunbathing, swimming, snorkeling and kayaking. It's perfect for watching whales, spinner dolphins and turtles. Warmed by the sun, cooled by tropical breezes and shady palms, and blessed with spectacular sunsets - one of the most heavenly spots on earth.
A Wedding in Paradise

Believe it or not it is possible to get married in Hawaii without spending a fortune. For the rest of your lives you will recall how the sun set on the water and how the waves were splashing as you were speaking your own vows while standing barefoot on the warm white sand. Hawaii's ideal climate and exotic appeal create the perfect romantic atmosphere for a wedding to remember and you won't have to travel far for your honeymoon!
Read more...