Greetings!

Happy New Year!

Well so far, this year is off to an amazing start - in all the years I have traveled I have never seen so many GREAT deals being offered for destinations spanning the globe.

As specialists for Hawaii we are pleased to say that our wholesalers are offering phenomenal deals, finally! We are seeing rates we haven't seen for several years, and most hotel offers make you want to pack your bags and travel now - the deals are that good!

The Caribbean is another hot market where we are seeing multiple free night offers and/or free meals all on properties from deluxe on up to ultra luxury, this can amount to $1000's off just a five night stay!

Many properties in the South Pacific are offering stay 5/pay 3 packages and/or discounted air rates as these destinations vie for honeymooners and romantics.

Europe has been hot, hot, hot as travelers are seeing the value of the dollar increase as the price of vacations all over Europe drop to lure vacationers. Remember, if you can travel BEFORE June you can save several hundred dollars in air/land packages as this is low season. If you can travel in May this is a great time to visit Europe - weather is good, lines are shorter, cost of travel is less!

Still one of the best values out there is in cruising where we are seeing unprecedented savings for all types of cruises - deluxe to ultra luxury, short cruises to world cruises - the savings are just incredible.

Private home rentals are really the only area where we are not seeing discounted rates being offered consistently. These types of vacationers are typically not affected by the downturns in the economy.

So all in all this is your year - the year of the traveler. For all of those who can make travel part of this years agenda you will have many, many options - more than you have had in years past. The best thing of all is that you will be paying much less for any vacation you go on this year! And should you book your vacation with us and the price drops we will be able to get the new reduced price! So don't be afraid of booking now because you think you will lose out on getting a lower price!

Look wisely at all that is out there, if it looks too good to be true it probably is, and make sure to call us. We want your business - we will work hard for you and with you to make sure that you have nothing less than what you deserve, and Incredible Journey!
In this Issue
Honeymoons: The How-To After "I Do"

In the land of the midnight sun, you'll need every extra minute of daylight if you want to experience it all. From the awe-inspiring blue ice of a massive glacial field to the expansive grandeur of its wildlife and nature, everything in Alaska is bigger. Including the adventures. For the ultimate Alaska vacation, book a cruise tour - a combination of a cruise vacation and land tour.
Now's the time to...

Check out the great cruise rates we've secured for you for 2009 cruises to A laska, Baja and the Exotic Mexican Riviera
Click here to view Tahiti, Hawaii, the Bahamas and Mexico specials
Involved with fundraisers or want to raise money for your alma mater? Ask how we can supply a cruise to auction at your next event.
Have a travel question? Ask Endora!
Click here to view more unique journeys!
Whale watching on your mind? Reserve our fabulous beach front condos on Maui for a show of a lifetime featuring these graceful giants.
With the economy all over the board this year, it is imperative that you check with us to see if a special is really that or just a hook to get you to call! We know what prices are, have been and should be - we will tell you the truth, whether it is music to your ears or not!
Go on a CRUISE the savings are unheard of this year!!!!
Dear Endora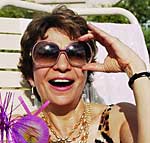 Dear Endora,
I have heard the waves can get big in Hawaii, but how big is big and what was the BIGGEST wave ever recorded?
Brian - Washington
Sliders with Chipotle Mayonnaise

Superbowl Sunday - an American tradition...Great food, good drinks and the best of friends all whooping it up. And boy, we all need Superbowl Sunday to come soon...
I found a great recipe that is super easy to make and will sure to please everyone! Sliders are tasty morsels are good and not too ridden with guilt. Who better than Bobby Flay to come up with a great way to give us sustinance during a football party! Enjoy!!
Voyage to Antarctica - Exploring the End of the World


Want to see one of nature's most incredible migrations this spring? How about a trip to Mexico to welcome the arrival of some 200 million monarch butterflies in the months of February and March? The butterflies start arriving in November and will be all accounted for by springtime.
Featured Property


All-Inclusive, luxury resort located on a fine sandy beach of Playacar and surrounded by 28 acres of spacious, tropical gardens.
This unique complex blends harmoniously into the landscape and works hard at preserving the natural surroundings.
There is a mini jungle located in the middle of the property with plenty of flora and fauna.
The Iberostar complex consists of the Hotel Iberostar Tucan (350 rooms) and the Hotel Iberostar Quetzal (350 rooms) in three-story buildings.
T+L's Money-Saving Travel Planner
This is shaping up to be a difficult year for the travel industry. By almost any measure-money spent on vacations, international arrivals, business bookings-travel numbers are declining. According to Geoffrey Lipman, assistant secretary general of the UN World Tourism Organization, the math is simple: "Macroeconomics determines the curve of the travel industry," he explains. And these days all macroeconomic indicators are decidedly down.
Read more...