Greetings!

I will be traveling throughout Europe this month, regardless of the economy being horrible. This is a trip my sister and I have planned for a long time - and I refuse to let anything get me down. .

Frankly, once we get there I won't be able to understand the papers, so I will be walking around, as my husband says, "With blinders on," enjoying all my ignorance will afford me - and I can't wait! .

But, I am not the only one that seems to be living in ignorance today. Just in my small community alone I see nothing but major building going on. We have a new Home Depot being built, and three large retail and mixed use centers under construction as we speak, plus several completed large office/retail areas just finished this year, oh, and lest I forget Costco is trying hard to get a store in our community. New to our town is Best Buy, where I was shopping at recently and asked management about their holiday shopping expectations. The clerk helping me said, out of all the grand openings Best Buy has ever had - our community's store opening in August 2008 was the most successful on record!.

Don't get me wrong, I am not saying that happy days are here now, but I often wonder how much the media adversely affects its viewers. When I used to live up at Lake Tahoe, weekends were huge money makers for the community. I remember time after time, the weather reports would state, "Do not go to the mountains, severe snow warnings in place for the weekend." And most the time the weather would be fine. Our community would be perplexed at how people, not even in our town, could say how good or bad the weather was..

So maybe our little town is the silver lining is the economy today, and I would think we cannot be alone. Surely, there must be other little communities that aren't getting hit as hard as the rest of the country..

One can only hope.
In this Issue
Germany


My sister, Pat Ellington, and I will be heading to Europe for an Incredible Journey — a river cruise along the Rhine and Moselle rivers. Also included is an extensive visit through Bavaria and the Tirol. Since we are traveling in Fall we hope to have stunning photos, and we will be wishing for clear skies in both Hallstatt and Berchtesgaden.
Now's the time to...

Check out the great cruise rates we've secured for you for 2009 cruises to Alaska, Baja and the Exotic Mexican Riviera
Adventure seekers make sure you reserve our highly popular cruises to Alaska - space sells out quickly!
Click here to view Tahiti, Hawaii, the Bahamas and Mexico specials
Involved with fundraisers or want to raise money for your alma mater? Ask how we can supply a cruise to auction at your next event.
Want to visit Europe but afraid the weak dollar won't go far? We have guaranteed rates on our packages that are still a good value - inquire with Joyce (jc@incrediblejourney.net)
Have a travel question? Ask Endora!
Start making plans for the 2009 summer season.
Be a kid again and visit Disneyland or Disney World we have amazing specials for fall!
Click here to view more unique journeys!
Book your romantic Valentine's getaway to the "City of lights" before these specials disappear
Call Joyce for unadvertised specials to Tahiti for the months of November, December and January - May 2006
Whale watching on your mind? Reserve our fabulous beach front condos on Maui for a show of a lifetime featuring these graceful giants
Dear Endora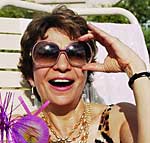 Endora,
I want to take my family to Disneyland. This will be our first visit in many years as adults, but my children's first visit ever. Where should we stay and are there good bargains out there?
Jessica - California
Pumpkin Souffles

We make this dessert every Thanksgiving. Not only is it super easy to make (no pie crust yippee!!) but it tastes so good! Of course, we always have apple and pumpkin pie as our traditional dessert staples, but so has this dessert. You must serve it just after it has come out of the oven and cooled just a bit - it is not a leftover dessert.
Surfing U.S.A


So you're off to Hawaii this winter and you want to catch some humongous surf? How 'bout just watch some awesome surfers rip these gnarly waves?
Then the first thing to do is venture down to the sleepy beach town of Haleiwa.
North shore Oahu is synonymous with Big Gnarly Winter Waves. It is here near the small town of Haleiwa that you can witness world class surfing competitions like no where else in the world. Dude, during surf competitions this sleepy beach town is packed with Pro surfers who tackle 30 plus foot waves with no problem. And if you think that is crazy, did you know that in Hawaii the waves are traditionally measured from the back side? This means, if you hear the wave is 30 feet, you're talking about a 60 foot face! Totally awesome...
Featured Property


The heart of historic Hanalei Town is a two-block stroll from the house. In Hanalei you will find restaurants offering sushi, burgers, vegan dining, fresh fish, Pacific Rim, pizza, Brazilian, and tapas. Several restaurants have been featured in Food and Wine and Gourmet Magazine. Also, don't miss the Hawaiian Shave Ice.
Fall Foliage in New England

Like a million Monet-painted dominoes tumbling one after another across a football field, the fall season transforms the lush landscape of America with its gentle palette of reds and yellows until each tree becomes a masterpiece. Nowhere is this fall foliage transformation more visually striking than in New England.
Read more...