Greetings!
In today's volatile economy it is imperative that professional travel advisors educate clients on how to travel wisely. By following a few simple guidelines you can be assured you will still be able to take your family vacation, take off on that dream vacation, or just getaway and destress without breaking the bank.
First, and foremost, it is in every travelers best interest to work with a professional travel agent. For a small fee you will get the advise of a true professional who will educate you on how to acquire the best vacation options that are suited to your needs; be assured of obtaining the best value for your investment all the while having a professional orchestrate your entire holiday which will guarantee you a stress free getaway.
In fact, the trend in travel is now swinging back in favor of using travel agents, and in today's environment it is the safest way to reserve and book travel.
Secondly, it is most important to understand that last minute travel is NOT the best value unless you can travel at a moments notice, and for most of us this is not reality.
We strongly advise our clients to book vacations in advance. For cruisers we like to make arrangements about one year in advance so as to secure group space (often times the best value for high demand and high season dates); private home rentals must be booked well in advance as they are one of a kind properties and typically are reserved one year in advance; bulk air can be booked ten months prior to departure and 90% of the time will beat published air (published air is what the consumer will find on all the online travel sites).
And finally, please inquire about travel insurance at the onset of planning your vacation as there are so MANY different insurance options available all with specific requirements that either qualify or deny your insurability.
Our goal as professional travel advisors is to provide each and everyone of our clients the best service in travel and that includes creating Incredible Journey's for family vacations, romantic escapes or that well deserved getaway - without sacrificing value or service.
Remember it doesn't cost anything to give us a call or send us an email. So when you start planning your next getaway, contact us - What have you got to lose?
In this Issue
Tips for Stress-Free Summer Travel


Memorial Day will kick off the summer travel season for Americans and with the usual trips to the beach and lazy days spent by the pool come dire warnings of high gas prices and economic recession not to mention overbooked flights and long delays at check-in and lost luggage. So what's a traveler to do?
Now's the time to...

Click here to view Tahiti, Hawaii, the Bahamas and Mexico specials
Click here for an incredible Mexico cruise special!
Click here if Mexico isn't your thing but Alaska is
Involved with fundraisers or want to raise money for your alma mater? Ask how we can supply a cruise to auction at your next event.
Want to visit Europe but afraid the weak dollar won't go far? We have guaranteed rates on our packages that are still a good value - inquire with Joyce (jc@incrediblejourney.net)
Have a travel question? Ask Endora!
Start making plans for the 2008 holiday season.
Be a kid again and visit Disneyland or Disney World!
Book your 2009 cruise vacation today as all lines have established their cruise schedules.
Reserve your 2009 World Cruise on Cunard today.
Reserve your cruise to Antarctica now (November-February sail dates).
Click here to view more unique journeys!
Dear Endora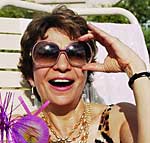 Dear Endora,
My wife and I are planning our first cruise which requires roundtrip airfare. Is it better to book our airfare through the cruise line or independently?
Craig in Colorado
Misoyaki Butterfish

I was watching an episode of Iron Chef America and for all of you familiar with this popular cooking show, the secret ingredient was Butterfish. I had never had this fish before so on my recent visit to Hawaii I ordered this delightfully delicious fish. The texture is moist and perfect, the taste is phenomenal as it has a buttery taste that is not very heavy or over powering. From one of the best chefs for Pacific Rim cuisine here is a recipe from Roy Yamaguchi, of Roy's Bar and Grill.
Spas at Sea

Americans (both men and women) spend more money on professional pampering than at the box office or amusement parks.
With spas the fourth favorite leisure activity of Americans, cruise lines have established on-board spa opportunities for passengers to pamper themselves with. Different cruise lines work with different spa vendors to ensure the best possible spa experience at sea is available for their esteemed passengers. Wondering what type of spa experience is available on cruise ships these days? Here is some up-to-date information on a few of the current spa experiences available at sea on a few cruise lines highly recommended by Incredible Journey.
Featured Property


This beautiful house lies at the very center of Kauai's famed Hanalei Bay. The vistas from the spacious lanais are breathtaking - the ocean - the Princeville Bluffs - and at the end of the grassy lawn - the beach.
Come Experience Red Hot Magma

Have you ever wanted to experience the awesomeness of an active volcano? Well, Kilauea on the Big Island of Hawaii has been spewing a constant flow of lava for over 25 years now, and after my exhilarating experience I can only say, "Run do not walk," you must witness this once in a life time event!
Read more...