Greetings!
First, I would like to say THANK YOU to all our valuable clients for their patience in the mess we all have been muddling through due to the exit of two main carriers to Hawaii. It surely is in everyone's best interest to try and get through the mess in the least upsetting manner to everyone involved - as all we can do is pick up the pieces and move forward.
As a travel company we experience many different issues involving clients daily. And I have to say in light of the problems that just occurred with the airlines, coupled with my unanticipated cancellation of my trip to the Netherlands - I now am a proponent of securing trip insurance.
If you don't have much invested into a trip, and you can lose out without experiencing financial hardship then insurance might not be something you would be interested in, but on the other hand if you have a much anticipated trip planned - with a hefty price tag, then I say securing travel insurance is a small amount to pay in light of what you could lose.
We now offer travel insurance that covers ALL aspects of travel that can include business/work related cancellations as well as CANCEL/CHANGE for ANY REASON. This is a new product that has not been available before.
Our typical cancel for ANY reason policies are pre-trip change/cancel only. Now our travel insurance providers that cover you while you travel are now offering work related cancellations as well as change/cancel for any reason.
The type of travel you purchase through us, will determine which insurance will be best suited for you and your family.
If you are interested in travel insurance make sure to tell your professional travel consultant prior to making any deposits on your vacation as stipulations apply.
In this Issue
Think Central America


Here, in Costa Rica and Panama your travel dollar will go a lot further and you can often stay in a luxury hotel for the price of a moderate hotel at home. Both Costa Rica and Panama offer several upscale all inclusive resorts as well which means you won't have the added cost of meals.
Now's the time to...

C lick here to view Tahiti, Hawaii, the Bahamas and Mexico specials
Click here for an incredible Mexico cruise special!
Click here if Mexico isn't your thing but Alaska is
Involved with fundraisers or want to raise money for your alma mater? Ask how we can supply a cruise to auction at your next event.
Book your summer air arrangements ASAP!
Want to visit Europe but afraid the weak dollar won't go far? We have guaranteed rates on our packages that are still a good value - inquire with Joyce (jc@incrediblej ourney.net)
Have a travel question? Ask Endora!
Start making plans for the 2008 holiday season.
Be a kid again and visit Disneyland or Disney World!
Book your family's 2009 summer cruise to Alaska today.
Make your 2008 holiday cruise reservations.
Dear Endora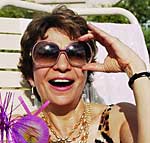 Dear Endora,
With all the upheaval with the airlines, if I buy an airline ticket and that company goes bankrupt what are my options?
Vince - Santa Rosa, California
Mango and Papaya Salsa

Just in time for Cinco de Mayo, here is a great salsa that my family enjoys with fresh fish or chicken. It is so good we sometimes will eat it with chips...
Luxury Cruising Is More Inclusive


Getting the best value for your money is something all travelers should seek when planning for a cruise vacation. Do you want a two-star or a five-star cruise experience?
Featured Property


10 acres of tropical seclusion on gorgeous Napili Bay. The staff's warm hospitality and the resort's unpretentious style is the reason this property has a loyal repeat following. You will truly be embraced in the spirit of Aloha while vacationing at this gem of a property.
Europe Can Still Be Affordable!

For those who have cruised before you know the simplicity of travel that is inherent with this type of vacation. To stay in an elegantly appointed balcony stateroom and watch the scenery pass by as you sip your morning cafe or afternoon cocktail is, well, just icing on the cake. The convenience of unpacking once, having epicurean delights prepared daily, not to mention a variety of premium services available day and night, all the while being effortlessly transported from port to port without having to negotiate the logistics of travel is simply - heaven.
Read more...