Greetings!
This year I have noticed that published air has been very competitive with our bulk air, especially if you make reservations within four months of travel. Because it is our goal to teach our clients how to be savvy travelers here are a few guidelines when purchasing published air.
As always I think it is best to use a travel expert, this is what we do day in and day out. But because there are no commissions paid for published air all agencies charge a service fee. However, after you take into consideration the amount of time you WILL spend on research, the extra fee paid to travel agencies will be minimal. And then what happens if you need help because you have to make a change or cancel - you will be on your own!
If you prefer to do some upfront research check out online sites such as Orbitz, Expedia, Travelocity and Priceline. From here you can find your perfect flight and then what you must do is go directly to that airlines website and book the fare here or have your travel agent do it for you. And remember just because you see the fare doesn't mean it is available until your credit card is processed!
I must reiterate that you should NEVER reserve anything through the online booking sites mentioned above. It takes one cancellation or change in plans to understand why - you will pay dearly. When you book through a travel agent or with the airline directly the only fee you will pay for is a change ticket fee and this is charged directly by the airline when you change your flight.
Remember, published air is nonrefundable, which means you have a ticket that is good for one year from the date of issuance. Should you not use it before then it will be void, and should you use it before then you will have to pay the change ticket fee directly to the airline.
If at all possible it is best to purchase bulk air, but given the fact that many travelers are booking last minute travel, published air is becoming a more popular way to secure air tickets.
Remember, our goal is to make you, our valued clients, savvy travelers. If you have any questions please don't hesitate to contact us - we are just a call away!
In this Issue
Costa Rica, the Rich Coast


Looking for an affordable and memorable summer vacation with a little adventure thrown in for good measure? Rumor has it that the rainy season in Costa Rica is from late May to November with the heaviest rains falling in October but what the locals know is that June and July are what they consider to be their "Indian Summer". I recently had a call from two clients who were rethinking their annual Kauai trip and decided (with a little help from me) that Indian Summer in Costa Rica sounded wonderful. What's not to like, besides the beautiful sun drenched beaches, exotic scenery, active volcanoes, mystic cloud forests and tropical rainforests, Costa Rica is the top eco-tourism destination in the world. I haven't even touched on the diverse plant and animal species found there, the culture or the fabulous food. Maybe it is time to find out for yourself just what Costa Rica has to offer.
Now's the time to...

Involved with fundraisers or want to raise money for your alma mater? Ask how we can supply a cruise to auction at your next event.
Book your summer air arrangements ASAP!
Want to visit Europe but afraid the weak dollar won't go far? We have guaranteed rates on our packages that are still a good value - inquire with Joyce (jc@incrediblejourney.net)
Have a travel question? Ask Endora!
Start making plans for the 2008 holiday season.
Be a kid again and visit Disneyland or Disney World!
Dear Endora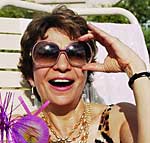 Dear Endora,
I always get confused with Hawaii's time zone, and how far it is from the continental United States.
Chris - Washington D.C.
Paula's Thai chicken salad wraps

The recipe below, is a concoction Paula Mooney created for her sports oriented family. Paula is a Hawaii travel specialist at Incredible Journey, hope you all enjoy this yummy dish!
Sightseeing in Australia and New Zealand

In January, my sister Janet and I spent 29 days touring Australia and New Zealand. Fourteen days of our itinerary was spent on Celebrity's Mercury. This was the first time I had ever sailed Celebrity, the top rated premium cruise line. Although the shipboard experience was less than I had anticipated, our adventure exploring the two countries was truly wonderful.
Featured Property


Named after the Hawaiian word "royalty." As a guest of the property you may expect nothing short of regal treatment from the attentive staff.
This four star condominium resort is situated on eight oceanfront acres on the widest stretch of world-famous Kaanapali Beach. Every residence is elegantly furnished, with fully-equipped kitchen, separate dining and living rooms, two full baths, two color televisions/VCR, central air conditioning and washer/dryer.
Vintage Vegas

My husband and I recently went to "The Entertainment Capital of the World," to celebrate my birthday. We hadn't visited this neon clad town in over 25 years, and were not sure what historic relics would still remain standing. Needless to say we were both shocked and awed at how built up the city had become, and equally sad at how it was so easy to replace the old with the new.
Read more...